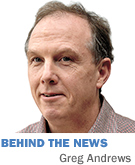 "Some people have a way with words. Others—not have way, I guess."
Comedian Steve Martin
That amusing line came to mind as I reviewed two recently released shareholder letters—one from the Oracle of Omaha, 85-year-old Warren Buffett, and the other from 38-year-old Sardar Biglari, CEO of Biglari Holdings, parent of Indianapolis-based Steak n Shake.
Followers of Biglari know he's a devotee of Buffett. Biglari runs a conglomerate of unrelated businesses, just as Buffett does with Berkshire Hathaway. And they both pen lengthy shareholder letters each winter—each filled with folksy pearls of wisdom—and hold day-long confabs with shareholders each spring.

Biglari
The connections go further: The ticker symbol for Biglari's company is none other than BH, seemingly a perfect match for Berkshire Hathaway. And in a bizarre coincidence (or is it?), Buffet and Biglari share the same birthday, Aug. 30.
Of course, even the supremely confident Biglari, who runs his business empire from San Antonio, Texas, doesn't put himself in Buffett's league.
"Comparisons between Biglari and Berkshire would be a disservice to the famous Midwesterner," Biglari told shareholders at last year's annual meeting at a New York City hotel.
Buffett's latest shareholder letter includes his usual assortment of quips and quotes, such as: "For 240 years it's been a terrible mistake to bet against America, and now is no time to start. America's golden goose of commerce and innovation will continue to lay more and larger eggs."
Whether Biglari's shareholder letters measure up is a matter of opinion—though some observers assert the answer is decidedly "no."
This year's letter, which runs 12 pages, covers the landscape of the company's holdings—which include Steak n Shake, the steak-restaurant franchisor Western Sizzlin, an insurance company, the lad magazine Maxim, and a big stake in Cracker Barrel.
While Steak n Shake is thriving, Maxim is awash in red ink, with pretax losses totaling $39 million since the February 2014 purchase.
Biglari, who recently appointed himself the magazine's editor in chief, told shareholders: "While current trends are not to be envied, we believe Maxim will become profitable in late 2016."
Unlike Buffett, Biglari stays out of the spotlight, generally making no public comments beyond what he says in his shareholder letters and the company's annual shareholder meetings. As a result, observers parse his every word.
After the release of Biglari's latest letter Feb. 18, Forbes finance writer Antoine Gara wrote that "he pens verbose, if somewhat hard to follow, annual shareholder letters that describe his company's ever-growing 'intrinsic value' despite its poor stock market performance."
A writer for the San Antonio Express-News chimed in with a feature titled, "The 10 strangest quotes from Biglari's odd annual letter to shareholders."
Here's my favorite:
"Sir Isaiah Berlin, in his book 'The Hedgehog and the Fox,' quotes the great Greek poet Archilochus, 'The fox knows many things, but the hedgehog knows one big thing.' Steak n Shake can be classified as pursuing a hedgehog strategy."
Before moving on to other topics, Biglari observed, "We are quite certain the hedgehog, and even the fox, would enjoy our recently introduced Nutella Milkshake."
Other quotes worth pondering (some for genuine insights, some for amusement—you be the judge which is which):
• "We view Biglari Holdings as a museum of businesses housing a collection of excellent enterprises."
• "Risk is inversely related to knowledge: The more you know, the less you risk. Logically, we do not follow a myopic crowd into fads, fashion and fantasies of the moment."
• We connect silence with strength, for a stealth approach benefits shareholders."
• "In a world filled with hyper-orthodoxy, Biglari Holdings represents an oasis of unconventionality. We follow our own individualistic ideas and ideals rather than find refuge in the superficial conventions and conformity."
• "We avoid layers of expenses by waving legions of corporate decision makers, who otherwise would stifle decision-making acuity and agility, limiting progress and performance."
• "We have been cash-cowing Western for years, whereas Maxim requires our initially putting the milk into the cow."•
Please enable JavaScript to view this content.