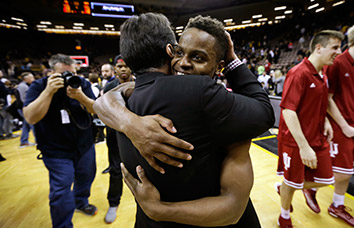 It's March, and you know what they say about March. Comes in like a lion and goes out with my NCAA Tournament bracket in ruin.
In other words, crunch time is here in college basketball. Lots of things to do. For instance …
Wave goodbye to the Big Ten tournament.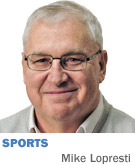 Since the league has swooned over playing this event in the East—closer to that new conference juggernaut, Rutgers—this will be its last Indianapolis appearance of the decade. A good time for Indiana to make a run, to go with its outright regular season title. The Hoosiers have never won the thing, and haven't advanced to the championship game in 15 years. Purdue was there seven years ago, and ended up champion.
Root for IUPUI and IPFW to have survived their Summit League quarterfinals the weekend of March 5, so all those initials can collide in the semis March 7.
Bubbling rivalry here. IPFW won a share of the Summit championship, but twice lost in the final minute to the Jaguars, including the last Saturday of the regular season, when IUPUI coach Jason Gardner jumped up on the scorer's table to celebrate after the game. That violated about six rules of the unwritten coaches' code. He later apologized, and needed to.
Should be fun if they meet in the conference tournament. A real Hoosier state hoedown. Too bad it'd be in South Dakota.
Count the state teams that make the NCAA Tournament.
Remember The Great Shutout of 2014? Not a single Indiana team in the field. Gee, even Delaware had one. What in the name of Oscar Robertson/Larry Bird/Bobby Plump was going on?
But look at this season. Indiana, Purdue and Notre Dame are locks. Butler has been trying to play its way off the bubble. Valparaiso is a big favorite in the Horizon League, IPFW the No. 1 seed in the Summit, Ball State has been atop its division in the MAC, and Evansville was No. 2 seed in the Missouri Valley Conference.
The NCAA bracket could be as Indiana as a breaded tenderloin. Or not.
IPFW's quest is particularly interesting. Why? For one, the Mastodons are the only Indiana Division I school that has never made the tournament. But at 23-8, they're having their finest season in terms of winning percentage since joining Division I in 2001.
For another, they are Indy-heavy. The leading scorer is the Iron Man of Perry Meridian, Max Landis, who has rested for only 10 total minutes in the past 14 games. He went for 44 points one night and is shooting 46.5 percent from the 3-point line. Forward Joe Reed is from Center Grove, center Brent Calhoun from Warren Central.
For another, they're a swell example of overcoming the challenges a mid-major must. Take travel. The Summit League is spread all over the map, and IPFW ain't the University of Kentucky, with its own charter jet waiting. The Mastodons have bused nearly 4,000 miles this season, flown another 11,000. There have been 4 a.m. wakeup calls to get to the next game. And we're talking commercial from Fort Wayne, leaving them vulnerable to the inevitable layover mishaps, such as the night they were delayed five hours at O'Hare.
Let Jon Coffman, the earnest coach building this program, explain his world.
"We have a track that goes around the top of our practice facility. People walk throughout our practice. I open up our practice and people come watch. It's no big deal. One day they're putting the bleachers out for the women's games right in the middle of practice. Guys are up there banging away on the stuff, and I'm doing our scouting report. I didn't even notice it.
"You have to go through a general locker room to get to our locker room. There may be a professor showering when I'm doing my pregame talk with my coaches. You've just got to roll with the punches. If you get obsessed with that stuff it's going to affect your team."
Another punch: IPFW lost its leading scorer to academics at mid-season, and kept on rolling.
Coffman is determined to attract the Fort Wayne masses to his program. "My philosophy is one person at a time," he said. He has been known to offer to leave tickets to a game for new fans. When one guy was flailing him on Twitter over strategy, he invited the man to lunch. "He never answered back," Coffman said. "That usually does it."
Finally, see where everybody goes and wait for something good to happen.
Might Butler be sent to the First Four in Dayton? Easy trip for Bulldogs faithful. Is Valpo as dangerous as it looks? Can Purdue's guards figure out how to play against pressure and not let the game turn into a three-alarm fire?
Then there's Indiana, former train wreck, now national paragon of persistence. Here's a stat to ponder: Tom Crean has won two outright Big Ten championships in the past four years. Bob Knight won one in his last 11. What's the Hoosiers' ceiling now? How much of an extra push would they get if they land in the regional in Louisville, just across the river from their homeland? Can Crean go from endangered species to the Final Four in under four months?
Answers forthcoming. It's March.•
__________
Lopresti is a lifelong resident of Richmond and a graduate of Ball State University. He was a columnist for USA Today and Gannett newspapers for 31 years; he covered 34 Final Fours, 30 Super Bowls, 32 World Series and 16 Olympics. His column appears weekly. He can be reached at mlopresti@ibj.com.
Please enable JavaScript to view this content.