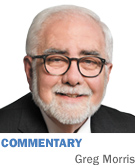 The news is ancient history by the time you read this, but it's fresh as I write. I have a Super Tuesday morning-after hangover. The primary and caucus returns are in. I'm disgusted and otherwise in a foul mood, so I thought I would sit down and attempt some self-therapy by capturing some of my thoughts. I can't be the only person feeling this way.
Before I continue, while I'm a realist and understand we will most likely be forced to choose between Hillary Clinton and Donald Trump this fall, I haven't completely given in to the notion just yet. But we may be just days from that inevitability. While Bernie Sanders has done an amazing job getting more support than I ever thought possible, the Democratic nominee always was going to be Hillary. So that's no surprise. However, I don't personally know one individual who thought Donald Trump would be this strong, possibly unstoppable at this point and the runaway winner on the Republican side of the aisle. Not one.
Honestly, at this moment I feel like I'm living in an alternate reality or some sort of parallel universe. Just when I think things can't get more bizarre, we cross over into another real life twilight zone. Bernie has no chance to win the nomination, but he's advancing a socialist agenda with the philosophy that government will take care of you and everything should be provided for free. Are you alive—living, breathing and do you have a pulse? Great—you qualify. That message won him four states on Super Tuesday.
Next up on the news-of-the-weird reality show: Is Donald Trump really the person the majority of Republicans want to challenge Hillary for the White House? OMG. I thought his early success came because he was saying a lot of things many people have been thinking but were afraid to say out loud. Early on, I thought Trump was out of bounds but somewhat entertaining. However, it's not funny at all now. We're getting down to the serious business of electing a new president. You can feel the desperation setting in with mainstream Republicans. Mitt Romney's speech calling out Trump as "a phony, a fraud" is an example. It's now or never to stop Trump's run. I was clear in a previous column—please don't make me vote for Hillary or the Donald.
All right, I'm getting myself all worked up, and my cardiologist just advised me in my last annual exam that I'm stretching the limits of my blood pressure medicine. I need to relax more and calm down. Yeah, right. Give me a directive I can follow. I'm not generally a negative person, and I don't like feeling this way. There must be some good news somewhere. Let me think. Here's a positive: I have plenty of tasty small batch bourbon in the house. No, there must be more than that. I need to dig deeper. Well, we've all been privileged to witness 16 consecutive years of consensus-building leadership by the Bush and Obama administrations! No, that's not going to fly either. I need to keep searching.
I'll get serious now. Chances are slim, but numbers could be trending to support the notion that Ted Cruz or Marco Rubio could gain ground and stop Trump. But it has to happen now. At press time, the immediately upcoming primaries or caucuses were in Kansas, Kentucky, Louisiana, Maine, Puerto Rico, Hawaii, Idaho, Michigan, Mississippi and the District of Columbia. All of those take place from March 5-12. Then, on March 15, Florida, Illinois, Missouri, North Carolina and Ohio are in play.
We'll know a lot more on March 16. Either Trump will be the inevitable nominee, or maybe, just maybe, Cruz or Rubio will have a shot to catch him. How? Cruz and Rubio continue trending up and put more wins on the board. Then, on March 15, Rubio has to win Florida and John Kasich has to win Ohio, keeping those winner-take-all states out of Trump's hands. After that, Kasich needs to drop out, and his supporters need to back Cruz or Rubio. I'm back to being cautiously optimistic now. But check back with me on March 16 and ask how I'm feeling.
Who has the best chance to beat Hillary in the general election? In my humble opinion, Rubio. But we all know what opinions are worth. Thanks for reading.•
__________
Morris is publisher of IBJ. His column appears every other week. To comment on this column, send e-mail to gmorris@ibj.com.
Please enable JavaScript to view this content.