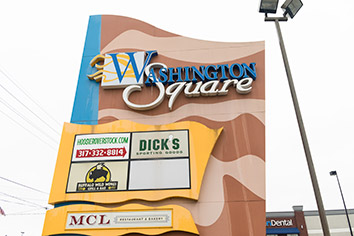 Aging Washington Square Mall on the far-east side ceased being trendy decades ago.
Built in 1974, the shopping center is plagued by severe vacancy and supported largely by non-traditional tenants such as Bouncy Town Indoor Play & Party Center and Lashae Brow & Lash Lounge.
It still boasts anchors Burlington Coat Factory, Dick's Sporting Goods and Target, in addition to national retailers Bath & Body Works, Finish Line and Victoria's Secret.
But the 1.1-million-square-foot property is adrift—without a permanent owner and no turnaround strategy. It's in such decline that Indianapolis-based Simon Property Group Inc. in August 2014 gave up on the property and turned it back to the lender.
Now the lender is attempting to sell the mall, raising questions about whether the property can persevere in its current state or is better suited for redevelopment, perhaps as an open-air power center similar to Glendale Town Center.
Retail experts are skeptical, though, that anyone can save Washington Square.

Hohmann
"If Simon elected to give it back to the bank, and if they determined they can't make it work, I think that says something," said Abbe Hohmann, president of Site Strategies Advisory LLC.
Simon acquired Washington Square in 1996 as part of its $1.5 billion purchase of DeBartolo Realty Corp., and renovated it in 1999.
Washington Square was 77 percent occupied when Simon bought it and even a respectable 86 percent as recently as 2011. By 2014, however, occupancy had slid to just 43 percent, the lowest of any of Simon's 295 U.S. properties at the time.
Hohmann attributes part of its struggles to the east-side's declining manufacturing base and the resulting decline in good-paying jobs.

Reller
The mall has struggled for years to retain customers and retailers, as the east-side area has lost shoppers to Castleton, downtown and the south side, said Ross Reller, senior vice president and director of land services at Resource Commercial Real Estate.
"The east side has just historically not been a real compelling story for retailers," he said. "I don't know if it's the demographics, income levels or traffic. But it reminds me a lot of the Lafayette Square situation. It's kind of a tale of two failures."
Simon sold Lafayette Square Mall, at West 38th Street and Lafayette Road, in January 2008 to New York-based Ashkenazy Acquisition Corp., which has had no more success filling the mall than Simon did. In 2012, the America's Incredible Pizza Co. indoor amusement center closed, leaving a 75,000-square-foot hole that has yet to be filled.
It's not clear who will buy Washington Square or at what price. New York-based C-III Realty Services, which on Feb. 18 accepted bids on the property on behalf of the lender, didn't return phone calls seeking comment. Neither did the mall's leasing agent at Jones Lang LaSalle, which took over management after Simon relinquished the property.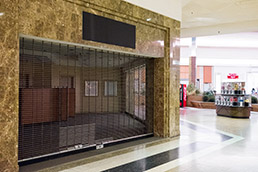 (IBJ photo/ Eric Learned)
A stroll through the building reveals several vacant storefronts, and others occupied by the likes of Overstock Furniture & Bedding. The discount retailer welcomes shoppers at the mall's main entrance, across from Target, with a sign declaring, "we like to haggle, make an offer."
Troubled retailer Sears dealt the mall a big blow when it closed in December 2014, leaving an anchor slot empty.
And the mall's image suffered another setback in October, when two men opened fire inside, injuring three people.
On a recent weekday afternoon, few shoppers strode the corridors.
Still, local shop owners support the mall.
The owner of Smell Goods 2, which sells body oils, air fresheners and other products from two locations in the mall, said business is good.
"It's not like Castleton or downtown, but it has its own customer base," said the owner, who has operated at the mall five years and gave his name simply as Rahman. "It's moved in a different direction; it's more local."
In that vein, in September 2014 Pedro Garcia opened the International Plaza Marketplace in space once occupied by Macy's.
The marketplace, which enables community vendors to set up booths and sell merchandise, is only open Thursday through Sunday—a big downgrade from Macy's, which closed its mall store in 2007.
DL Mosley, who operates Lashae Brow & Lash Lounge, said he is satisfied with his decision to open in the mall late last year.
"It's just a good business to be in. Out of convenience, people are going to try you out once," said Mosley, as a customer walked in seeking an eyebrow treatment.
The two business owners said they knew the mall was in limbo but didn't know the details.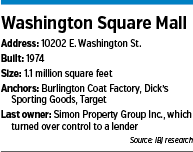 Simon held two mortgages on the mall with a balance of more than $27 million—a $14.5 million loan and another with a $12.8 million balance.
The second loan was considered a "hope note" since 2010, when the lender acknowledged it was unlikely, given the mall's value, that the note would ever be repaid. At the time, the parties valued the mall at $14.1 million.
The first-lien mortgage is a so-called securitized loan owned by multiple investors and managed by Wells Fargo.
Mall manager Jones Lang LaSalle's marketing materials promote Washington Square as a mall with strong anchors, a 12-screen movie theater and several nearby dining options. Located less than three miles from Interstate 465, the area's average household income is $57,175.
That's much less than the $78,000 average boasted by the Glendale area, where locally based Kite Realty Group finished its $32 million overhaul of Glendale Town Center in 2008. The center is nearly 93 percent occupied, according to Kite's latest annual report.
Another Washington Square owner duplicating that success seems unlikely, said Eric Hillenbrand, a retail broker at Marcus & Millichap.
"If there was a doctor in the room to save the patient," he said, referring to Simon, "you'd think they'd have a pretty good idea how to get it done."•
Please enable JavaScript to view this content.