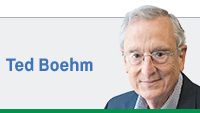 State and federal government and private agencies all have roles in relocating refugees to the United States and supporting them when they get here. For a readable explanation of this setup, read federal Judge Tanya Walton-Pratt's recent order enjoining Indiana from blocking the flow of federal funds to assist refugees from Syria to relocate in this state.
Briefly, the Refugee Act of 1980 authorizes the president annually to set quotas of refugees to be admitted to the United States. Refugees are defined as those outside their home nation and unable or unwilling to return for fear of persecution because of their race, religion, nationality or political opinion. The law sets requirements to vet applicants and establishes a federal agency to administer the program.
Federal funds support the administration of the program and various services for the relocated refugees, including English-language education and job-skills training. One option available to the states to carry out this program is to distribute federal support to qualified private agencies that provide service in the localities where refugees are placed. Indiana chose to do that through its Family and Social Services Administration.
When Gov. Pence announced his opposition to relocating Syrian refugees in Indiana, FSSA was directed to withhold funding from Exodus Immigration Refugee Inc., an Indiana not-for-profit that was preparing to assist Syrian nationals to relocate in Indiana. Exodus sued FSSA, claiming the state's action violated federal law and the Constitution in three distinct ways.
FSSA's action was based on the nationality of the Syrian refugees, and Pratt ruled for Exodus, principally relying on the federal Constitution's Equal Protection Clause. Governmental actions classifying people by nationality, like race and gender, rarely survive judicial scrutiny, and FSSA's did not in this case. Pratt observed that the Refugee Act calls for services to be provided "without regard to nationality" and suggested that FSSA's action also appeared to be invalid under the doctrine that federal statutes override inconsistent state laws.
The case raises some interesting legal points but also a broader question of morality and national policy. The Refugee Act is the response of the United States to the, unfortunately, frequently recurring human tragedy of populations displaced by despotism, persecution, intolerance or ancient hatred. As events around the world remind us daily, this is a global issue, not a local or national one.
Congress passed the Refugee Act in recognition that America, as the most developed and economically and militarily strongest nation on Earth, should bear its share of ameliorating the suffering caused by chaotic events wherever they occur. The president carried out his duty to set the level of refugees we should accept.
Both Congress and the president acted within the exclusive authority over foreign relations that the Constitution confers on the federal government. If state or local officials disagree, their remedy is to express their views to their representatives in Congress. But state and local officials should not attempt to wag the foreign-policy dog by leveraging their grip on the state tail.
Indiana's attempt to isolate itself from what it perceives as a problem raises a problem of federalism as well. To the extent Indiana doesn't participate, it forces relocations to other states. We and the citizens of 49 other states are joined at the hip in dealing with worldwide problems. Apart from any legal issues, no state in this union should attempt to shift to other states its share of America's response to a problem arising outside our borders.•
__________
Boehm is a retired Indiana Supreme Court justice who previously held senior corporate legal positions and helped launch amateur sports initiatives in Indianapolis. Send comments on this column to ibjedit@ibj.com.

 
Please enable JavaScript to view this content.