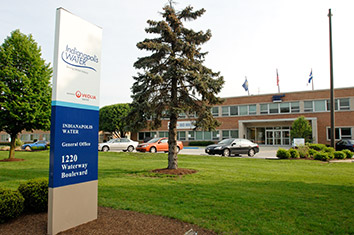 Indianapolis-area residents would see their sewer rates rise by about $8.50 a month this year and another $2.50 a month next year under a settlement announced Thursday between Citizens Energy Group and a state consumer agency.
The current average residential bill is about $35, the utility said.
Citizens had previously proposed increasing sewer rates by $15 a month this year and $3 a month next year. The company said it was able to reduce those amounts by "identifying additional efficiencies."
The rate increase will fund about $425 million of system improvements over the next two years, Citizens said. That includes expanding the company's Southport Sewage Treatment Plant to double capacity; continuing work on a 28-mile tunnel network designed to prevent up to 97 percent of sewer overflows from reaching waterways; and extending the sewer system to another 1,600 homes that now depend on failing septic systems.
"With a half-inch of rain forecast today, about 100 million gallons of raw sewage will overflow from our aging sewer system into area waterways," said Jeffrey Harrison, president and CEO of Citizens Energy Group.
As part of the agreement with the Indiana Office of Utility Consumer Counselor, Citizens will establish a fund to help low-income customers who have difficulty paying their bill. Citizens will contribute $100,000 annually to the fund from non-rate revenues.
The settlement now goes to the Indiana Utility Regulatory Commission for approval.
 
Please enable JavaScript to view this content.