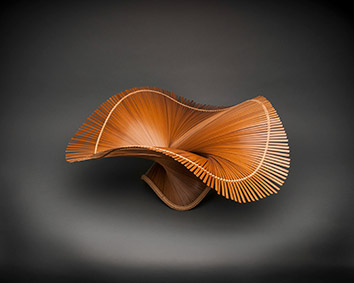 Lightness, strength and flexibility are the hallmarks of bamboo. So it's no wonder the woody grass has been used for centuries for practical purposes.
It's only been in the last 70 years or so, though, that bamboo work has been widely praised as art—something worthwhile beyond its use in basket and furniture making or building and road construction. And as evidenced in Herron Galleries' latest show, "Discovering Japanese Bamboo Art" (through April 16), artists working in this medium can combine stunning craftsmanship with artistic vision to create a range of wonders.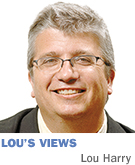 The handsomely presented exhibition draws from the Rusty and Ann Harrison Collection and was sparked by Herron dean Valerie Eickmeier's visit to the Harrisons' home in Attica. The couple's interest in such work, she learned, was seeded by Rusty's service in the Philippines and Vietnam, followed by visits to foundries through his work with Harrison Steel Castings Co. An artist herself, Ann studied textiles and metal-smithing at Indiana University. Together, they initially focused on contemporary work but eventually began looking backward, amassing a collection that includes work by artists designated as Living National Treasures of Japan.
At the Herron show, with dozens of pieces displayed in a single gallery, it's difficult to decide where to look first. Some options: the dramatic waterfall effect of Honma Hideaki's "Torrent," the triangular tangle of Nakatomi Hajime's "Prism," and Yako Hodo's Death-Star-like "My UFO," a large ball with a round tunnel through it.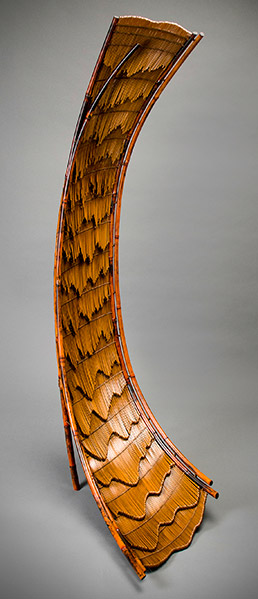 (Photo courtesy of Virginia Taylor Rosner)
A few of the pieces on display, such as Tanabe Kochikusai's dense "Water Basin," appear to maintain a connection to bamboo's practical roots. Yufu Shohaku's "Graceful Dragon," highlighted by its deliberately blurry diagonal stripes, doesn't try to hide the possibility that it can be used as a container (not that any sensible person would).
Others, including multiple pieces by Torii Ippo, appear deliberately fragmented, daring the viewer to envision a larger piece they were once a part of. "Wind Wave" is reminiscent of a shaving from a carpenter's plane. "Piercing the Sky" hints at the remains of an old roller coaster. Still others, most prominently Monden Kogyoku's "Shape of Ancient Clay Figurine," feel like three-dimensional optical illusions, folding in on themselves in a way that makes the bamboo strips seem endless.
The exhibition is supplemented by a wholly professional catalog, created primarily by Herron students, alumni and faculty. The exception is the introductory essay "When is a Basket Not a Basket?" by Robert T. Coffland, who gives a brief but worthwhile and insightful introduction to the subject.•
__________
This column appears weekly. Send information on upcoming arts and entertainment events to lharry@ibj.com.
Please enable JavaScript to view this content.