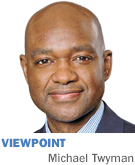 Indianapolis' growth over the last few decades has been extraordinary. All across the city, neighborhoods thrive and residents enjoy the fruits of economic success. For someone who recently returned to Indianapolis after working in another city for a couple of years, this vibrancy is inspiring.
It also can be misleading. Too often, our attention is so drawn to areas of vibrancy that we forget significant parts of our community that do not fully participate in our successes. This must change so we can extend the benefits of living in Indianapolis to all parts of the city. One key to doing that is accessible and affordable mass transit.
I'm not suggesting that transit is the one factor that determines success, but transportation barriers can create heightened challenges for marginalized populations, including many young black men that OpportunINDY seeks to connect to community resources. Access to high-quality jobs, higher education, health care and nutritious food helps to define quality of life for residents—and transit expands such access.
This can be especially true in Indianapolis, a geographically large city where, if your neighborhood does not have essential amenities, you must travel a long way to access them. While travel time to jobs and services has proven to be a key indicator in economic mobility, a recent Brookings Institution study shows that only one-third of all jobs in metropolitan Indianapolis can be reached via transit in 90 minutes, and only 42 percent of working-age residents live near a transit stop (the national average is 69 percent). Overall, the study ranked Indy's metro area 64th for transit coverage and transit job access.
The result is a city where owning a car is imperative, whether you're trying to reach a job in the city's core or one on the edges of the region. However, when you consider that the cost of owning a car is typically about $8,000 a year, and that roughly a third of Indianapolis households have a median income of less than $30,000, you see that owning a car is out of reach for many.
That's why Indianapolis must embrace mass transit, starting with the Marion County Transit Plan, which begins the process of launching Indy Connect, the regional vision for transit. With greater frequency of services and more stops and more service at key times of the day, an investment in this plan will pay solid returns, in a number of ways.
Financially, this investment can be expected to return about $3 in economic output for every dollar spent (not including real estate development) based on other cities' experiences.
Perhaps more important, we also will receive a return from engaging previously excluded segments of our community in our collective success, and create a community more attractive to young workers, tourists and other visitors.
Finally, we'll enjoy a return in the form of a diverse, shared experience. When I use transit in New York, Chicago or Washington, D.C., I see people who are socio-economically, racially and culturally different literally standing shoulder-to-shoulder, colliding in a seamless moment of community.
Moments like those give us a glimpse of what transit can do. It tears down walls, connects people, facilitates access and, in all of that, creates a new community—a community in which everyone has the opportunity to participate.•
__________
Twyman is executive director of OpportunINDY. On March 17, he'll participate in a 7:30 a.m. breakfast panel discussion regarding the Marion County Transit Plan at Indiana Landmarks. He can be reached at mtwyman@indianablackexpo.com.
Please enable JavaScript to view this content.