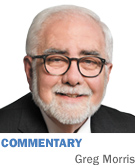 First off, I'm an Apple guy.

I've owned iPhones and iPods since they started making them. I currently have an iPhone 6s, the latest iPad Air 2 and the newest MacBook Pro 13-inch laptop that doubles as my desktop computer. I have two Apple TV boxes connected to my televisions and I own Apple stock. So, I think it's safe to say, I'm a fan of the innovation and technology Apple produces and I feel vested in the company.

I also appreciate and am very concerned about privacy rights. I pay money for a personal email that won't sell my information to third parties. When using Internet search engines and the Internet in general, I'm always adjusting settings to not allow tracking cookies and turning off ad choices and the like.

So, you might think I come down on Apple's side in the FBI dispute. No, just the opposite. And I'm angry enough to drop Apple in a heartbeat if I don't start seeing some level of cooperation with the FBI to retrieve potentially important information from an iPhone recovered from a terrorist who killed many Americans.

I don't buy for a minute Apple CEO Tim Cook's arguments for not helping the FBI and not complying with a court order to recover the information locked inside the phone. Cook says Apple doesn't have the technology to break into the phone. He says the company would have to build that technology and, if it did so, that would unleash dire consequences for privacy rights if the break-in solution fell into the wrong hands. Apple maintains that only Congress can create laws to compel such an action and that what is being asked of Apple is not within the court's jurisdiction.

Why do we need Congress or the courts? Maybe Apple has gotten too big for its own good. Maybe Apple officials think they're untouchable and invincible. Maybe they think because they have more cash on hand than many countries, they can do whatever they want without consequences. I suggest they not read their own press and remember that, the bigger you are, the harder you fall. I certainly can go forward with non-Apple products and be just fine, as could millions of other Americans if they decided to make the switch.

At a recent IBJ Technology Power Breakfast, one of our panelists, security expert J.J. Thompson, CEO of Rook Security, commented on the Apple situation. Here's a paraphrased version:

This topic is incendiary, so it's a very challenging topic, and I've done a lot of research on this one. What's going on is that people have this implicit kind of thought that everybody gets the right to privacy. The Fourth Amendment, through case law in California, does not extend to the dead, so get over it, right?

So there are people who think that, if Apple gives in, it's a slippery slope—all of our privacy's going to disappear, we're going to be back-doored. [Apple CEO] Tim Cook is using very scary words.

It's not true. It's just simply not true, and if this were an established precedent, the precedent would be simply this—if a terrorist attack takes place on U.S. soil with people that are known affiliates and self-proclaimed affiliates of a terrorist group who kill people here and then they have a mobile device on them that has intelligence on it that we should obtain in those specific cases, it's OK to work with the tech manufacturer to get that intelligence so we can thwart ongoing attacks or hold these people accountable. I'm perfectly comfortable with that slippery slope.

So, in my opinion, what Apple should have done is taken the warrant, looked at it and said, "This is not worded correctly. We need to work with the FBI agent who wrote this ... and we need to reword this warrant so that we can accomplish the objective without violating our customers' privacy and take care of the solution without creating a bigger problem." Apple chose not to do that, and I'm very disappointed.

There was applause after Thompson's remarks, and I couldn't agree more. My expectation of Apple and any tech manufacturer is to find a way to use their technology to help law enforcement in very specific cases where they are trying to prevent things like further terrorist attacks. By the way, terrorists shouldn't have privacy or any other kind of rights. For Apple to not cooperate with law enforcement in this specific case is un-American. And, as Americans, we shouldn't do business with companies that act in this manner.•

__________

Morris is publisher of IBJ. His column appears every other week. To comment on this column, send email to gmorris@ibj.com.