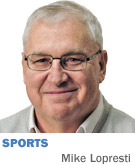 On the front page of the March 18, 1956, edition of The Indianapolis Star: The French were sending troops to Algeria, the Kremlin was worried about pro-Stalin riots, the city of Indianapolis was looking into the legality of advertisements on trolley cars.
But the top headline? "Attucks Still the Champ."         
Sixty years ago, the Oscar Robertson-led Tigers took their last bow at Butler Fieldhouse, blowing away Lafayette Jeff 79-57 to repeat as state champions and finish 31-0. The history book sings an ode to them still. They will always own the state's first perfect season. They will always be statement-makers at a time Indiana was struggling with race relations. They will always be a monument to Robertson's all-galactic greatness, and to his teammates. Also to a coach named Ray Crowe, who went 179-20, then served in the Statehouse, on the City Council and in the Indy parks department. Not sure his name is as hallowed today as it should be.
A lot has changed since '56. The state finals have gone through four more buildings, 11 more unbeaten champions, and a split into four classes that mightily increased the numbers of trophies, even as it diluted the event's mystique. Crispus Attucks High School was turned into a middle school, then back into a magnet school. The Tigers lost the sectional championship game to Brebeuf this anniversary season.
To mark the 60th, and with another state finals March 26 at Bankers Life Fieldhouse, here are 17 questions for 17 special state finals moments since 1956, connecting the remarkable men of Attucks, and today.
■ What happened in 1957 that wasn't supposed to happen?
Minus Robertson and a gaggle of other talent, Attucks still made it back to the state championship game, before losing to unbeaten South Bend Central. It might have been Crowe's best coaching job.
■ When do you call a dynasty a dynasty?
Crowe had retired by 1959, and named Bill Garrett—a hero for Shelbyville's 1947 state champions—as his replacement. Garrett promptly won another state title.
■ Who are Indiana's favorite upset fall guys?
Unbeaten and supposedly invincible, Muncie Central was inexplicably run over by East Chicago Washington 75-59 in 1960. Combine that with the Milan fairy tale, and one could argue that the two biggest championship-game shockers in the history of the state tournament had one thing in common: Muncie Central as the victim.
■ Gary Tolleston entered the Final Four in 1969 at 27-1. What was notable about that?
It was the worst record in the field. Indianapolis Washington, Marion and Vincennes were all unbeaten. Washington ended up champion.
■ How's that saying go, all good things come to an end? 
The state finals said goodbye to the aura of Hinkle Fieldhouse in 1971 with East Chicago Washington, the third consecutive unbeaten champion. Three of its starters—Pete Trgovich, Junior Bridgeman and Tim Stoddard—eventually played in the NCAA Final Four.
■ When did spring truly come to the state finals?
That would be 1978, with the tournament delayed three weeks by an energy shortage from a coal mining strike. Muncie Central won the title over Terre Haute South on April 15, just in time to mail in tax returns.
■ Which of the following teams felt lousiest?
Pick your misery from the 1980 afternoon games: Andrean missing two free throws with no time left in a 69-68 loss to New Albany, or Marion beaten with one second left on Stacey Toran's 57-footer for Indianapolis Broad Ripple. Broad Ripple won at night.
■ Who's the closest thing to Milan, since Milan?
In 1982, Plymouth, enrollment 894, became the smallest school since Plump and his gang to win the state championship.
■ How did other teams finally figure out how to beat Ray Crowe?
Make him an actor. In 1986, Crowe had a cameo as the losing coach in "Hoosiers."
■ How does a team become news 65 years after its last game?
Marion's title in 1987 made the Giants three-peat champions, and evoked memories of 1920-1922 Franklin, the only other team to do it at that point.
■ What's a national record look like?
Consider the picture of the Hoosier Dome in 1990, with more than 41,000 people there to see Damon Bailey score the last 11 points for Bedford-North Lawrence, and push the Stars past previously unbeaten Concord 63-60.
■ What required more overtime than a toy store in December?
Richmond's state championship in 1992. The Red Devils became the first—and with the setup now, will remain the only—team ever to survive two overtime games in one day (Jeffersonville and Lafayette Jeff) to win the state championship.
■ Do you like sunsets? 
Dusk fell on true Hoosier Hysteria in 1997, as the last single-class tournament went to Bloomington North.
■ What does the word "harbinger" mean?
Four champions in one day in 1998, including Indianapolis Cathedral and Lafayette Central Catholic, the first parochial schools to ever win state basketball titles. Perhaps you've noticed there have been a few more since.
■ What shot to win a state title was better than Plump's, or even Jimmy Chitwood's?
In 2005, Luke Zeller swished a half-court bomb at the buzzer to send Washington past Plymouth, 74-72, for the 3A title.
■ If China had the Ming dynasty, what did Lawrence North have?  
The Greg Oden/Mike Conley Empire, which finished off a three-peat in 2006, to the surprise of absolutely nobody.  
■ What haven't we seen since 2009?  
Perfect seasons. Bloomington South of 4A and Princeton of 3A completed theirs in the same session that year.
There'll be none next weekend, either, but there will be memories of the team that did it first. Those Tigers of Attucks are in their 70s now. Nobody's beaten them yet.•
__________
Lopresti is a lifelong resident of Richmond and a graduate of Ball State University. He was a columnist for USA Today and Gannett newspapers for 31 years; he covered 34 Final Fours, 30 Super Bowls, 32 World Series and 16 Olympics. His column appears weekly. He can be reached at mlopresti@ibj.com.
Please enable JavaScript to view this content.