Stressing neither slavish authenticity nor pandering conventionality, Nada (11 W. Maryland St., 638-6232) fills another hole at Circle Centre mall with an interesting twist on Mexican dining.

Let's start with the prime directive for Mexican restaurants: If you're going to charge for chips and salsa, they'd better be good.

In this case, they were well worth the cost. In fact, they might have been the best part of the meal. The Salsa Tasting Trio ($5) came with warm homemade tortilla chips, fire-roasted tomato ancho salsa, jalapeno salsa verde, and habanero "kreeper" salsa. Each salsa seemed calibrated to a particular essence—sweet tomato, fresh avocado and nose-tickling garlic—rather than simply serving as a soupy dip. And the slightly greasy, thicker-than-usual chips were good enough to eat on their own.

A delay in chip arrival led to a manager's brief visit to tell us the chips would be comped. It's nice to see attention is being paid, especially on behalf of those with limited windows for lunch.

A package deal, the Taco Lunchboxes each featured two tacos, a choice of side and a small round cinnamon doughnut. The Chicken Al Carbon Taco Lunchbox ($12) contained tender pieces of chicken, black bean puree, pico de gallo, guacamole and chihuahua cheese. The tacos were fine, but not so exceptional that they would lure me back on their own. The side of Sweet Chili Glazed Nada Fries (like all sides, $4 if ordered separately) offered deep-fried chunks of skin-on new potatoes coated in a sweet and mildly spicy chili glaze, topped with sour cream. Tasty, but a few of these went a long way (which supports the whole "sharing with the table" idea). The doughnut was a nice little touch to end the meal, circumventing any desire to order dessert.

Labeling the bottom part of the menu Large Plates created an unfair expectation for the Shrimp & Street Corn Tamal ($14). The portion proved modest, but the dish left a big impression with an impressive density and an even-handed balance of sweet, smoky and tangy flavors.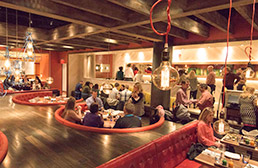 Banquets encourage conversation and food sharing at Nada.(IBJ photo/Eric Learned)
Soup and salad is another way to go, although there's no duo option on the menu. The Chicken Tortilla Soup ($7) didn't trust its flavor enough, burying the soup itself in tortilla strips. The "El Jefe" Con Pollo Salad ($7/$14) found a better balance, with a creamy lime dressing accentuating without overwhelming mixed greens, grilled chicken, black beans, avocado, bacon (small pieces that tended to fall to the bottom of the plate), queso fresco and pico.

A bright, playful atmosphere seems as high a priority as what comes out of the kitchen. The seating, which encourages food sharing and conversation, is cozy and attractive. But it's best to avoid being seated near the spacious entrance area, where it sometimes feels like a floor show could break out at any moment. Otherwise, from its bottle-bottom wall to the playful dioramas in the restrooms, Nada shines as a visual experience.

The product of Boca Restaurant Group, previously responsible for Cincinnati's Boca (Mediterranean) and Sotto (Italian), Nada—which also has an outpost in Columbus—is the first of the group's concepts to leave the state of Ohio. Welcome to the neighborhood.•