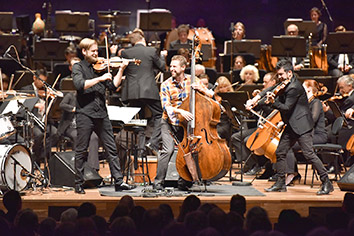 For any other classical/bluegrass/pop crossover group (not that there are many of them), landing a nationally televised PBS special would be a breakthrough.
But the March 25 airing of "Time for Three in Concert" comes at a transitional time for the Indianapolis Symphony Orchestra's acclaimed trio in residence.
Co-founder Zach De Pue—who also serves as ISO concertmaster and principal violinist—has announced that he and the group have amicably separated. He will perform with the trio for the last time as part of the ISO's Infusion Music Festival in April.
The separation marks the end of DePue's 15-year run with the group, which has mashed up Coldplay with Beethoven, blended Stravinsky's "Firebird" into Katy Perry's "Firework," and has been integral to the ISO's ongoing outreach strategy.
Time for Three was formed while De Pue, fellow violinist Nick Kendall and double bassist Ranaan Meyer were students at Philadelphia Curtis School of Music. When De Pue landed a full-time gig as section violinist with the Philadelphia Orchestra, the band worked around his schedule as its reputation grew.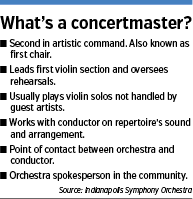 In 2006/2007, De Pue was granted leave from the Philadelphia Orchestra to be part of a 130-concert, nine-month Time for Three tour—which included a fortuitous New Year's gig with the ISO. After that performance, De Pue was encouraged to apply for the open concertmaster position.
After winning the job, De Pue moved to Indiana—with Time for Three quickly becoming an ISO staple as trio in residence. Since then, it has been on the front lines of the symphony's efforts to appeal to a younger crowd.
"The relationship between the ISO and Time for Three has typified this organization's thinking about how it creates a future for itself," said symphony CEO Gary Ginstling. "It was one of the things that attracted me here. It was what a thriving 21st-century orchestra should be doing, pushing boundaries and connecting to the community."
A popular draw at Happy Hour concerts, Time for Three's infectious energy and the three players' skill at connecting with audiences led to recordings, the PBS special and more performance offers—many of which the band had to turn down because of De Pue's ISO commitments.
"There were a lot we didn't know about because our booking agent and manager didn't want to break our hearts," said Time for Three's Meyer.
"I was being ridden pretty hard on both ends," De Pue told IBJ. "Separate areas of my brain and heart and soul and musicality were being used and the two were interfering with each other."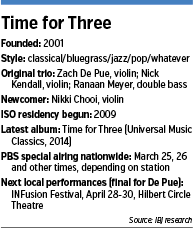 On the one hand, there was the work with Time for Three, which De Pue said "is an art form unto itself. … It doesn't just revolve around the music—there's the show aspect, the timing, the interaction with the audience."
On the other, there is the classical concert-master side where, he said, "I have a platform here to push myself and see how good I can get for this orchestra. I feel a responsibility for the players like myself who are in a position to carry the great repertoire and give every ounce of energy and never become cynical."
After spending months hammering over the decision, he told his Time for Three partners in February 2015 that he would be stepping away.
The move didn't come as a total surprise.
"It was always the elephant in the room," Meyer said. "Nick and I really wanted to devote as much time as we could to the group. But Zach had two wives. Ultimately, he had to make a choice."
Ginstling had many conversations with De Pue about his roles with the ISO and his relationship with Time for Three.
"We're delighted and energized by his renewed commitment to the ISO and everything he has done to build Time for Three into what it is," Ginstling said.
"There was absolutely no pressure from the ISO," De Pue said. "Nothing but understanding by virtually everybody. The pressures that I talk about are self-inflicted."
"It was really about integrity—picking one or the other," he added.
Even before the change was announced, Time for Three had settled on its new third player, violinist Nikki Chooi, another Curtis graduate. Chooi had subbed for De Pue in early 2015. When De Pue gave notice, the group's gut was to go with Chooi but they still developed a short list, reviewed videos, and had management reach out to other possibilities.
"We kept coming back to Nikki," Meyer said.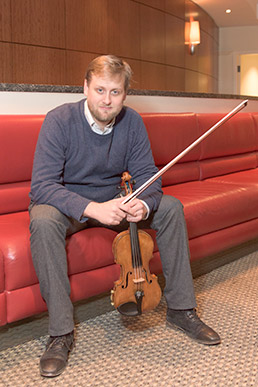 After leaving Time for Three, Zach De Pue will focus on his duties as the Indianapolis Symphony Orchestra's concertmaster while developing his solo talents.
 (IBJ photo/ Eric Learned)
De Pue called his replacement "very gifted," adding that he felt the last few gigs were like "moving the last few bits of furniture out and handing the keys to this kid." The original three, he said, will always be like brothers.
"The calendar is wide open now," said Time for Three Manager Brandi Numedahl.
Freed from De Pue's schedule, Time for Three has booked a European tour, a trip to Hong Kong, and an appearance at the National Music Teachers Association conference in Texas. Ginstling also said the ISO's relationship with the group will continue into the 2016/2017 season, although specific performances have yet to be announced.
"I hope that the national airing [of the PBS special] elevates awareness," Numedahl said. "It certainly would have a huge impact on me if I were booking them." While performing more means more revenue (at $10,000 to $30,000 per appearance), it can also lead to efficiencies—significant when you consider it can cost $400 to fly a bass one way.
As for De Pue, he's prioritizing his work as concertmaster and looking forward to taking on Brahms and Sibelius next season, sans mash-ups. "These are pieces I grew up studying and dream of standing in front of a major symphony and performing one or both."
"As an artist, I still wanted to just play the Dvorak ninth symphony by itself. I missed 'The Firebird' symphony by itself," he said. "It's great music for a reason."•
Please enable JavaScript to view this content.