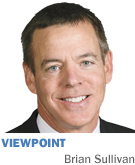 There's a term in real estate appraisal—"highest and best use." It means assessing a property based on potential development and maximum market value … even if the current use of the land falls short.
In Indianapolis, decades of forward-thinking investments and civic energy have transformed downtown. Outside the Mile Square, Indy offers a wealth of unique places to live, work and play.
But as a builder who loves my city, I know Indianapolis isn't achieving "highest and best use" for our people or our economy. Our lack of modern mass transit is a basic obstacle to economic development, quality of life for today's residents, and our ability to attract new talent to our community.
The most practical goal of public transit is connecting people with jobs. Today, more people in Marion County live in poverty than ever before. Many are ready and willing to work, but lack reliable transportation. A study by the Brookings Institution shows nearby employment around high-poverty Indianapolis neighborhoods has shrunk nearly 20 percent over the last decade.
IndyGo has done its best with limited resources—the nation's 83rd-largest bus fleet to serve the 14th-largest city—but struggles to serve those who need it most.
So it's no surprise that a Harvard study of upward mobility shows local families facing some of the longest odds among city dwellers for breaking the cycle of poverty, or that the USDA documents vast "food deserts" covering much of our inner-city.
But this year, we have an opportunity to change our trajectory. In February, IndyGo released a five-year transit plan that expands service across the city, tripling the number of people and doubling employment within easy walking distance of frequent, all-day transit service.
IndyGo envisions a system with more crosstown and high-frequency routes, along with three new rapid-transit lines, running seven days a week with longer daily schedules. By cutting wait and travel times, IndyGo would become a practical option for work—even for jobs that don't follow the typical 9-to-5 hours.
The IndyGo plan is a leap forward. Workers (and job-seekers), employers and families need transportation options now. But these improvements are also a down payment on our competitiveness as a region.
Growth is increasingly concentrated in large metropolitan areas—educated workers want to be closer to dynamic big cities, and employers want to be close to this workforce. A growing list of national studies tracks the migration of millennials and relocation of corporate headquarters closer to urban cores.
Indianapolis is also seeing this trend: College-educated 20-somethings are moving to within three miles of Monument Circle twice as fast as they are to the rest of the metro area (according to a recent CitiLab analysis).
But progress is uneven, and Indianapolis is falling behind some peer cities in population growth and economic output. Robust transit service—including rapid transit like the Red Line—can expand our appeal to young workers who value a more walkable lifestyle, and bring development to areas that need new investment.
We've seen the power of connecting people and places with the Cultural Trail; property values have risen more than a billion dollars along the trail, attracting at least $300 million in new development. Transit brings even greater economic potential for the neighborhoods it serves.
If the City-County Council acts to put a transit referendum on the ballot this fall, Marion County voters will be asked to pay an extra quarter for every $100 of income—less than $10 a month for the average household—to support a better IndyGo system.
It's a modest cost for a vital public service that meets an immediate need and serves our long-term ambitions as a community. It's time to transform IndyGo from a service of last resort to a realistic way to reach work and other daily needs, to invest in an asset that will help Indianapolis grow its talent pool and its tax base.•
__________
Brian Sullivan is managing partner of Shiel Sexton, and serves on the executive committee of the Indy Chamber.
Please enable JavaScript to view this content.