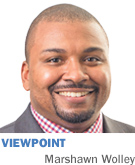 On April 4, 1968, in the heart of Indianapolis, Sen. Robert Kennedy took on the task of announcing the assassination of Dr. Martin Luther King Jr. Other major cities across the country erupted in rioting. Yet Indianapolis was peaceful, as Kennedy urged racial reconciliation, a theme of King's civil rights philosophy and work.
Kennedy's speech helped Indianapolis edge a bit closer than any other U.S. city on the long road toward integration. Kennedy wasn't the only leader engaged that day. A young Bill Crawford was in the audience and reached past his frustration. He demonstrated leadership in both his restraint and zeal to get engaged in the public discourse.
King wasn't just about non-violence; his philosophy called for an integration of society. I don't take the idea of an integration of society to mean the melting away of cultures, identities or institutions, but rather the valuing and negotiation of differences that arise when human interests diverge.
We have made strides but have far to go. On the one hand, downtown has experienced a luxury apartment construction boom. Local chefs have gained national recognition. Cultural assets, like the Cultural Trail, placed us on an international stage. A record-setting number of visitors are coming to Indianapolis.
Yet the Violence Policy Center notes that, in the same year we hosted a Super Bowl, Indianapolis ranked sixth in the nation for black male homicide victims. The Polis Center reports that, for Marion County, the Hispanic community's poverty rate doubled from 2000 to 2012. In Marion County, one in five children lives in poverty. We have food deserts. ZIP codes are increasingly informing destiny and life expectancy.
Facing significant structural budget deficits, local government will continue to rely on public-private partnerships. Fortunately, Indianapolis is at its best when the not-for-profit and private sectors lead civic initiatives with government as a lead convener, or supporting partner. Our not-for-profits are where the private sector and government meet to accomplish civic objectives, so they are a critical and strategic nexus managing the public's trust and good will for the public benefit.
Marion County is nearly 40 percent minority, but most major not-for-profit boards and civic initiatives don't reflect our racial, ethnic, socioeconomic or generational diversity. A Dec. 4, 2015, Indianapolis Recorder article looking at makeup of boards noted that some prominent civic institutions working on important challenges struggle with board diversity—I suspect for a number of reasons.
If our city is to pursue big goals like quality education for all children, fixing our problem with income mobility, strengthening neighborhoods, or addressing the public health challenge of black male homicides, we need to do it together.
But we aren't one city—yet. We are two very different cities.
I'd like to see our business community urge not-for-profit boards and civic initiatives to reflect the same racial, ethnic, socioeconomic and generational diversity as Marion County. I'd also like to see more young professionals, specifically minority young professionals, step forward and take responsibility for making Indianapolis the place they wish it to be.
Crawford, who died last year, often said that, in a policy discussion, "You have to know your interest." I question whether we can appreciate the complexities around the interests of nearly 40 percent of Marion County without more inclusive and informed participation at the boardroom table. My fear is another "Crawford-ism" that, "If you are not at the table, you are on the menu."
Nearly 50 years ago, Kennedy asked what direction we wanted to go as a country. As a leader deeply committed to Indianapolis, I say—wherever we go—it must be together.•
__________
Wolley is director of partner relations for Visit Indy. He also serves as president of the Exchange at the Indianapolis Urban League.
 
Please enable JavaScript to view this content.