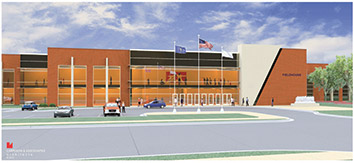 Plans for a massive Fishers sports complex that its developers said would attract Olympic athletes, NCAA Division II and III teams and a minor-league hockey franchise have seen almost no progress since being unveiled a year ago.
Developer GK Sports Development LLC of Carmel boasted last summer that the $77 million Fishers Sports Pavilion already was booking events for 2016. But the 20-acre site sits vacant and remains under the control of Republic Development, which operates Saxony, the mixed-use community near Interstate 69 in the northeast corner of Fishers.
Meanwhile, GK Sports has begun pitching a nearly identical project to a suburb of Madison, Wisconsin. Even though the firm has yet to build a single venue, GK said it plans to replicate its sports complex idea across the United States.
When GK announced plans for the Fishers Sports Pavilion last April, it said the facility would include a 4,200-seat arena with an ice rink that could be converted for other entertainment purposes, a fieldhouse that could accommodate 32 basketball and volleyball courts, a football field, an indoor track, a baseball training center and a 600-space parking garage.
For months, Fishers officials have said the holdup is financing, which GK has struggled to secure.
Mayor Scott Fadness said he receives weekly updates from GK principals Barry Kiesel and Andrew Gerdom, and that, as of their last communication, GK had no breakthrough.
The Fishers City Council has put off voting on the project's incentives—which include a $2 million tax abatement, a waiver of $800,000 in permitting fees and an $805,000 annual lease for the public to use the facility—until GK secures financing.
"It's been a complicated project," Kiesel said about the delays. "I don't know how else to put it."
As Kiesel attempts to line up a lender for the Fishers project, his personal finances appear frayed.
In at least two court cases in recent years, he told judges he lacked the means to hire an attorney.
In one, a judge in January ordered him to pay a collection agency $10,780 owed on a Sears credit card. In another, Kiesel agreed to pay $87,332 after a complicated legal skirmish that included an allegation of fraud.

Fadness
Asked about the legal and financial issues, Kiesel said: "To kind of dig into my life, I don't think any of that matters at this time."
Fishers City Council President John Weingardt isn't confident the project will come to fruition.
"I don't get too fired up until we're at the closing table," he said. "It's a definite maybe."
The principals
Kiesel and Gerdom have spent six years working on the sports complex model, conducting feasibility studies and talking with sports organizations and communities across the country.
Kiesel said he's long dreamed of building a project like the Fishers Sports Pavilion, and that he's working with 16 communities on similar projects. He declined to name the other cities, except for Fitchburg, Wisconsin, where the proposal already is public.
Before starting GK Sports Development, Kiesel said, he worked in real estate, but not with a specific firm.
He previously was with The Pro Group Inc. and Kiesel & Associates, although he declined to discuss details about his experience.
"I don't think that any of that is pertinent to this project," Kiesel said.
Gerdom worked as director of project development for the Indianapolis architectural and engineering firm American Structurepoint until 2010. He then worked at his own engineering firm until helping launch GK.
GK has tapped Arlington Heights, Illinois-based Game 7 LLC to serve as operator and manager of the Fishers arena under a 20-year lease. The company is registered to Val Belmonte and William Buddy Meyers.
Meyers referred questions about the project to Belmonte, who did not respond to IBJ's request for comment.
Game 7's website describes itself as a "unique development and management company of sports and entertainment facilities providing comprehensive venue services." However, the only facility listed is Fishers Sports Pavilion.
Another city
In the fall, Gerdom and Kiesel introduced their sports complex model to Fitchburg with the same renderings from Fishers, including images that had "Fishers Sports and Entertainment Center" on the building.
Like the Fishers project, the Wisconsin arena and fieldhouse would be built in a major metro area along an interstate within a growing community. Fitchburg has a population of about 26,000, and its Uptown development is expected to attract more residential and commercial growth.
GK requested $25 million in tax increment financing for the Fitchburg project.

Weingardt
"Right now, there is more skepticism about whether the value would be there and what would be the public good for our public investment," Fitchburg Mayor Steve Arnold said.
Kiesel and Gerdom made similar promises in Fitchburg as they did in Fishers: The arena could attract a minor-league hockey team; spur investments from restaurants, hotels and sports medicine facilities; and generate millions of dollars in economic impact.
But the public investment is too much for now, Arnold said, pointing out it'd be almost one-third of the total cost.
"They're trying to find some middle ground with the developer," he said of his two-person economic development team. "We have not heard back."
Fishers officials said they are not concerned about GK's expanding elsewhere before breaking ground locally.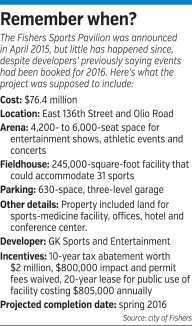 "I was aware that their long-term vision is to provide this model in several places across the country," Fadness said. "I don't view the two as competing."
Arnold said he's curious to see what will happen in Fishers, and whether GK can garner public support in Fitchburg.
"It's a work in progress," he said. "We haven't closed it off; we haven't embraced it. We're waiting for more information."
Legal, financial woes
In the midst of pitching the sports arena project in Fishers, Kiesel had been tangled in multiple legal battles.
The largest was related to construction done by Elkhart-based J.A. Wagner Construction Inc. to expand the Indy Pawn on Pendleton Pike.
In December 2013, Wagner sued Indy Pawn's owner, Team 100 Holdings LLC, alleging it was owed $73,527 for unpaid work.
But Team 100 disputed the allegations and filed a counterclaim against Kiesel, accusing him of conversion, unjust enrichment and fraud.
Team 100 said Kiesel had presented himself as working with Wagner and told the company to make checks out to ITC Group. Kiesel is listed on the Indiana Secretary of State's website as ITC Group's secretary.
Wagner contended Kiesel never was a Wagner employee, and the only work he'd done for the firm was setting up a website as an independent contractor.
The construction firm claimed no association with ITC and said it never received the money Team 100 paid it.
In December 2014, a Marion County judge ordered Kiesel to pay $87,322 to Team 100 Holdings, but he failed to do so.
In February 2015, Wagner and Team 100 Holdings returned to court to determine what assets, wages, income, profits and non-exempt property Kiesel had in his name that could be applied to the settlement.
Kiesel responded with a letter saying he couldn't afford to hire an attorney to represent himself at a hearing scheduled for April 2015.
But about a week later, Kiesel sent another letter saying he had obtained counsel.
In the meantime, attorneys for Wagner and Team 100 Holdings requested Kiesel's financial information, including wage and income figures from GK Sports Development.
According to a document filled out by Gerdom in May 2015, Kiesel was expected to earn $2,000 per week "upon completion of our first project." The document also says Kiesel would receive a developer fee of at least $1 million within two months.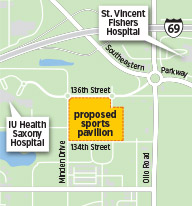 The "project" referenced is not specified.
Kiesel also defaulted on a Sears credit card that had an outstanding balance of $10,780 in 2014. According to court documents, Kiesel opened the account in July 2007 and stopped making payments in July 2012.
In October 2014, Kiesel submitted a letter in that case saying he didn't have the funds to hire an attorney.
A Hamilton County judge ruled in favor of the collection agency in January.
Kiesel told IBJ the lawsuits have no impact on Fishers Sports Pavilion.
He said GK is making "great progress," but declined to say when construction could start. He said events scheduled for this year have been postponed.
Fadness remains in waiting mode.
"It's in the developer's court as to whether or not it will move forward," he said. "I know they are still very aggressively pursuing their financing."•
Please enable JavaScript to view this content.