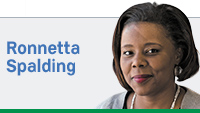 Who would have guessed that a Republican governor (not ours) and the U.S. Supreme Court's birth control debate would deliver multiple surprising examples of saying "no" and working toward a compromise—things our own Republican governor knows nothing about.
When Georgia Gov. Nathan Deal was presented with House Bill 757, which has been coined a "religious liberty" bill, he refused to follow what his party expected and wanted him to do.
Unlike uncertainty over Indiana's own Religious Freedom and Restoration Act and the possibility of discriminating against gay, lesbian and transgender residents, Georgia's version clearly allows discrimination. Georgia lawmakers' bill gives faith-based organizations a green light to fire employees or deny services to anyone who goes against the organization's religious beliefs.
And guess what? Deal vetoed the bill.
"My decision regarding HB 757 is not just about protecting the faith-based community or providing a business friendly climate for job growth in Georgia. This is about the character of our state and the character of its people. Georgia is a welcoming state filled with warm, friendly and loving people," said Deal (see full text on his website at http://gov.georgia.gov). "Our people work side by side without regard to the color of our skin or the religion we adhere to. We are working to make life better for our families and our communities. That is the character of Georgia. I intend to do my part to keep it that way."
Indiana Gov. Mike Pence could have done the same. He could have ensured civil rights for all Hoosiers. He could have refused to allow these harsh and demeaning abortion restrictions (which Pence recently signed to prohibit a woman from getting an abortion if the fetus has genetic abnormalities such as Down syndrome, or due to the fetus' race or gender).
Instead, Pence does what we know he will do in the end: put his own religious views above what's right for Indiana.
And, maybe Pence could learn a thing or lots of things from a place he frequently criticizes: Washington, D.C.
This bright spot in the growing political divide involves the U.S. Supreme Court and the national birth control battle. At stake is whether a business can use their religious beliefs to refuse to cover contraceptives for their female employees. Before delivering its ruling, the Supreme Court is now asking advocates and opponents to provide more details on their position, specifically considering what type of alternatives would be acceptable to both parties.
A win or loss is the typical outcome of a Supreme Court battle. So, it's refreshing at best to see the court attempting to reach a compromise of sorts, to take time to ask both sides to explore options outside of winning or losing. It could all end up in a 4-4 tie when the actual ruling comes out. But right now, it's encouraging to hear the words "alternatives" and "compromise" as a feasible solution.
In the end, I wish Pence wouldn't be so liberal enforcing his conservative agenda. He has plenty of examples outside the state to choose from, all offering alternatives to siding with his buddies and approving more damaging laws in Indiana.•
__________
Spalding is executive director of the 51% Club, a project of the Indiana Democratic Party. Send comments to ibjedit@ibj.com.
Please enable JavaScript to view this content.