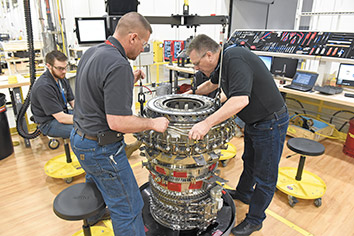 Seventy newly hired workers inside the brand new GE Aviation factory in Lafayette have just started the intricate work of building the guts, or the "core," of what's billed as the fastest-selling engine in the world.
Soon, the growing team expects to complete the plant's first final assembly of the LEAP Engine, which powers the Boeing 737 and Airbus A320.
"The engine is kind of a handmade thing," said GE Aviation spokesman Rick Kennedy. "It's absolutely phenomenal."
But just 55 miles away, more than 1,400 Indiana factory workers from air-conditioning producer Carrier Corp. are reeling from the news their jobs soon will move to Monterrey, Mexico, as their bosses chase lower wages.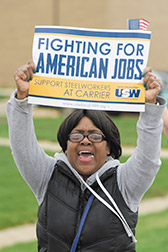 Carrier Corp. announced earlier this year it would lay off 1,400 workers who make heating and air conditioning equipment in Indianapolis and move the jobs to Mexico. (IBJ photo/Eric Learned)
Just as the GE plant is moving to full capacity—230 workers, a workforce likely to include recent graduates of nearby Purdue University—Carrier will be laying off the last of its manufacturing workers in Indianapolis.
Industry experts say these stark contrasts—both playing out at the same time, in the same state, with the same regulatory environment—tell the story of Indiana's manufacturing future.
Highly skilled, proprietary manufacturing jobs—such as those in the aerospace, automotive and life sciences sectors—are likely to stay in the United States and even grow as employers seek talent, and precision demands higher wages. But lower-skilled basic production work is on its way out to international markets like China, India and Mexico, where wages are a fraction as expensive.
"There is a transition going on," said Conexus Indiana CEO Steven Dwyer, a former COO of Rolls-Royce Corp. "Manufacturing is becoming much more sophisticated, but that doesn't mean it's going to be automated or that jobs will go away—it just means jobs will change.
"Companies have learned over the last 25 years that offshoring wasn't everything that it was cracked up to be. That's where you're seeing this delineation between commodity goods and proprietary goods. If you're going to make 1,000 widgets and there's nothing overly clever about it, [offshore labor] works great. But Indiana is looking to bring back or grow proprietary goods."
Indiana recently has outpaced most states in manufacturing growth. The state ranked first in 2014 for the percentage of its workforce employed in the manufacturing sector and second in the nation for growth in manufacturing jobs, according to the U.S. Bureau of Labor Statistics.
But that doesn't mean it's immune from international pressures. Though U.S. factory activity expanded in March, according to the Institute for Supply Management, the nation's manufacturing sector had slowed in recent months, due in large part to the rising value of the dollar and uncertainty in foreign markets.
Indiana's manufacturing sector has been mostly stagnant of late; the state had about 517,700 manufacturing jobs in February—about the same as it did this time last year.
Still, Indiana economic development officials have big goals to grow these highly technical and skilled manufacturing jobs. Aerospace is a specific area where the state is trying to court new players.
"There's some targeted industries we're focused on," Gov. Mike Pence said. "Our efforts to try to return to the International Air Show are part of really trying to widen our reach beyond Rolls-Royce Corp., beyond some of the newer players like GE Aviation."
Dwyer said that is a smart strategy that could pay dividends for workers at several levels of Indiana's wage scale.
"If you have strong aerospace manufacturing, the offshoot to that is a supply chain of very-high-skilled companies that support that kind of sector," Dwyer said. "The supply chain network becomes a higher caliber of sophistication. The top tier of manufacturing tends to be the aerospace and automotive industries, and automotive is already here. If it wasn't, I would be chasing that just as hard."
Why companies stay
For now, Indiana companies say, the manufacturing jobs that make sense to stay here are ones highly tied to intellectual property and advanced skills.
Linda Hicks, vice president of global technology for Indianapolis-based Vertellus, a manufacturer of specialty chemicals that serve the agrochemical sector along with personal care and consumer products, said most global companies are struggling with trying to be as competitive as possible.
"We're always trying to find the right balance of what we do in our higher-cost locations versus what we do in lower-cost parts of the world," Hicks said.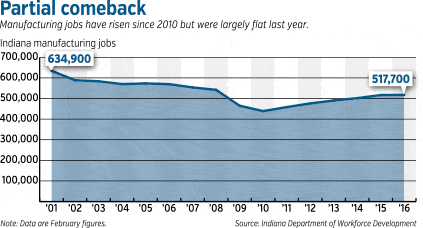 "Processes that have a considerable amount of proprietary know-how and carry a high amount of IP are going to be processes that we try to maintain in North America," Hicks said. "We don't have our highly skilled folks doing work that distracts them from focusing on all of that technical work."
Tom Adkins, general manager of Roche Diabetes Care Inc., which develops and manufactures medical devices in Indianapolis, said the company continues to produce products in the United States "that have significant technical and regulatory complexities."
"Our highly skilled staff and local resources are essential to our business, as they ensure we meet and exceed industry standards, especially in the U.S. market," Adkins told IBJ in a statement.
Other firms here are bucking global manufacturing trends purely because of product quality, while sacrificing profits.
Anton Babich, owner of Fort-Wayne clothier Anton Alexander, started his company making custom dress shirts back in 2012. He started doing his production in China because he couldn't afford to do it here.
"It makes a lot more sense, especially from a profit standpoint, from a new company standpoint, to start over there," Babich said. "But I ran into quality-control issues. I ran into long lead times and a lot of other issues. And at the end of it, the shipping was expensive."
So he decided to set up in Fort Wayne. His two-person operation sells only directly to customers and doesn't have much inventory. That has allowed him to keep costs down and give his clients better service. Now, instead of waiting three to four weeks, his customers receive their custom shirt at their door in a matter of days.
"We have the fastest human operation you can have," Babich said. "Time is money."
The downside: Babich said production costs 40 percent more.
"Right now, there's nothing out there that makes us feel good about doing it here other than the lead times and sleeping better at night," Babich said.
Within two years, he said, he's been able to break even. But the trajectory for growth is uncertain, and Babich said he wishes there were more government incentives for companies to produce goods here.
"We cannot go to retail stores," he said. "We won't make any money. It's a slower growth, but we've been happy about the amount of traffic."
Workforce challenges
But the challenge of training skilled workers for the jobs of the future is something that continues to nag at the industry.
"I think the key to continuing to grow in the areas of our strengths is focusing on having the best-educated and best-skilled workforce in the country, making sure we continue to advance the kind of career education for young people that exposes them to the global businesses that are here and careers available at every level," Pence said.
Kennedy, the GE Aviation spokesman, said the company was initially attracted to Indiana because of its regulatory climate. He specifically referenced as a draw the state's right-to-work legislation—which became law in 2012 under Gov. Mitch Daniels and frees workers from paying fees to unions they don't join. He also praised the overall philosophy of Daniels, who now leads Purdue.
But the next step was finding a place to operate that could supply highly skilled workers. That's how Lafayette won.
"The main draw for us to open our manufacturing site there was the proximity to Purdue and Ivy Tech Community College," Kennedy said. "There's the old-fashioned fundamentals: close to an airport, close to our headquarters, basic logistics. A lot of states can do that. Indiana was very aggressive in terms of workforce development. You can't get [workers] off the street. The people who come in are really good quality. If you can get that in a community, then you're golden."
Reviews like that are why Indiana officials just aren't fretting life after Carrier too much.
Though the jobs are changing, Indiana Secretary of Commerce Victor Smith said he likes the state's long-term manufacturing "prognosis" versus those of international competitors.
"They're throwing labor at it," Smith said. "We're throwing technology at it."•
Please enable JavaScript to view this content.