I have decidedly mixed feelings about the food truck phenomenon.

While I appreciate when they temporarily bring more variety to areas less dense with dining spots, as a consumer I haven't found most of them to be cost-effective for lunch, let alone worth standing in line for. And don't get me started on the idea of paying a cover for a festival of food trucks.

However, as demonstrated by Chef Dan's Southern Comfort, (5539 E. Washington St., 737-1801), food trucks can serve as an effective farm team—a way to hone your product before opening a brick-and-mortar eatery. And a food truck can also be an effective brand builder, increasing the name recognition helpful in getting first-timers through the door.

A recent addition to the Irvington dining scene, Chef Dan's is divided into three rooms. The bustling takeout business in the first might cause you to head for one of the other two, but I recommend staying put; the colorful, Mardi-Gras-beaded atmosphere of the first doesn't extend to the other rooms, which feel merely functional.

On the menu: Mississippi- and Louisiana-inspired dishes adapted from recipes passed down to Chef Dan from his grandmother, Dorothy Mae Brady.

We started with Crawfish Beignets ($7 for three). The idea of enhancing the traditional deep-fried treat with a bit of fish flavor works, to a degree, but in the future I'll stick to the basic powdered-sugar-covered one as a dessert.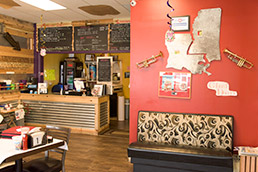 Chef Dan's Irvington location builds on the success of its namesake food truck. (IBJ photo/Eric Learned)
Instead, I strongly suggest appetizing via a cup of the Crawfish Etouffee ($6)—although you might want to invest in a bowl since you are likely to want to share some of this rich, nutty dish with your dining partners. I paired it with the Jambalaya Chicken and Sausage ($9), which went easy on the spices but heavy on the meat and poultry.

The Chicken Sandwich ($9 with a side) is strictly for that office-mate you had to talk into joining you at such an "exotic" place for lunch. The chicken cutlet itself was fine and its batter shell subtly flavored, but its distinction was lost amid lettuce, tomato, remoulade and bun.

On the other hand, we had no issues with the Shrimp Dinner ($12), which demonstrated care even for such a basic dish. If offered a redo, though, I'd try the Seafood Platter ($14) for a greater range of flavors to sample. All sides were satisfying, including White Cheddar Mashed Potatoes, Cajun-seasoned Fries and housemade Cole Slaw (each $3 if added).

As we were revisiting the menu for dessert options, we were served complimentary portions of Banana Puddin' complete with the requisite nearly stale vanilla wafer dipped in the center.

A taste of the pudding pleasures didn't keep us from also trying Bread Puddin' ($4), a substantial square that nonetheless was easy to drive a fork through. Perhaps the ample bath of caramel sauce loosened it up. Whatever the case, it was happily devoured. The rest of the pudding could wait.•

—Lou Harry