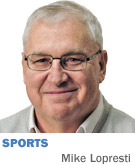 What was it Paul George said the other day about Indiana getting back into the NBA playoffs? "It didn't seem right, being home in mid-April." So now that it's the postseason, and the Pacers are not home but in Toronto, welcome to Playoff Jeopardy.
First, the answers, then the questions:
40-10 …
What's the record of No. 2 seeds against No. 7 seeds the past five postseasons? No seventh seeds managed to survive, and in only three of 10 matchups were they able to push the series past five games. Which gives an idea of the mountainous road the Pacers are traveling.
Nine …
How many franchises, other than Indiana, have the players on the current Pacers roster represented in past playoffs? Which might mean something in the next few days, when you add that to being the underdog with nothing to lose. That's the theory in the Indiana locker room, anyway.
"It's a huge weapon, especially with a team like us," George said. "We've got some youthful guys but we're not a young team. We've got some guys who have been in the playoffs. That's the scary part. I've been used to being on the other end, being the higher seed playing the lower seed, and I know what pressure that brings. So this will be a new experience—being the lower seed, having no expectations. We just have to come out and play."
June of 2010 …
When's the last NBA Finals without LeBron James?
Ten …
How many Finals do you have to go back to find one without either LeBron James or Kobe Bryant?
Two …
How many active NBA franchises have been in one, and only one, NBA Finals? Sacramento—way back as the Rochester Royals—and your Indiana Pacers. While we're on the subject, seven teams have never made it that far, compared to four NFL franchises that have never played in a Super Bowl and two Major League Baseball organizations that have never been in a World Series.
Just after 11:30 p.m. …
What was the air time for the weeknight games in the 1981 NBA Finals? Yes, in Larry Bird's first appearance, the Finals were considered so unappealing, they were shown on tape delay.
May 14 …
What was the date Bird's team clinched that championship? Now, the postseason stretches to Father's Day. Which brings up the subject of how much the playoffs have changed since those shaky years. Bird stood in a Bankers Life Fieldhouse hallway recently and gave a short oral history on the subject.
"It's completely different. We used to have the best-out-of-three in the first round, which could be very scary if you went into the playoffs and one of your better players was injured. I'm glad they did away with that. Everybody says, 'Why would they have a seven-game playoff in the first round?' Because they want the better team to win, that's why.
"When I first came into the league, I didn't know what to expect. I looked around and thought, 'I don't know about this league, if it's going to make it.' I can remember at the All-Star Game, Commissioner [David] Stern coming in and saying that the game's not even sold out. Then Earvin [you know him as Magic Johnson] won his first championship, and then we won, and then '84 was the big highlight when the Celtics played the Lakers. That's when I really started to see everything start to grow, grow, grow, grow.
"The thing I remember about the playoffs is, the first round we played, I thought it was pretty tough. Physical, banging. We'd get to the second round and I'd go, 'Damn, this is harder than the first round. I wonder what the next round is going to be like?' We played some great teams. We played Philadelphia with Julius [Erving] and Moses [Malone]. The '83 team they had was one of the better teams I ever played against, and nobody ever brings it up.
"I always told Magic, 'You guys walked through every year out there [in the West] and we're out here beating our brains out, and then we've got to play your style, up and down.'
"That was a special time for me because everything was new to me. I've been around this 30 years now and I really can't believe how far it's come. It's been an amazing ride, just seeing all the changes."
One …
How many season-scoring champions—besides Michael Jordan—have played for an NBA champion in the past 41 years? That'd be Shaquille O'Neal of the Lakers in 2000. But here comes Steph Curry.
Chuck Person …
Who has the best Pacers scoring average in NBA playoff history? You probably thought it was Reggie Miller. Person is at 21.93; Miller, 20.64.
Nineteen …
How many NBA playoff series have the Pacers won all-time? For historical reference, the Lakers lead the league with 106.
Toronto has won one. So Indiana went into this series with the edge in one thing, anyway.•
__________
Lopresti is a lifelong resident of Richmond and a graduate of Ball State University. He was a columnist for USA Today and Gannett newspapers for 31 years; he covered 34 Final Fours, 30 Super Bowls, 32 World Series and 16 Olympics. His column appears weekly. He can be reached at mlopresti@ibj.com.
Please enable JavaScript to view this content.