Neither haughtily gourmet nor been-there Mexican eatery, Mr. Tequila's Cantina & Grill (931 S. East St., 991-3058) displays class, care and comfort you might not expect given its goofy name.

That whimsical moniker, though, actually reflects what's available from the bar menu, which is stocked with flights of tequila as well as an array of specialty cocktails and margaritas well beyond the standards. The bar runs almost the length of the narrow restaurant, which means a lively bar crowd's conversations are likely to spill out into the dining area.

Forgoing the knee-jerk move of just ordering a nacho variation, we launched into the meal by supplementing our complimentary chips (and so-so salsa) with Queso Flameado ($8.99). The warm plate of melted Monterrey Jack cheese with steak strips (chicken is another option) garnished with tomato, bell pepper and onion allowed us to avoid the soggy-at-the-bottom chips or unadorned outlying chips that plague most nacho plates. Instead, we piled our chips high as we wanted, scooped up the extra, and nearly forgot that we also were provided with warm tortillas to roll our own. It proved ideal for our three-person party.

Those seeking the familiar should know Mr. Tequila offers fajitas, burritos, tacos, quesadillas and the rest (and you can find most of those in lunch specials ranging from $5.99-$6.99). But we made a collective decision to pass on the standard Mexican restaurant options.

The Chuleta de Puerco ($11.25), for instance, provided two meaty pork chops marinated and seasoned with just enough heat thanks to jalapeno and onion cured in lime juice. An accompanying guacamole salad also included a touch of finely minced jalapeno, elevating it above the norm.

The Pollo Sabroso ($12.99) topped marinated chicken breast with a quintet of grilled shrimp in a cheese sauce that didn't overwhelm. I expected a little more kick from the achiote- guajillo- and chipotle-rubbed Tilapia ala Plancha ($12.99), but its flavors were subtle, which proved perhaps less memorable but satisfying nonetheless. Portion sizes were spot on—no take-out containers needed.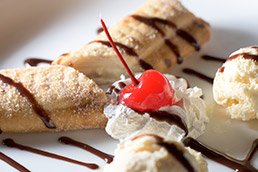 Save room for the Banana Chimi, Mr. Tequila's hot/cold, crunchy/smooth dessert treat. (IBJ photo/Eric Learned)
Our two shared desserts each could be considered successes. The Choco Flan ($3.15) featured two tiers that equally pleased, tipping on the side of subtlety instead of strong flavors. The Banana Chimi ($3.99), however, proved the highlight of the meal, a delightful mix of frozen, warm, crunchy and smooth with a cinnamon sauce that pulled it all together.

Mr. Tequila's takes over the spot that housed Nourish, one of the quickest and saddest restaurant casualties of 2015. Nourish's mere three-month stand led some—including its owner—to speculate that the location wasn't quite right (despite neighboring Bosphorus Istanbul Cafe's long run).

Here's hoping Mr. Tequila proves that assumption wrong.•