Joe Hogsett vowed from the start of his mayoral campaign that he would crack down on ethics rules if he got the chance to run City Hall, even promising in a campaign ad to get tough on "downtown insiders who cheat the system and steal your tax dollars."

His administration scored an early victory when the Indianapolis City-County Council on April 11 approved new ethics rules drafted by Hogsett's team that— among other changes—increase disclosure from lobbyists, impose a cooling-off period for former employees who become lobbyists, and beef up an online portal designed to increase transparency.

Hogsett
Overall, the changes build on and put new enforcement teeth into an ordinance created during former Republican Mayor Greg Ballard's first term in office. Critics said that ordinance turned out to be ineffective in ferreting out unethical behavior. Hogsett noted during his campaign that just two gifts had been reported by a lobbyist and no major enforcement moves had been taken in the five years since the system was created.

But despite the rhetoric, do Hogsett's updates go far enough? Why not blow up the rules and start over, especially given that ethics reform was a signature campaign issue?

Good-government advocates acknowledge Hogsett's ideas are "no step back" from previous rules, but they say they would have liked to see him take a stricter approach, given his campaign tone.

Vaughn
"It takes us a step toward a more ethical Indianapolis, but we think it could be stronger," said Julia Vaughn, executive director of Common Cause Indiana, a government watchdog group. "I guess I wish he picked a bigger fight over ethics, because it's worth it."

The major tenets of the rules include more robust reporting of gifts, a one-year cooling-off period between leaving government and becoming a lobbyist, and language that allows the administration to break contracts and even blacklist vendors who break the rules.

The ordinance applies only to city and county employees—not city-county councilors.

Hogsett said he would be willing to support tweaking the ordinance, or craft new rules, if the administration determines this update isn't strict enough or if the enforcement isn't adequate.

"If this needs to be further expanded because we seem to be unsuccessful in creating a greater transparency between city government and the activities of lobbyists," Hogsett told IBJ, "I certainly am open to and would welcome the idea of tightening it even further."

Still gifting

A key criticism of the new rules is that lobbyists are still able to give gifts to elected and agency officials. More disclosure is a good thing, Vaughn said, but that is still "operating from a flawed premise."

The rules expand what is required to be disclosed—and specify that lobbyists must say whom they gave gifts to. But there is no required disclosure of gifts under $25 and employees already couldn't accept more than $100 in gifts from any one person over the course of a year.

Orentlicher
David Orentlicher, an Indiana University Robert H. McKinney School of Law professor who specializes in governmental ethics and is also a Democratic candidate for the U.S. House of Representatives, said the disclosure rules are a good start.

But he said, ideally, certain gifts wouldn't be allowed at all.

"If the concern about gifts is that they influence people's judgment, by just disclosing them you still have the influence," Orentlicher said. "Even if it doesn't influence them, it creates an appearance of impropriety."

And one of the major objections to gifts over the years hasn't been about those coming from lobbyists in the traditional sense at all. It's been about gifts from quasi-governmental agencies such as the Capital Improvement Board, including tickets to sports games.

The new disclosure rules don't apply to those groups, Vaughn said.

"It's disappointing that public agencies like the CIB, Visit Indy and the various tourism agencies in town will continue to be able to give gifts to public officials," she said. "There's a strong appearance of impropriety there, particularly with the CIB and the functioning of Lucas Oil Stadium and Bankers Life Fieldhouse. It leaves a bad taste in a lot of people's mouths."

Hogsett said the rules require disclosure of the most troubling gifts—while balancing the reality of working in government. He said he's been given small gifts in his first 100 days in office—items like books and other trinkets—by schools, neighborhood associations and others he believes had no intention of "shaping or bending policy."

"I get gifts on a weekly basis that are inconsequential in terms of their value, and frankly, other than displaying them in my office, that's the only value they have," Hogsett said. "It's not like a steak dinner. It's not like a trip down to play golf at French Lick. I could certainly live with [eliminating gifts altogether]. What I'm trying to do is be realistic about gifts that really have no intent behind them."

'Culture of enforcement'

Johnson
Democratic Councilor Blake Johnson, who sponsored the new rules in the council, said the goal was to close "the most gaping loopholes."

"My hope has been that this would be the prologue for a broader strategy. I don't want this to in any way suggest the job is done. In an ideal world, we would cut down on gifts. It's unfortunate this has to be incremental."

Members of Hogsett's administration who drafted the rules said they built on the Ballard administration ordinance because they thought it had a strong base—but lacked enforcement tools.
Mallon
"The notions there are good and the principles there are good," said Andy Mallon, Hogsett's corporation counsel. "You don't have to throw the baby out with the bathwater."

The goal of the changes is to create a "culture of enforcement," Mallon said. He said it was bold for the administration to include language that requires vendors to agree to ethics rules in their contracts with the city.

"The one thing that lobbyists and vendors want [is] more contracts and more work from the city," Mallon said. "To put that at risk by some version of some unethical conduct, I think is very significant. I'm hopeful and curious to see how it works."

The lobbying registration will be overseen by the Department of Code Enforcement, he said. But Mallon has supervision over the overall ethics code, and will be responsible for responding to complaints and writing advisory opinions about whether someone has broken the rules.

Vaughn said she is worried that, with the plethora of rules the code enforcement department is charged with overseeing, activities of lobbyists won't be top of mind.

"I would hate to see lobbying be the last thing on the list," she said. "If the mayor is saying this is important to beef up, then dedicate a city staff person to ensure you don't have a law [only] on paper and [that] it's actually being enforced."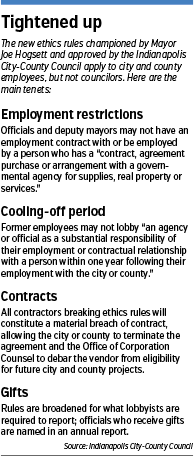 Not the first time

Hogsett has a history of favoring strict ethics rules, and his ideas haven't always been met with a great reception. He acknowledged as much.

"These types of important governmental proposals—openness, transparency, disclosure—always seem to meet with some measured disapproval by people who may be too lazy or just don't want people to know what they are doing with their time," Hogsett said.

The first major rebuke came in 1991 when Hogsett was secretary of state. Then-Attorney General Linley Pearson strictly interpreted the state's current ethics law, mandating that lobbyists significantly increase their disclosures of expenses—including everything from mortgages to credit cards to their salaries.

Hogsett strictly enforced Pearson's mandate. At one time, he called a new legislative proposal that he felt was unethical the "let's get our stories straight" law, which angered lawmakers on both sides of the aisle.

Lawmakers took away Hogsett's responsibility for regulating ethics rules as a result of his interpretation. Instead, they created a commission to oversee lobbying. When then-Democratic Gov. Evan Bayh vetoed the move, the General Assembly quickly and overwhelmingly overrode his veto.

"Ethics and holding people accountable and making sure the public at all times knows who's doing what to influence whom has always been at the very center of my public commitment and my public interest," Hogsett said.

A much more subtle admonishing came just a few months ago.

In one of Hogsett's first major speeches as mayor-elect, he warned a crowd of lawyers, lobbyists and politicians at the Bingham Greenebaum Doll LLP Legislative Conference that he was serious about a new era in city government.

Hogsett railed against "those who have for too long seen an electoral victory be a gross partisan entitlement to the spoils of government."

Ed Feigenbaum, founder of INGroup, which publishes several public policy newsletters, said the comment's reception was icy.

"That edict was met with almost stone-cold silence from the crowd that included lots of representatives of professional services entities that have traditionally profited from city business," Feigenbaum said. He noted that a similar call for ethics reform earlier in the day at the conference from former U.S. Rep. Jill Long Thompson was "met with similar flat reception."

Feigenbaum said he believes those experiences shaped the writing of the city's new ethics ordinance. He described the proposal as "no step back" in ethics rules, but said observers aren't hailing it as "bold or imaginative."

Vaughn said the proposal is reflective of the "honeymoon" period Hogsett is in, and that she hopes he keeps cracking away at it.

"Perhaps [Hogsett] didn't want to start a fight over something like this, but that's what we really need if we're going to change business as usual," Vaughn said.

Council on board?

Advocates say the next task will be getting the City-County Council to adhere to stricter ethics rules.

The Democratic-controlled council approved the rules April 11 by a wide bipartisan margin. But beforehand, they passed an amendment specifying the rules don't apply to the council, councilors or state offices with county jurisdiction, such as the county prosecutor and judges of the circuit court or superior courts.

"However, all individuals excluded are invited to comply with this ethics code," the ordinance states.

Hogsett said he wants the council to tighten its own ethics rules, but noted that the new rules will provide more transparency about councilors' activities because lobbyists will be required to disclose items of value they give elected officials.

"There is a separation in branches of government," Hogsett said. "I'm trying to be respectful of that. I think the City-County Council should always be mindful of the importance of public disclosure."

But the council has rejected past moves to tighten its ethics rules.

An effort last fall by former Democratic Councilor Kip Tew to tighten lobbying rules failed. Tew, who lost November's election to Republican Colleen Fanning, wanted to establish a bipartisan lobbyist registration commission.

And in 2013, Democratic Councilor Brian Mahern proposed that councilors be required to report free game tickets, among other gifts, from municipal corporations, including CIB. The proposal was tabled, effectively killing it.

Johnson said he is in early discussions about proposing new ethics rules for the council itself, and that he is evaluating other cities' ethics codes to research best practices. But he acknowledged that will be a tougher task.

"This provides us a nice road map," he said.•