Appirio Inc., a global cloud-consulting firm that transplanted to Indianapolis last year, might soon get a few acquisition offers.
A wave of buyouts has swept through the so-called "cloud services" sector in recent years, including International Business Machines Corp.'s deal on March 31 to acquire Bluewolf Group LLC for $200 million. Appirio is one of the largest, if not the largest, remaining independent shops in the field, observers said, making it one of the juiciest apples left on the tree.

Barbin
But the company has no interest in getting picked, even as investors have pumped more than $111 million into it and expect their cash back at some point. CEO Chris Barbin said he'd rather float shares on the public market than get acquired.
"I would prefer IPO, to be honest," Barbin said in a phone interview. "I think we have started something really special here. … The opportunity to shape and change a market is a very unique opportunity, so staying independent is much more—even as a public company—appealing than doing it as a division or business unit of another company."
Appirio helps enterprises integrate cloud-based software like Salesforce and Workday into their businesses. It was founded in August 2006 and moved its headquarters from San Francisco to Indianapolis last summer, partially because competition for tech talent was so fierce in California.
It generated $200 million in revenue last year and employs about 1,250 globally, including 155 in Indianapolis. It intends to have 577 local employees by the end of 2020, according to a state tax incentive deal sealed last year, and average salaries for new hires under the agreement are expected to exceed $65,000.
Appirio and other cloud-consulting firms have emerged over the past decade as firms have started using remote servers to access software, as opposed to buying and installing software on site. The companies that make these complex, cloud-based applications have mostly stuck to development and selling, leaving the task of migrating onto them up to the buyers.
So-called global systems integrators like Accenture and Deloitte have been around for years to help, but industry observers said they've historically been slow, diversified and deficient in cloud expertise. The younger, more-agile breed of integrators, however, grew up in the cloud and specialize in specific software applications.
"These solutions require an understanding, a deep integration and, more importantly, adoption by the people inside of your team," said Andy Medley of local marketing firm PERQ, about the importance of having consultants or, in its case, dedicated employees, for cloud-software integration. "And without those things all occurring, then you're basically paying for nothing."
Booming market
Business spending on cloud-based applications—and the tools to create and deliver such applications—is projected to top $141 billion in 2019, according to industry tracking firm International Data Corp., up from nearly $70 billion in 2015. Research firm Gartner pegs the figure at $204 billion today, but includes a broader subset of cloud spending such as security services. Appirio said it typically sees enterprises spend equal amounts on cloud subscriptions and the professional services that support them.
The recent consulting industry consolidation reflects the ambition by systems integrators to bolster their cloud capabilities, observers said, and that interest does not appear to be waning. At least a dozen cloud consulting acquisitions have occurred since the fall of 2012, including Accenture's 2015 acquisition of Cloud Sherpa for an undisclosed amount.

Kaplan
"Appirio is in an advantageous position," said Jeff Kaplan, managing director of Massachusetts-based advisory firm THINKStrategies. "First of all, there's growing demand for Appirio services, and there's demand for companies like Appirio from larger acquirers."
He also said: "In all of these sectors, there tends to be a herd mentality, where once some of the leaders become acquired, there's a growing interest in other players in the market."
Appirio rejected offers even before the IBM-Bluewolf deal, though Barbin wouldn't say how many. And the company may hold firm to its anti-acquisition stance: Not long after that deal was announced, Barbin released a statement that seemed to both play up Appirio's independence and criticize the consolidation trend.
"As mega [global systems integrators] acquire independent consultancies, a void in the marketplace widens," he wrote. Clients "don't want out-of-the-box solutions that have been applied on thousands of companies before them. Rather, we hear customers wanting … individualized solutions in days and weeks—not months and years."
Barbin said he wants Appirio to maintain its "purity and clarity" and not be bogged down by the legacy behaviors of large systems integrators. He suggested he wouldn't be enticed even if a would-be suitor pledged to keep Appirio a stand-alone subsidiary, since similar promises made to other firms in the industry haven't panned out.
"They get absorbed into a broader cloud unit or a digital business unit," he said, "and therefore things can get watered down."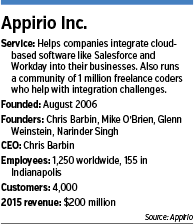 Tech IPO demand chilly
Kaplan, who runs THINKStrategies, expects interest in acquiring Appirio to pick up in the wake of the Bluewolf deal.
"I'm not going to predict who those [suitors] are going to be, but the companies that haven't yet made acquisitions include companies like Deloitte, PwC, and maybe even a company like HP Enterprise … ."
Appirio someday might shed its aversion to being acquired, given that the company is backed by venture capital firms that expect to cash out eventually. Its investors include General Atlantic, GGV Capital and Sequoia Capital.
Despite the merger-and-acquisition interest in firms like Appirio, the public markets have been chilly to technology companies of any type lately. Shares in several firms that had initial public offerings in 2015, including Box Inc., have dropped below debut prices, and there wasn't a single tech IPO in the first quarter this year.
"At the right time, we think that there could be an opportunity to go public," but "we're not getting pressure from the board to take it public anytime soon," Barbin said.
"We think that it's still super-early innings," he said, noting cloud spending is about 7 percent to 10 percent of IT spending. "We're still having a lot of fun and still have a lot of runway to go."
Kaplan said the curious thing about cloud computing is its implied simplicity. No longer do companies have to make expensive, upfront software purchases and host the servers that run them. They can rent software through subscriptions on someone else's servers.
For all the benefits of the cloud, though, simplicity is elusive, because implementing and managing cloud-based applications require expert help. Kaplan said that also will be the case for other emerging technologies, such as connected devices, commonly known as the Internet of Things.
"The next wave is around this idea of the Internet of Things," Kaplan said. "That marketplace also requires expertise, experience and skills like an Appirio might offer, and represents a whole new set of opportunities to professional services firms."•
Please enable JavaScript to view this content.