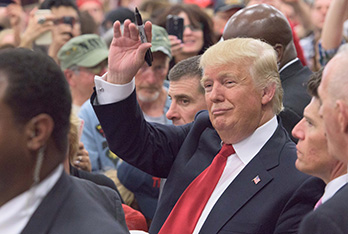 Throughout his rollercoaster presidential campaign, billionaire Donald Trump has often invoked on the trail Carrier Corp.'s decision to lay off its Indiana workers and move its manufacturing to Mexico.
On Wednesday, Trump finally got a chance to deliver that applause line to Hoosiers.
He railed against Carrier several times throughout his nearly hour-long speech to a crowd of thousands of supporters at Elements Financial Blue Ribbon Pavilion at the Indiana State Fairgrounds.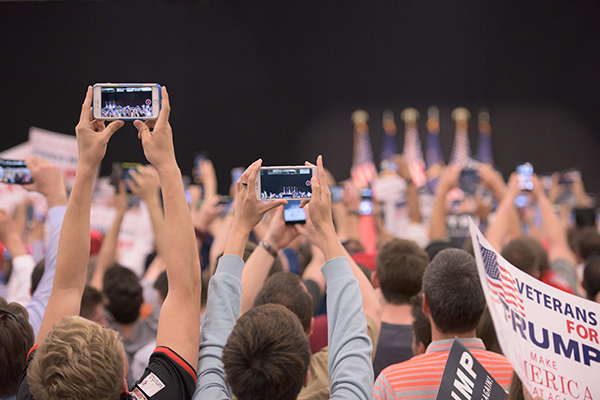 "If I were in office right now, Carrier would not be leaving Indiana," Trump said, eliciting cheers from the crowd.
"Our jobs are being ripped out of our states, ripped out of our country," he said. "They're going to Mexico, they're going all over."
Carrier Corp. and its parent company, Connecticut-based United Technologies Corp., stunned Hoosiers in February when it announced plans to close manufacturing plants in Indianapolis and Huntington, lay off 2,100 workers, and start production in Monterrey, Mexico.
Trump told the crowd that he would charge Carrier a 35 percent tax for selling air conditioners in the U.S. if they moved to Mexico.
"When Carrier goes to Mexico and they want to sell their product across the border, we're going to say 'Sorry, folks,'" Trump said. "We're going to charge you a 35 percent tax."
That message resonated with many Trump supporters in attendance who support the New York billionaire.
"He's the only one who's actually created jobs," said William Chapman, a Pendleton resident. "Companies should be fined for moving out of the country. We need new trade agreements."
Ron Gates, an Indianapolis resident, said he was an undecided voter but he liked Trump because he was a "pretty straight shooter."
"He's a businessman," Gates said. "My hope would be he'd approach [the presidency] that way."
Rex Early, a former Indiana GOP chairman who is heading up Trump's Indiana campaign riled up the crowd at the Trump rally by saying he supported Trump because he wanted his grandchildren to have good-paying jobs.
"I want American companies to stay in the USA," Early said, eliciting loud cheers from the crowd.
Despite Trump's loud support for them on the campaign trail, though, the workers who will be affected by Carrier's move don't necessarily support the candidate.
The United Steelworkers Local 1999, the union that represents 1,400 Carrier workers, this week endorsed Democratic presidential candidate and Vermont Sen. Bernie Sanders over Trump, saying that Sanders had a history of fighting "disastrous trade deals."
Hillary Clinton's campaign has also tried to earn support from Indiana residents upset by the Carrier news. Campaign surrogate and former U.S. Sen. Evan Bayh said Clinton would try to discourage companies from leaving by "making it very clear" that companies would have to repay any government incentives they received if they moved.
"That would serve as a counterweight to them making a decision to leave like that," Bayh told media members on a recent conference call organized by Clinton's campaign.
But Indiana Gov. Mike Pence's administration and Indianapolis Mayor Joe Hogsett clawed back a total of $1.58 million from the company recently, and despite meetings with company officials, could not get them to budge from their decision.
Trump was the first of the remaining presidential candidates to arrive in the Hoosier state to campaign as the national spotlight careened to Indiana, whose primary May 3, less than two weeks from Wednesday, is expected to be competitive and important for Trump in order to clinch the delegates he needs to earn the Republican nomination for president.
U.S. Sen. Ted Cruz is expected to visit Thursday. Ohio Gov. John Kasich is scheduled to visit April 26.
"Indiana has a chance to put this away for good," said Stephen Miller, a policy adviser who spoke at the rally.
Earlier in the day, Pence met with Trump at the governor's residence, which is near the site of the rally, and he said he focused on the state's strong recent economic performance in his conversation with Trump.
"Gov. Pence was pleased to welcome Mr. Trump back to Indiana and hear firsthand his plans for the country," Pence spokeswoman Kara Brooks said in a statement. "The governor was also grateful for the opportunity to describe Indiana's economic success and expressed his desire to have a partner in the White House who will help advance pro-growth economic policies, reduce burdensome regulation and curb the size and scope of government."
 
Please enable JavaScript to view this content.