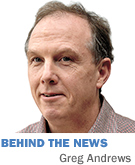 Analysts and investors have abandoned HHGregg Inc., leaving its stock at a shockingly low $1.95 per share.
At that price, the entire company has a market value of $55 million. Back in May 2010, when HHGregg shares peaked above $30, the company had a market value of $1.1 billion.
Ouch!
The price collapse puts enormous pressure on Robert Riesbeck—a former finance executive at Marsh Supermarkets Inc. and Nike Inc., among other firms—who joined HHGregg in September 2014 as chief financial officer.
He took on the additional title of interim CEO in February after Dennis May resigned, ending a painful run as CEO. When May moved into the top job in May 2009, shares fetched more than $18 apiece.
What appears to have finally done him in was a horrid holiday quarter, which saw same-store sales tumble 11 percent, and total sales come in some $45 million below what analysts were expecting.
After all the turmoil—including a string of executive departures, most recently the exit of Chief Information Officer Trent Taylor in March—investors are eager for signs that Riesbeck is righting the ship.
"I don't think it is hopeless," said Brad Leonard, whose Zionsville-based hedge fund owns 6.9 percent of HHGregg. "I think Bob is going to get it turned around. At this price, it is worth seeing if he can."
Employees are counting on Riesbeck, too. Despite all its problems, HHGregg remains a large retailer, with 226 stores in 20 states, 5,400 employees, and annual revenue approaching $2 billion.
Here are key issues to watch when Riesbeck rolls out fiscal fourth-quarter results in May, and in the months that follow:
■ Will HHGregg's largest shareholder, Los Angeles-based Freeman Spogli & Co., go all in or bail out?
Freeman Spogli began investing in HHGregg way back in 2005 and now owns almost half the shares. It could buy the rest for a pittance and take the chain private—potentially pocketing a huge gain if a turnaround later materializes.
Conversely, Freeman Spogli could sell the company and cash out. The price it gets might be bargain-basement, but at least the private-equity firm could move on. Eleven years already is bordering on an eternity for a private-equity investment. Most firms look for exits in four or five.
■ Will HHGregg retrench and close stores?
Like many retailers with national ambitions, HHGregg lost its way after unleashing rapid expansion. The store count grew more than fourfold over a decade—a span when the bottom fell out of the consumer electronics business. Mass merchants and Internet retailers crowded into the segment, driving down prices at a time demand was falling. According to investment analyst Evercore ISI, the average retail selling price for LCD TVs has tumbled from $1,300 in 2006 to $450 now.
The problem with launching a store-closing spree, however, is that many of HHGregg's leases are far from expiring. The chain might fare better keeping a lackluster-performing store open than paying rent and generating no revenue on a shuttered store.
■ Can the company stay on solid financial footing?
HHGregg is fortunate to have no debt, but after posting losses topping $175 million over the last seven quarters, its stash of cash is down to $7 million.
The company could borrow nearly $200 million under an untapped line of credit. However, if sales continue to erode, the lender might be unwilling to renew the line when it expires in July 2018.
Analysts say the company prudently responded to weak sales by launching a cost-cutting program that's expected to save more than $50 million a year. But that isn't without risk, since it entails shifting ad spending away from print to digital—a move that, if unsuccessful, could further hamper sales.
■ Can HHGregg rekindle sales?
Analysts have praised the company for diversifying into furniture to help offset the weak consumer electronics business. But the new merchandise line remains small, with furniture and mattresses combined accounting for just 5 percent of sales in the third fiscal quarter, which ended Dec. 31.
In that quarter, same-store sales of appliances tumbled 10.4 percent, alarmingly weak performance for what is supposed to be HHGregg's strongest segment.
HHGregg has since rolled out free delivery, leveling the playing field with rivals offering the perk. The chain previously charged $79.99, but gave appliance buyers a $100 HHGregg card, which arrived in the mail and expired in six months. It now offers free delivery for appliances costing at least $397, TVs costing at least $597, and furniture costing at least $997.
In explaining weak holiday sales, then-CEO May told analysts, "Simply, our competitors were offering free delivery, and we were not."•
Please enable JavaScript to view this content.