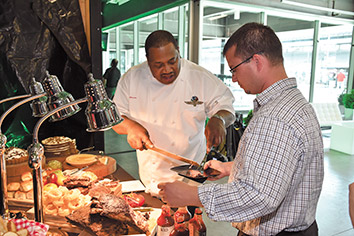 Everything connected with the 100th running of the Indianapolis 500 is selling hotter than laps turned on qualification day.
With a sellout crowd anticipated for the first time in two decades and all 145 permanent hospitality suites gone, Indianapolis Motor Speedway officials have two significant obstacles to navigate before the green flag drops on May 29.
First, Speedway officials have to accommodate as much of the hyped-up demand as possible. Simultaneously, IMS President Doug Boles and his crew have to make sure this isn't a one-and-done for those lured by the significance of this year's race.
"This track has seen a lot of really big races and historic events. But this is an unprecedented happening for the Speedway—and an unprecedented opportunity," said Larry DeGaris, director of sports marketing at the University of Indianapolis. "There's only one 100th running of this great race."
"They'll be getting an audience with people perhaps who either haven't been to the track in a very long time or maybe never," said local sports marker David Morton. "There will be more people at the track this May sampling the product than they've had in many years. It's critical they give them a wonderful experience to have a chance to retain their business."
IMS officials must first figure out a way to meet the increased demand before they can look at retention efforts. Especially key, Morton said, "is taking care of long-term, loyal sponsors and other partners."
To satisfy record interest in corporate hospitality from IndyCar Series teams and sponsors, Speedway officials are—for the first time ever—building temporary suites: 15 on the inside of Turn 1 and outside of Turn 2. Each suite, which Boles compared to those built on golf courses for PGA Tour events, has about a 70-person capacity.
All the temporary suites are sold. But as demand continues, Speedway officials are considering building more.
It's not entirely unusual for corporate hospitality inventory to sell out for the Indianapolis 500, Boles said, but not before the first week of May. This year, permanent hospitality inventory sold out in January.
"Not only did we have some new clients wanting in," he said, "we had a lot of our regulars wanting a lot more space to entertain a lot more people this year."
High-rollers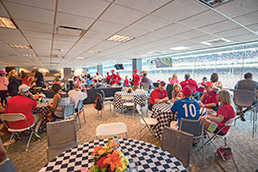 The track's various hospitality areas can seat from 30 to 600 people for parties and events. (Photo courtesy of IMS Photo Archive)
Zionsville-based Just Marketing International, one of the world's biggest motorsports sponsor representatives, will more than double its corporate hospitality presence. Usually, JMI uses one suite and a tricked-out bus to entertain 150 to 200 current and prospective clients.
This year, JMI has three suites and at least two customized buses lined up to take care of its clients and those of its partners: Verizon, Fuzzy's Ultra Premium Vodka and HHGregg.
The total corporate-hospitality bill for JMI and its partners will be near $500,000, said the company's founder, Zak Brown.
"We're bringing in about 400 people—from all over the world," Brown said. "This is the highest demand in our corporate hospitality events at the [Indy] 500 since we've been in business."
Brown founded JMI in 1995.
Officials for Honda and Chevy, engine suppliers for the IndyCar Series and two of its biggest sponsors, said they're also bringing in considerably more people than in the recent past. Honda is doubling—to 200—the number of dealers it brings in for the race, and Chevy is hosting more than 600 for a dealers-sponsored Corvette and Camaro owners event in the days leading up to the race.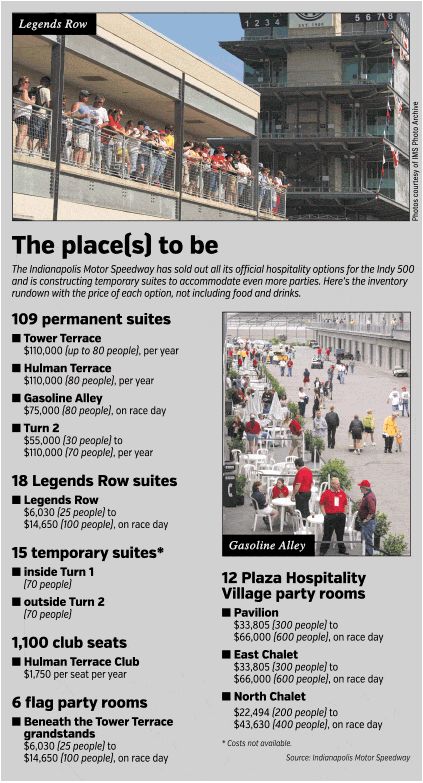 Honda officials, who have four suites this year, said they'll have 500 to 600 business partners in for race day and might have had more—including a dealers group from Canada—had hotel rooms not been so scarce.
"The buzz around the race for everyone associated with Honda is tremendous," said Honda spokesman T.E. McHale. "Demand is certainly beyond supply. We have a growing waiting list for dealers wanting to attend. This is a once-in-a-lifetime event for all of us."
Eighteen suites in Turn 4 were removed this past offseason and replaced with 1,150 club seats—a first for IMS. The removal of those suites could be pushing demand for suites in other sections higher, sports marketers noted. But Boles pointed out that, due to the new pricey club seats, no premium seating capacity was lost.
Not only that, but the club seats—coined the Hulman Terrace Club—sold out within three months of their introduction. And they weren't cheap. IMS officials smartly used this historic Indy 500 to sell full-year deals for the seats, getting $1,750 for each of those cushy resting spots, which can be used for the May 14 Grand Prix of Indianapolis and the July 24 Brickyard 400 as well.
Boles said there was tremendous demand for club seats from companies that would spend $20,000 or so to entertain at the track but couldn't afford a suite.
The Speedway doesn't divulge attendance or financials regarding any of its events. But with suites costing $50,000 to $115,000, the track could generate $20 million or more this year—including the club seats—from corporate hospitality business alone. And even though tens of thousands of seats have been removed from the goliath facility over the last decade, general-ticket sales should bring in $30 million-plus this year.
That $50 million to $70 million in admission revenue will likely be the most the IMS has generated for a single race since the IndyCar Series forerunner—the Indy Racing League—was formed and split with CART in 1996.
Unclear future
It's difficult to say if this year's Indianapolis 500 marks the coming of a brighter future for the open-wheel series or is merely a silver lining around a dark cloud.
It's true, the IndyCar Series has been gaining a modicum of momentum in recent years. Television ratings series-wide have inched up for two consecutive years and Boles said Indy 500 attendance has been up each of the last three and four of the last five years.
But Speedway officials have at times struggled to get 33 cars qualified for their crown-jewel race and anything resembling a serious qualifications bump day is all but dead. The last two years, Chevrolet has tipped the competitive scales, dominating Honda.
The introduction of new aerodynamic bodywork last year was something of a fiasco, having little impact on fans' affinity for the series while costing teams millions of dollars. The aero kits also shattered on impact and might have played a part in sending some cars airborne. There's still much debate in the IndyCar paddock on aero kits' merits to the series.
But revved-up ticket demand this year is not debatable. How that will translate into attendance in subsequent years is a question.
"We haven't seen demand like this for Indy 500 tickets since the mid-1990s," said Renny Harrison, owner of Carmel-based Fanfare Tickets. "A seat that sold for $200 last year [on the secondary market] is selling for at least $400 this year."
But several ticket brokers also told IBJ that many customers have said this is a one-off deal for them, and worse yet, several regular attendees told local brokers they are tapping out of the 500 after this year.
"I'm afraid we're going to see a pretty big drop in demand for next year's race," said Mike Peduto, president of locally based Circle City Tickets. "It could fall off a cliff."
It's up to Boles, a former team co-owner and sponsors' representative, and his staff to make sure that doesn't happen, sports marketers said.
Tim Frost, a Chicago-based motorsports business consultant, said, in many ways, Boles' mission comes down to "basic blocking and tackling."
"The Speedway has to deliver not only with its on-track product, but with excellent service—from the first person a fan experiences at the gate to the last [IMS official] they encounter on the way out," Frost said.
"It all has to equate to an enjoyable experience at a competitive price point. [The Speedway has] to realize the sales process for next May starts during this May."
Pressing flesh
Sports marketers said Speedway executives need to meet and talk with as many fans as possible, including all the suite holders and club-seat patrons.
"On race day and the lead up to it, they have to have boots on the ground to press flesh in those suites," Morton said. "Speedway executives have to personally touch base with each and every hospitality customer. When it comes to B-to-B, it's all about relationships."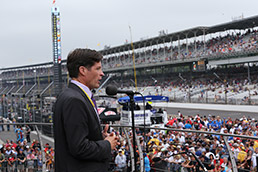 IMS President Doug Boles is calling to thank 10 Indy 500 ticket holders every day. (Photo courtesy of IMS Photo Archive)
Boles is doing his part, calling 10 ticket buyers every day. He expects to talk to more than 500 by the time the green flag drops. That might seem like a drop in the bucket for a sports facility with seating capacity for 250,000, but sports marketers said it's a nice—and somewhat unusual—personal touch.
"I'm calling people just to thank them for being a customer and let them know how much we appreciate their business," Boles said. "The fans are a big part of what makes this event special, and I want them to know we appreciate them being here."
Speedway officials might be feeling the pressure as U.S. stick-and-ball sports up their customer service. The NBA's Indiana Pacers, for instance, have joined a Disney-run customer service training program in recent years and employ Season Ticket Experience Managers to customize the home-court experience of their loyal ticket buyers.
Auto racing tracks, too, have upped their game, including Daytona International Speedway, which recently completed a $400 million renovation, led by former IMS executive Joie Chitwood.
The gold standard for season-ticket renewal among the three major U.S. stick-and-ball leagues is 90 percent. The Indiana Pacers and Indianapolis Colts in recent years have both surpassed that, with renewal rates at or above 95 percent.
That might be unrealistic for the IMS.
"It's an apples-to-oranges comparison," Frost said. "The Indianapolis Motor Speedway will be dealing with a lot fewer hard-core loyalists than a season ticket base. There will be lots of samplers there, so you're talking about conversion rather than retention. Eighty-five percent would be a reasonable goal. Ninety percent would be excellent."
Boles is hopeful that a slew of improvements made in recent years to the Speedway as part of Project 100—including improved seating, interior and exterior suite upgrades, additional huge video screens, bathroom improvements, seven new elevators and an overhauled Gate One main entrance—will help draw fans back.
While Boles wasn't willing to talk about percentage goals, he made one thing clear about the 101st running of the Indy 500, in 2017:
"It's important not to go back beyond 2015. We've got momentum in this race and in this series and we can't afford to let that slip."•
Please enable JavaScript to view this content.