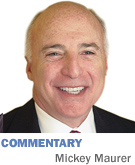 At cocktail parties during primary season, when we tire of dissing Donald Trump and Hillary Clinton, the conversation often turns to another April phenomenon, the NCAA basketball tournament finals and Hoosier hysteria. Nothing is more ensconced in Indiana college basketball lore than the juggernauts of 1975 and 1976 under Coach Bob Knight.
Now you have a chance to relive that era. Mickey's Camp has invited Quinn Buckner, Tom Abernethy, John Laskowski, Jim Crews, Steve Green and others to share their memories. Indiana's greatest sports storyteller, Angelo Pizzo, who wrote the movie Hoosiers, will moderate this exciting evening.
Camp also will present an abundance of new activities this year including fencing, stilt-walking, welding and drones.
This summer you can mix the old with the new. Learn to arm and shoot a "muzzle loader" just like our ancestors in the French and Indian War then advance several hundred years as you create an object with new technology: a 3-D printing machine.
Of course, many old favorites will return, including trapeze, a whole array of cooking classes, golf, fly fishing, juggling, paintball and lots more.
Those who do not wish to break a sweat can enjoy bourbon tasting, wine and cheese tasting and a session with Angelo Pizzo on the making of Hoosiers. You also can learn trick shots from George Breedlove, the king of cue artistry, or polish your business skills with Michael Goldsby, distinguished professor of entrepreneurship at Ball State University. You really want to be pampered? Massages, facials and acupuncture will be offered.
This will be the 10th anniversary of women's camp. To celebrate, campers will be feted with an extraordinary concert by Hoosier opera singer Angela Brown. Brown has performed at the New York Metropolitan Opera and preeminent opera houses throughout the world, making her a true international star. She has a voice that reaches the heights, with roots set deep in Hoosier soil. At Attucks High School, she dreamed of becoming a professional singer. She never lost sight of her goal and never gave up. She is a diva with a heart as big and as soft as her magnificent voice. This will be a concert to be remembered.
In addition to most of the activities offered to the men, women campers may enjoy floral arranging, jewelry making, cake decorating, coffee cupping, lashes and eyebrows. This year will be a special opportunity to learn pie making from Lisa Sparks of Lisa's Pies in Atlanta, Indiana. She has won hundreds of ribbons throughout the country for her extraordinary pies. Take this course and you'll probably earn a blue ribbon at the Indiana State Fair.
In the category of "everything you want to know but you were afraid to ask," the Kinsey Institute at Indiana University will present what is promised to be a "sexy session." I am not at liberty to disclose the details.
In response to a number of requests, this year's camp will experiment with one or two optional co-ed courses.
The best restaurants in the city will lend their talents and skills for our meals. They include: Ivy Tech BBQ Club, Palomino, Amore Pizzeria, Prime 47, Mimi Blue Meatballs, Georgia Reese's, Lucas Estate and Scholar's Inn.
Mickey's Camp has raised millions of dollars for central Indiana charities too numerous to name, and campers choose the beneficiaries. Please help us raise even more money this year. Your community will thank you—and so will I.
Camp brochures are at www.mickeyscamp.com or for a hard copy please email me at the address below. I look forward to seeing you at scenic Bradford Woods, south of Interstate 465 on State Road 67 near Mooresville. Women's camp will run Aug. 15-17, and the men's camp will follow from August 17-19. Hope to see you there.•
__________
Maurer is a shareholder in IBJ Corp., which owns Indianapolis Business Journal.  His column appears every other week. To comment on this column, send e-mail to mmaurer@ibj.com.
Please enable JavaScript to view this content.