So here comes the most televised dice roll in the world, otherwise known as the NFL Draft. April 28 will be the perfect opportunity for the Indianapolis Colts to take that first-round selection and fix …
Bjoern Werner. Jerry Hughes. Anthony Gonzalez.
Sorry for the interruption. Yes, those recent first-rounders didn't work out so well, for various reasons. But it's a new year, and the Colts will certainly pore over the data and study game tapes as if they were the Zapruder film and pick the best …
Trev Alberts, Steve Emtman, Jeff George.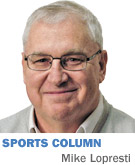 OK, those first-round picks from further back in time didn't exactly hit the jackpot, either.
In other words, the draft is not like shopping at Costco. No such thing as a money-back guarantee. Never has been. The next pick might be a Peyton Manning, headed for the Hall of Fame. Or a Leonard Coleman, still there in only a handful of memories.
Who's Leonard Coleman? Glad you asked. We go back to draft day, 1984, when all the boxes from Baltimore hadn't even been unpacked—less than five weeks after the moving vans pulled into Indianapolis. Let Pete Ward, then a relatively new member of the staff and now Colts chief operating officer, tell how it was.
"We were still trying to figure out which way was up. We were still hiring staff and installing phone lines and ordering stationery. We were in an abandoned elementary school on the northeast side of town that was in pretty bad shape. We held our end of the draft in the auditorium, which had old linoleum floors, and had pigs and chickens painted on the walls."
The draft war room was a classroom. There was a new general manager, named Jim Irsay. The player personnel department had three people. Today, thenumber approaches 20. Amid all that, there was a franchise to put together.
"There was basically more work than you could fit in 24 hours every day," Ward said. "You had to pick your battles. There was always an underlying feeling of quiet desperation. It was exciting, but it was also a nightmare.
"But in terms of evaluating personnel, a lot of that had been done before we even made the move. I can't really say it affected our draft that much. It was just surreal because of the circumstances."
Leonard Coleman? Forever to be the trivia question of the Colts' first draft choice in Indianapolis. They used the eighth pick in the entire draft to take the defensive back from Vanderbilt. He went to the USFL for one season because he didn't like the Colts' contract offer, then returned, but was gone after three seasons. His big moment was three interceptions in one game against New Orleans.
There were other, happier endings from that draft. Ron Solt, picked later in the first round, became a Pro Bowl guard. What the current offense wouldn't give for one of those. They also chose a useful running back in George Wonsley, and a longtime tackle in Kevin Call. Taken in the eighth round—the draft doesn't even go that far anymore—was LSU defensive back Eugene Daniel, who played 13 seasons with the Colts.
When that draft was done, the Colts had no time to ponder the results. There was still a season to plan.
"It was almost like, 'OK, that's out of the way. What's next?'" Ward said. 
There would be other years, and other testaments to how uncertain the exercise of drafting really can be.
What one scouting report said about Werner:
"Shows excellent snap anticipation and fires out of his stance. Projects as a strong-side 4-3 end who can play the run well and get pressure on the quarterback."
What happened:
A total of 6-1/2 sacks in three seasons.
What was predicted about Hughes by one draft expert:
"Regardless of where Hughes aligns at the next level, he should contribute due to his instincts, toughness, athleticism and energy."
How it turned out:
All true maybe, except he did it for Buffalo. Five sacks in three years as a Colt, 24-1/2 sacks in three years as a Bill.
Then there is the most famous Colt draft calamity of all.
What one of the 30 NFL personnel watching defensive tackle Emtman's impressive pre-draft workout in 1992 said when it was over:
"He's probably more valued now than before." By the way, the speaker was Jim Irsay.
What Emtman did:
Started his Indianapolis career as if he wanted to make an early reservation in the Ring of Honor. His 90-yard interception return for a touchdown is still tied for fourth-longest in Indianapolis history. Then came the wrecked left knee, the torn patella tendon in his right knee and the ruptured neck disc. His Indianapolis career was over after 21 games. More a sad tale than a bust.
This week, the draft convenes in Chicago, where the Colts will presumably try to upgrade their pass protection before Andrew Luck has to be swept up with a whisk broom. While lots of things have changed for the Colts since 1984, one thing hasn't: Whoever's name is picked in the first round will come with high hopes, glowing reports … and no sure bet.
He just won't be announced in a room with chickens and pigs on the wall.•
__________
Lopresti is a lifelong resident of Richmond and a graduate of Ball State University. He was a columnist for USA Today and Gannett newspapers for 31 years; he covered 34 Final Fours, 30 Super Bowls, 32 World Series and 16 Olympics. His column appears weekly. He can be reached at mlopresti@ibj.com.
Please enable JavaScript to view this content.