When a restaurant is attached to a go-kart track, it's logical to lower one's standards.

After all, memories of gas-scented burgers and other box-to-freezer-to-grill items are likely to be part of the memory of anyone who has visited such establishments during a family outing.

But 1911 Grill (1067 Main St., 800-1648), the restaurant that's part of the same complex as Speedway Indoor Karting, has greater ambitions than that.

Named for the first year of the Indy 500, the spacious restaurant—handsomely decorated with Indy 500 artwork—is wisely broken up into smaller rooms. This serves to accommodate groups coming to kart or to attend private events while also not making diners on a slow day feel like they are alone in a cavern. A second-level dining deck overlooks Main Street while a shuffle table and a few video bar games fill out an area with a view of the indoor karting track. Don't worry—the engine sounds don't permeate the room. Take a seat here and you can comfortably watch Andretti-wannabees at play (see Try This, page 29).

The food at 1911 Grill wasn't quite as competitive as it should be, though, barely keeping pace with such popular casual chain eateries as O'Charley's or Max & Erma's.

Trackside Marbles ($7.99) featured a basket of fried, not-too-hot hot pepper cheese balls with ranch dressing for dipping. The Mac Burger ($9.99) dressed up a midsize burger with a Big Mac-ish dressing joined by grilled onions, pickle and lettuce. Nothing special there.

Winner Winner Chicken Dinner ($13.99, including a side dish) is offered grilled, Cajun or teriyaki. I went with Cajun and what arrived was exactly as expected—a hearty pair of grilled breasts, amply spiced and forgettable. A side of Etouffee was a surprise option but displayed caution not befitting a race-themed place. Onion rings were just fine.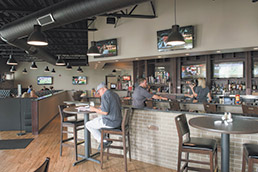 1911 Grill has bar and patio seating on both levels. Some indoor seats look out over the attached karting center. (IBJ photo/Eric Learned)
Co-workers on another visit had an equally mixed time, praising the Bavarian Pretzel Sticks (although a bit pricy at $8.99); blasting the Cheeseburger ($8.99), saying, "The locals won't stand for this"; and finding merit in the BackFire Pasta ($17.99). That dinner dish, finding a safe space just on the edge of hot, featured so much seafood that the pasta was finished before the shrimp, something that rarely happens unless the shrimp is problematic. That wasn't the case here.

While it didn't demonstrate what it takes to be a clear winner, 1911 Grill isn't out of the race yet. Its body is solid. It just needs a stronger driver with an eye on quality control. And something a bit more powerful under the hood.•