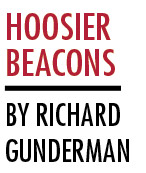 Who knew that Lew Wallace, born and raised in Indiana, penned the best-selling American novel of the 19th century? The son of a Hoosier governor, Wallace trained as a lawyer, rose to prominence as a general in the Union army during the Civil War, received an appointment as governor of the New Mexico Territory, and later served as U.S. minister to the Ottoman Empire. But he is best known as the author of "Ben-Hur: A Tale of the Christ" (1880).
Wallace was born in Brookville in 1827. A desultory student who preferred an outdoor life of action, by the time he was 16 years old his frustrated father had refused to further fund his education. He served in the Mexican-American War, but left the military to pursue the practice of law. In Crawfordsville, he met his future wife, Susan Elston, to whom he was married in 1852.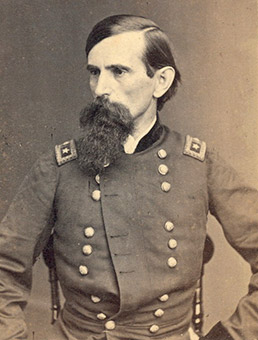 (Photo courtesy of Wikipedia)
Asked by Indiana's governor to recruit volunteers for the Union army, Wallace eventually took command of a regiment that repelled a Confederate assault in Tennessee, earning him a promotion at age 34 to the rank of major general, the youngest in the army. Later, controversy over Wallace's role in the Battle of Shiloh led to his temporary removal from active duty.
Though subsequently restored to active service, Wallace eventually left the military and returned to Indiana, where he mounted two unsuccessful bids for election to Congress. However, his support of Rutherford Hayes' presidential campaign led to his appointment as governor of the New Mexico territory, after which he was appointed to several diplomatic posts.
While serving as governor in New Mexico, he negotiated directly with Billy the Kid, striking a bargain to provide the outlaw with immunity in exchange for his testimony in a murder case. But the local district attorney refused to abide by the agreement, and the Kid soon escaped from jail and returned to his murderous ways before being shot and killed by Sheriff Pat Garrett.
During Wallace's time in Crawfordsville and later in Sante Fe, he produced the manuscript for "Ben-Hur." The book caught on slowly but picked up steam and sold nearly half a million copies by the end of its first decade. By 1900, it had surpassed Harriet Beecher Stowe's "Uncle Tom's Cabin" as the 19th century's best-selling American novel.
In 1959, Wallace's novel was brought to the big screen with Charlton Heston in the title role. The film, at the time the most expensive ever made, went on to win 11 Academy Awards, a new record. Its release also spawned a resurgence of interest in the novel, whose sales soon surpassed those of the 20th century's reigning American best-seller, Margaret Mitchell's "Gone with the Wind."
The novel tells the story of Judah Ben-Hur, a Jewish nobleman falsely accused of killing a Roman governor, perhaps paralleling Wallace's own experience with injustice at Shiloh. Ben-Hur is convicted and imprisoned as a galley slave before winning his freedom and becoming a famous charioteer. Initially driven by vengeance, he witnesses the crucifixion and realizes that forgiveness is the better path.
In the years leading up to his death at age 77, Wallace spent much of his time writing in his private study in Crawfordsville. Declared a national historic landmark in 1976, it is now known as the General Lew Wallace Study and Museum. Despite Wallace's military, political and diplomatic renown, today he is best remembered as a writer, proving that, in his case at least, the pen was indeed mightier than the sword.•
__________
Hoosier Beacons pays tribute to Indiana's bicentennial by telling the stories of famous Hoosiers. It appears every other week. Gunderman is chancellor's professor at Indiana University.  
 
Please enable JavaScript to view this content.