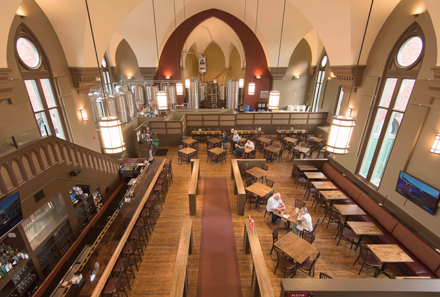 The craft brewery craze flooding the Indianapolis area with custom suds makers shows no signs of receding anytime soon.
The number of microbreweries is expected to top 50 by summer and has grown fivefold since 2009, when less than 10 existed, according to a new study from the CBRE real estate firm.
But CBRE's research not only shows how the breweries are helping to quench thirsty palates but also how they're bolstering the local real estate market.
Local microbreweries collectively occupy nearly 360,000 square feet of commercial space—space that otherwise might be sitting vacant, the study estimates.
"They're very popular right now, and they're absorbing different types of spaces, too," Steve Delaney, a retail broker at CBRE Sitehawk, told IBJ. "So they're impacting different types of commercial space in a positive way."
The roots of the local craft beer scene can be traced to the Broad Ripple Brewpub, which opened in 1990 and bills itself as "Indiana's first brewpub." Over the next 20 years, a handful of competitors popped up here and there, but the trend didn't take off until Sun King Brewing Co. began operations downtown in 18,000 square feet of industrial space in 2009. (It's now planning a 1,200-square-foot addition at the rear of its building at 135 N. College Ave.)
Until then, the few local microbreweries all were located in retail buildings, with the majority in freestanding bars or restaurants, the study said. The mix is much broader now and includes more industrial and revitalized manufacturing buildings.
A microbrewery is even located in a former Catholic church—what's now known as St. Joseph Brewery & Public House at 540 N. College Ave., the study points out.
Much of the trend toward more eclectic space preferences can be attributed to a change in the offerings at the breweries. For many, food has become secondary, if offered at all, giving way to brewing operations that are becoming more prominent in floor layouts, the study said.
"They generally take a large amount of square footage, so that's a factor that's also positive for commercial real estate, because they have the additional brewing component," Delaney said. "Therefore, they take more space than a typical restaurant."
From 2009 to 2015, breweries have averaged adding a net 42,184 square feet of real estate to the "occupied" column every year. Overall, more than 306,000 square feet has been absorbed since 2009, with nearly a third—96,086 square feet—coming in the past 12 months alone, according to the study.
More than half of the 15 breweries that opened in the past year are occupying what can be considered industrial space, CBRE said. Downtown operators particularly seem to favor older, industrial-type buildings or locations that are part of a revitalization zone.
For example, Black Acre Brewing Co. at 5632 E. Washington St. expanded brewing operations by taking space in Irvington's former coal depot, as part of the 50,000-square-foot Coal Factory project at 5543 Bonna Ave.
More suburban outposts, conversely, tend to lean toward newer shopping centers near primary retail trade areas. Thr3e Wise Men Brewing Co. opened several years ago along the Broad Ripple Avenue retail strip in space that over decades has housed a supermarket and a record store, among other uses.
Microbreweries can be found in almost all parts of the metro area, with clusters in downtown Indianapolis, Broad Ripple and the northern suburbs. Marion County has the most (29), followed by Hamilton County (10). The two counties together were responsible for 87 percent of the locations opening in the past year, CBRE said.
Five more breweries are either in the construction phase or awaiting license approval, helping to illustrate continued demand but also raising questions whether the local craft beer market is nearing saturation.
CBRE doesn't think so, especially since craft beer still only comprises 11 percent of total U.S. beer sales.
"As craft brewers continue to blur the lines of beer styles, many non-beer drinkers are being swayed to the non-traditional beer segment," CBRE concluded. "Short of a fundamental shift in consumer behavior, expect the taps to remain open for the foreseeable future."
 
Please enable JavaScript to view this content.