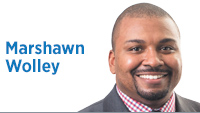 I recently had the opportunity to witness some of my Facebook friends talk about their love of Indy while visiting other cities and using #nomeancity.
Their affirmations weren't about identifying some Indy-esque attribute and offering a comparison. It wasn't a rational argument with evidence verified by a recognized and independent third party. They appreciated some aspect of a city but affirmed that what we had was better. These were statements of unbridled superiority. It was pure attitude. It was refreshing. Interesting. And too rare!
I'm told that our Germanic egalitarianism—part of our Midwestern DNA—circumscribes our desires to affirm, let alone aspire, toward forms of elitism. We are nice—maybe passive-aggressive—but we smile. We don't celebrate on the court.
When is the last time you've heard someone from Indy say our city is not just a good place, but the best place to live, work and play?
If you are looking for an argument, or a defense of the "b" word, I am not going to give it to you. I could list out a bunch of Indy number "ones," but I'm not going to do that. You'll think of other cities that you think are better than Indy without considering all the number "ones" New York, London or Paris miss. I'm also not trying to convince you as much as I want to convert you as a matter of faith.
We've heard the story of India-no-place. In the mid-20th century, we were a sleepy town that shut down around 5 p.m. After working downtown, people raced to the then-suburbs of Nora or Homecroft.
We became an early adopter of consolidated government—which was controversial and still is not fully implemented. Eventually, we stumbled onto a sports strategy and the pieces came together for downtown. We executed the best Super Bowl ever. (There goes the "b" word again.) Now we're trying to figure out what is next. This admittedly abridged version of the story is what it is, but I am more excited about our possibilities moving forward.
We apologize for not having bodies of water or picturesque land formations, but we are a drive away from two-thirds of the country. As the 14th-largest city in America with about a 33rd-ranked GDP, or wallet, we've had to build all our advantages. That includes one of the most connected downtowns in the country.
When CEOs for Cities does its annual statistical rankings of municipalities, we don't come in number one on much of anything. Yet, when you put all the variables together, the synergies make us "punch above our weight class." How do you become the number one convention city in the country without punching above your weight class?
There's a burgeoning group of young professionals, artists and cultural entrepreneurs who are intentionally establishing roots in Indy—folks who left Indy only to return are affirming that our grass is just as green, if not greener, than other cities'.
I know we have our challenges, but in the spirit of the election cycle, some of us need to be Indy partisans. More of us need to be rigid ideologues—zealots even!
Indy is the best place to live, work and play—period. My hope is that more of us act like it and tell others, too.•
__________
Wolley is director of partner relations at Visit Indy. Send comments to ibjedit@ibj.com.
Please enable JavaScript to view this content.