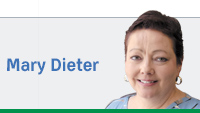 Though it is a supreme demonstration of sore loser-ship and a shameless abdication of duty, the Senate Republicans' refusal to consider President Obama's nominee to the U.S. Supreme Court has a silver lining.
The episode might focus voters' attention on the critical but often ignored issue of judicial appointments, one of the most profound responsibilities of any president. Federal judges enjoy lifelong appointments and make decisions that establish precedent for years, so those chosen can affect American life far longer than the person who has nominated them.
Here in Indiana, voters should pay attention not only to that travesty but also recent activity at the state Supreme Court. Justice Brent Dickson's announcement that he would retire April 29 after 30 years set in motion a process to select three candidates from whom Gov. Mike Pence would choose the new justice. Thirty people applied; one withdrew, so 29 interviews ensued. Seven of the applicants were women. No person of color applied.
The Judicial Nominating Commission nominated St. Joseph Superior Court Judge Steven Hostetler, Boone Superior Court Judge Matthew Kincaid, and Indianapolis attorney Geoffrey Slaughter. Three white men.
This column offers no criticism of the nominees. But the Indiana Supreme Court desperately needs to look more like Indiana's population. In the court's 200-year history, 108 justices have taken the bench. Two are women. Two are African-American.
The female applicants this year offered impressive credentials and diverse experiences. Three are sitting judges. One was a nurse by day and a law student by night. Another was elected to Phi Beta Kappa at Stanford and graduated cum laude from Harvard Law. They practiced criminal and civil law.
Pence could have alerted his three appointees on the commission that he wanted a diverse panel of nominees. Such influence is hardly unprecedented. In 1994, I reported that Gov. Evan Bayh and his staff quietly worked to influence the commission to ensure Myra Selby, his director of health care policy, was among the nominees. The commission got the message and Selby became the first woman and the first African-American to sit on Indiana's high court.
She resigned four years later, enabling Gov. Frank O'Bannon to appoint Robert D. Rucker, the court's only other African-American, in 1999. Gov. Mitch Daniels appointed the court's second woman, Loretta Rush, in 2012.
Diversity matters. It enlightens and inspires, stokes understanding and sparks compromise. It signals that the justice system works for everyone. It reassures that women and minorities have a voice, especially on issues that disproportionately affect them (voter identification, abortion, sex discrimination, pregnancy in the workplace, hate crimes). It ensures that, as justices deliberate behind closed doors, they hear perspectives different from their own.
Whether it was an oversight, apathy or an intentional snub, Pence was remiss for failing to use his only appointment to the high court to advance a just cause. Unless he or another governor makes it clear that he welcomes and expects diversity, the process will perpetuate the old order and Indiana, already perceived as inhospitable to the "others," will perpetuate that image.
As we wait for Senate Republicans to do their duty and for the Indiana court to come into the 21st century, it's hard to escape the notion that justice delayed is justice denied.•
__________
Dieter, a writer and an editor, is the former Statehouse bureau chief for The Courier-Journal and press secretary for Gov. Frank O'Bannon. Send comments on this column to ibjedit@ibj.com.

Please enable JavaScript to view this content.