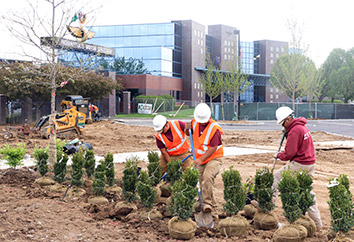 This month, the Indianapolis Motor Speedway completed one of the three largest renovations in its 107-year history.
Only shortly after Tony Hulman Jr. bought the dilapidated track in 1945 and during the 1999-2000 preparations for the U.S. Grand Prix Formula One race has the Brickyard undergone such a dramatic face-lift.
Project 100—a $92 million investment completed just in time for the 100th Indianapolis 500—includes splashy upgrades like new club seats with adjoining entertainment areas; renovated suites and grandstand seats; 20 new high-definition, big-screen monitors; and an overhauled main entrance designed to speed entry into the track, with space for sponsors and vendors, a first-ever street-side ticket window, and seven additional elevators.
 

Photos courtesy of Indianapolis Motor Speedway and Google Earth
But the project has also included perfunctory changes, like renovated restrooms and double the number of concession stands.
Speedway officials insist the improvements will help them attract and retain fans for all races held at the 2-1/2-mile oval and its interior road course.
"We think we're going to give people a great experience and at a facility that still feels in many ways like the old, historic Speedway," IMS President Doug Boles told IBJ.
That's important as the Speedway tries not just to survive but to thrive in an era in which the popularity of racing has waned.
The renovations come at a good time for two reasons.
First, the track is anticipating its first Indianapolis 500 sellout in 20 years, with officials expecting as many as 100,000 more fans than usual. Though the IMS doesn't disclose attendance, sports marketers are predicting more than 300,000 for race day.
"We're going to have the eyes and ears of a lot of people who either haven't been here in a long time or have never been here," Boles said from his office overlooking the track. "This is an amazing opportunity for us, and we think the enhancements we've made—along with the racing on the track—are going to impress a lot of people here for the race."
Project 100 is also timely because race fans say IMS has long been behind other venues in terms of amenities fans have come to expect. And with Daytona International Speedway recently completing a $400 million renovation, the pressure on the Brickyard had been turned up.
"Most racing people believed the [Indianapolis Motor Speedway] had pretty much gone to hell," said Terry Reed, who has attended 62 Indy 500 races and wrote the book "The Race and Ritual of the Indianapolis 500."

Fox
Lucas Oil Stadium Director Mike Fox said sports fans' standards for venue amenities "has dramatically increased over the last 10 to 15 years."
"As much as anything, venues are competing with the improved at-home viewing experience," Fox said.
'Something impactful'
The idea for Project 100 came to life more than five years ago under the leadership of then-Speedway President Jeff Belskus.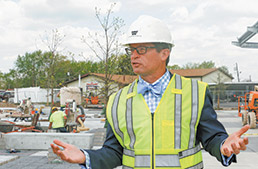 Speedway President Doug Boles said track officials considered two factors when deciding which updates would be part of Project 100: Would they improve the fan experience? What would be the return on investment? A new, large main entrance, still under construction in late April, made the cut.
 (IBJ photo/Lesley Weidenbener)
"The idea was to do something impactful leading into the 100th running of the race," Boles said.
Project 100 got turbocharged when Mark Miles was hired as CEO of IMS' parent, Hulman & Co., in late 2012 and began lobbying state lawmakers for a sizable aid package for the project. Gov. Mike Pence signed the funding bill in May 2013, marking the first time the Hulman-George family had sought any money to operate or improve the track.
IMS will receive a state loan of up to $5 million a year for 20 years for capital improvements. The loan will be repaid through the anticipated increases in income and sales tax collections, as well as with a new ticket fee, and will be guaranteed by Hulman & Co. In addition, IMS will contribute $2 million a year over 20 years toward improvements. 
But getting the money was just part of the battle. Deciding where to spend it was equally challenging.
"If you just start doing projects without any forethought," said Tim Frost, a Chicago-based motorsports business consultant, "you're going to run out of money pretty quickly and you'll find you didn't get some of the things most important to fans done."
"Of course," he added, "with every upgrade you have an eye on how much revenue it could generate."
The Brickyard is beyond massive by sports venue standards. It's more than a mile long and a half-mile wide. It encompasses 560 acres, and, though some seats have been removed in recent years, it still has almost 240,000 of them. In addition to its racetracks, it also houses an 18-hole championship golf course, with three holes inside the track and 15 just outside.
According to Google Maps, the White House, Yankee Stadium, Churchill Downs, Rose Bowl Stadium, Liberty Island, Roman Colosseum, Taj Mahal and Vatican City can all fit inside IMS—at the same time—with gobs of room to spare.
So, after deciding that American with Disabilities Act requirements and other safety features must be met first, Speedway officials went about the daunting task of prioritizing upgrades. Boles said two criteria were used: Does the change improve fans' experience? Is it likely to generate revenue to pay off the bonds?
That's why adding more and better seating along the front straightaway—the most popular place to sit—made the cut. So did the club seats, which offer individuals and smaller companies a way to enjoy an upscale experience without the huge expense of a suite. And those 20 new high-definition video boards mean 98 percent of fans in reserved seats will be able to see a screen.
 
Scratched
Some proposals hit the wall.
Lighting was nixed because it was too expensive.
"It would cost $25 million just to light the track and pit lane," Boles said. "That said nothing of the infield, parking and other surrounding areas that would need to be lit for safety and other reasons. The renderings are beautiful, but we couldn't pencil the ROI out."
Wi-Fi for the entire track was also considered, but the $25 million price tag for a technology that might not work correctly in such a vast space and could be outdated inside of five years was deemed too expensive and risky.
IMS executives even discussed reconfiguring Victory Lane and moving it north to make the area more accessible to fans for post-race celebrations, but in the end the logistics were too complicated.
Knowing that "shade sells," Boles said track officials played with ideas for a roof over the Turn 4 seats. But that idea crashed because the roof would block the view of other fans. And if the roof were lifted higher to eliminate that problem, it wouldn't have provided adequate shade and shelter—plus, it could have been toppled in a windstorm.
Still, Boles promised that Project 100 isn't the end of upgrades. Speedway officials are already discussing bigger and higher viewing mounds, improved infield areas, and upgrades to the infield medical center—the oldest building on the grounds.
"We're always looking to upgrade this facility to improve the fan experience," Boles said. "That will never stop."•
Please enable JavaScript to view this content.