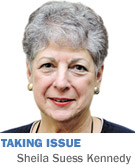 I became politically active at 19. I joined the Republican Party, because at that time, the GOP was the party of adults. (The Democrats of my youth gave content to that famous gibe, "I don't belong to any organized political party; I'm a Democrat.")
I was an active and involved Republican for 35 years; I worked with party functionaries and elected officials for whom I had—and retain—enormous respect.
When I served in the Hudnut administration, John Sweezy was the county chairman. I still remember two of his favorite maxims: "Good government is good politics," and, "Every citizen ought to be required to work for government for at least two years—but no more than four." His point, of course, was that too many citizens wanted government to do things it couldn't (or shouldn't) do, or complained about decisions and actions they didn't understand.
A certain baseline of knowledge is required to understand and navigate America's admittedly complex system. Thanks to separation of powers, the branches of government have different responsibilities; thanks to federalism, jurisdictions are further distributed among agencies of local, state and federal government. Thanks to the pace of technological change, there are constant new challenges to those lines of authority.
Citizens needn't be constitutional experts, but they need to understand the basic premises of the American system: at the very least, the constitutional architecture and the function of the Bill of Rights.
They don't. (Which is why we founded the Center for Civic Literacy at IUPUI—but that's a subject for another day.)
I've been on a sustained rant the past several years over the deficit in civic literacy. It began when I asked a student what James Madison might have thought about porn on the Internet, and she looked at me blankly and asked, "Who's James Madison?"
I have students—reasonably intelligent students—who cannot answer the question: What is government? They don't know what government at any level does—let alone what government in our system is not permitted to do. In my last column, I bemoaned the evidently widespread notion that Americans go to the polls every four years and elect a monarch who can single-handedly impose his or her will on the country.
I'm not 19 anymore. The Republican Party to which I devoted 35 years no longer exists, and I don't recognize the cult that has replaced it. The political actors I worked with and respected believed in government and that quaint thing called "public service."
When I was in City Hall, the notion that someone like Donald Trump would emerge as a nominee for the highest office in the land would have been unthinkable.
The reason it isn't unthinkable—the real tragedy—is not that a narcissistic buffoon manifestly ignorant of the demands of the office is the face of today's GOP, depressing as that is. The real tragedy is that upward of 40 percent of Republican primary voters were willing to vote for someone who so clearly lacks any understanding of American governance or the presidency to which he aspires.
I do not believe it either fair or accurate to attribute all or even most of Trump's votes to his blatant racism, sexism and xenophobia. What those votes do betray is profound ignorance of how the system works, what government is and does, and what sorts of skills we require in a commander in chief.
We need civic education, and two adult political parties. Stat.•
__________
Kennedy is a professor of law and public policy at the School of Public and Environmental Affairs at IUPUI. She can be reached at skennedy@ibj.com.
Please enable JavaScript to view this content.