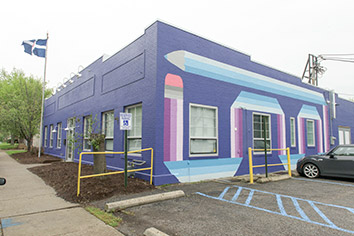 Tube Factory Artspace (1125 Cruft St., 721-0238) is now open for business, and the repurposed, energized gallery-plus building seems just the spot for the evolving needs of the mission-driven, community-focused Big Car Collective.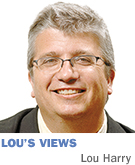 Just down the block from Garfield Park, the Tube has welcoming common space complete with tables for collaborative group-think sessions or for use when you (yes, you) just need to get out of your office with your laptop.
It's got flexible gallery space for temporary exhibitions, a basement workshop for member artists and others willing to barter, plenty of outdoor property for festivals, and a garage that should soon be suitable for concerts and other live performances. A Latino American Film Series is already up and running, with other screenings planned.
The Tube has cool details all around. Check out the table that sits on piping from the former compressor manifold, the floor that makes no effort to hide years of hard work by former employees, and the brush embedded in the garage floor, to name just a few. Pine boards from the rafters now serving as window sills and tabletops, and elements from Bud's Supermarket, the Permanent Magnet Co., and other area businesses have been incorporated throughout.
The Tube Factory's first exhibition, "The People's 500" (through July 16), celebrates the relationship between the Indianapolis Motor Speedway and its fans.
To mark the 100th running of the Indianapolis 500, 100 Indy residents drove two laps in a pace car, then were photographed and interviewed by artist Jesse Sugarmann (2 laps x 100 drivers = 1 full race).
The main gallery space is filled with large, head-to-toe photographs of some of these folks, suited up at the Speedway. Another space is devoted to a wall of 8×10's of the entire field. A third houses projected video, with overlapping sound.
Tube Factory's first exhibit, "The People's 500," puts civilians in the driver's seat. It's accompanied by an audio/video piece­ that is shown in a separate room. (IBJ photo/Eric Learned)
The exhibition is best considered as an overall experience rather than the sum of its parts. The large-scale images are polished and bold, but biggie-sizing only 15 of them diminishes their potential impact and seems more about space than artistic vision. The wall of 100 photos wouldn't be out of place in the entry to the Speedway—and spotting a handful of media folks and local notables in the mix gives the impression that marketing might have also been part of the agenda. Focusing on people who otherwise would never have an opportunity to get into one of the cars would seem a far more powerful approach.
Meanwhile, the audio/video piece fights with our natural desire to listen to what these people are saying. With overlapping sound, it seems to be going out of its way to resist the straightforwardnature of museum videos, but in favor of what? I don't see what it adds.
Interesting footage is interspersed with the video interviews, including the artist himself wrapping a car with reflective material. These silent sequences give a break to the sound overload. And the shot of a solo pace car has a hypnotic appeal. (I watched about 15 minutes of the multi-hour, split-screened video.)
More a documentation of an interesting conceptual project than a satisfying stand-alone experience, "The People's 500" nonetheless should get these 100 or so—and their friends and families—into the building.
I think they'll be impressed, as I was, with what's been done—and the potential—of the home base for one of Indy's most important, imaginative and impactful arts organizations.•
__________
This column appears weekly. Send information on upcoming arts and entertainment events to lharry@ibj.com.
Please enable JavaScript to view this content.