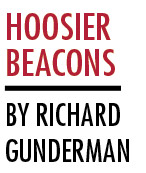 One of the things that surprised my wife and me most on our first trip to China was the ubiquity of Kentucky Fried Chicken restaurants, which seemed to be on nearly every corner. In fact, KFC is the world's second-best-selling restaurant chain after McDonald's. Many are surprised to learn that it was founded by a Hoosier.
Harland Sanders, whose visage graces most KFC advertising, was born outside Henryville, along the state's southern border, in 1890. His father was a farmer who died abruptly when Sanders was 5 years old. Soon, his mother had gone to work in a cannery, and the man later known as "Colonel" assumed cooking duties for his younger siblings.
Sanders' mother later married a man with whom the boy did not get along, and at age 13 he left home, taking jobs as a painter, farmhand and streetcar conductor. At 16, he falsified his date of birth and enlisted in the U.S. Army, serving in Cuba. When he left the service, Sanders moved to Alabama, where an uncle helped him secure work with the railroad.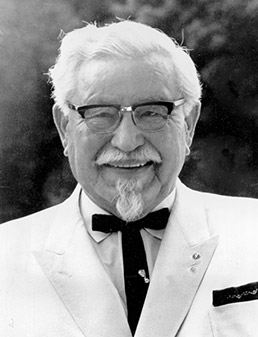 (AP photo)
In Alabama, Sanders met his first wife, Josephine, and the couple had three children: a boy who died of tonsillitis and two daughters.
While working for the railroad, Sanders studied law by correspondence and later practiced for several years. Both his railroad and law careers ended the same way: brawls. Sanders went to work as a laborer and later got a job selling insurance.
Sanders bounced from job to job and place to place, serving with the chamber of commerce in Columbus, Indiana; establishing a lamp company that folded; and working for a tire company, before accepting an offer to run a Corbin, Kentucky, service station. While pumping gas, Sanders began offering food to truckers and motorists on the heavily traveled Dixie Highway.
By 1940, Sanders had perfected his "secret recipe" for pressure-cooked chicken, a technique that shortened preparation time. In 1952, the world's first Kentucky Fried Chicken opened as a franchise in Salt Lake City, Utah. The proprietor, an associate of Sanders', reported that sales—primarily fried chicken—increased more than three times in the first year.
Sanders began traveling the country, preparing chicken and selling franchise rights. Soon, eager buyers began approaching Sanders to obtain franchises. By 1964, Sanders had spawned over 600 locations, the oversight of which became overwhelming for him. At age 73, he sold KFC for $2 million to a partnership that included a future Kentucky governor, John Y. Brown.
Sanders remained the face of the company for many years, traveling as much as 200,000 miles a year and logging innumerable television appearances. He frequently visited his restaurants, whose quality he guarded jealously. According to The New Yorker, the Colonel acquired a reputation for "the force and variety of his swearing" if he found anything unsatisfactory. He died in 1980 at age 90.
Today, the Colonel's "finger-lickin' good" chicken is sold by more than 18,000 outlets in 188 countries. KFC is now owned by Louisville-based Yum! Brands, which also owns Pizza Hut and Taco Bell.
Sanders was remarkably adaptable and creative. Having gained experience with gas station franchises, he was one of the first to apply the franchise model to restaurants. But perhaps his most notable quality was his grit. Said his granddaughter, Josephine, some years after his death, "He just never gave up—never, never gave up on anything."•
__________
Hoosier Beacons pays tribute to Indiana's bicentennial by telling the stories of famous Hoosiers. It appears every other week. Gunderman is chancellor's professor at Indiana University.
Please enable JavaScript to view this content.