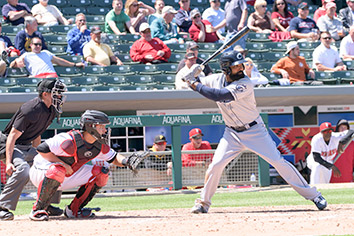 Every winner needs a rival. Every Batman needs his Joker; every Big Mac needs its Whopper.
Which brings us to the Indianapolis Indians and Columbus Clippers.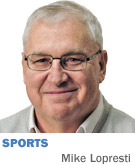 OK, maybe it's not quite Purdue/Indiana or Wabash/DePauw or even Ben Davis/Warren Central, but do not overlook the ongoing duel that is served every so often at Victory Field. Three reasons why:
No. 1: May 18 was the 36th time the two teams have played in 13-1/2 months. There are married couples who don't see each other that often.
"Their pitching staff knows us; our pitching staff knows them," Indians first baseman Josh Bell said. "You know the defenders out there, you know the offensive players, you know who's hot and who's not. It's always fun when you can beat the guys you see the most often."
No. 2: They met in a scintillating five-game series for the 2015 International League Governors' Cup. The first four games were each decided by one run, before the Clippers finally settled the issue in the fifth game, 3-0.
"The most fun I've had in pro ball," Indy infielder Dan Gamache said. Except the final result, which still leaves a bad aftertaste. So after reliever Rob Scahill closed down the Clippers on May 16, he mentioned, "Nobody has forgotten what happened last September."
The man who won game 4 with a walk-off hit to force a fifth game certainly hasn't.
"Just playing with your back to the wall, with so much on the line, it was an incredible experience," Bell said. "And something that I can look back on when the going gets tough during the year. It's something I will always have in the back of my head."
So will Manager Dean Treanor.
"What was great about it, when you get into the first part of September, guys are thinking about, 'Am I going up, am I not going up?' There was no thought of that. It was about what was happening right then, right there."
No. 3: Dayton and Richmond might be between Columbus and Indianapolis on Interstate 70, but there isn't much space between them on the scoreboard. In 35 meetings the past two seasons through May 18, the Clippers won 18, the Indians 17, separated by a total of nine runs. Twenty-two of those games were decided by two runs or fewer, or in extra innings.
"It shows how much we're even," Gamache said. But wouldn't you think an industrial-strength edge would have built up by now between the two? "It's a fun edge, if there is any edge," he said.
"There's nothing that's happened in a game," Treanor said. "But it has become a rivalry. I wouldn't say it's, 'We don't like them, they don't like us.' It's, 'We don't want to lose to them, they don't want to lose to us.' It's surprising something doesn't happen. So far, nothing really has. But it's there. You can feel it."
Not even so much as a knock-down pitch.
"It's not like they're our enemies," Bell said. "I don't see us getting in a fight with them or anything like that. But at the same time, it's playing with a chip on your shoulder. And they know it, too."
Rosters in AAA ball are often like an airport, with players coming and going. So maybe they're just not around long enough to get very mad at one another. But there is something extra when the two meet.
"In the back of the mind," Bell said, "you know they took game 5 here last year." 
So the four-game series May 16-19 came at a good time for the Indians. Things were a little low. What was a team with the finest earned run average in the league doing with a losing record? That metric does not compute. But there had been a batch of late leads blown, and also something of a dry spell at the plate. The Indianapolis starting pitchers have produced more doughnuts than Krispy Kreme, but you couldn't tell by the win-loss total.
They needed a pick-me-up, and here came the Clippers, carrying the IL's best record. Just the ticket. If you want to light a fire beneath a mongoose, bring out a cobra.
"In the scheme of things, this is a big important series for us," Treanor said before the opener. "We have to right ourselves. When you give games up late, it's going to affect the team, I don't care what you say, I don't care how many meetings you have.
"I think we haven't rebounded from that yet."   
Which is why Treanor called the lads together for a little pre-game chat on May 16.
His message?
"This is a chance now to turn things around. We wanted to make a statement early, but now is the time we can make that statement. You want to make that statement? Here it is. It's right in front of you. Make the statement."
The Indians won that game 2-0 (hot-dogs-for-a-buck night!). They won 4-1 the next day, too (school buses for all the baseball field trips were lined up past the zoo). They lost the third game 5-3 (Gene Hackman's pep talk from "Hoosiers" on the scoreboard before the bottom of the ninth). Game 4 was after IBJ deadline.
In the merry world of minor-league baseball, one of the best rivalries in town rolled on.•
__________
Lopresti is a lifelong resident of Richmond and a graduate of Ball State University. He was a columnist for USA Today and Gannett newspapers for 31 years; he covered 34 Final Fours, 30 Super Bowls, 32 World Series and 16 Olympics. His column appears weekly. He can be reached at mlopresti@ibj.com.
Please enable JavaScript to view this content.