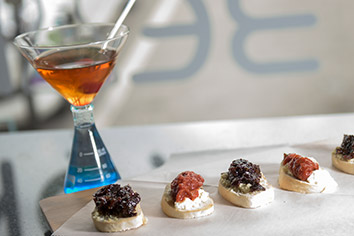 The average person isn't thinking much about science when sidling up to a bar (apart, perhaps, from that guy trying to use the phrase "covalent bond" in his pickup line during Gen Con).
Yet science is key to the creation of liquid indulgences—in the distilling, in the brewing, in the fermentation, and in the absorption and oxidation. It's enough to make Bill Nye dizzy.
Rather than mask the science, Broken Beaker Distillery (643 Massachusetts Ave., 602-5546) embraces it with a fun name, laboratory logo, scientific imagery and real-life alcohol creation.
There's an upside and a downside to heavy theming. While its distinct trappings separate it from other drinkeries, the laboratory glassware and Dr. Bunsen Honeydew vibe might lead potential patrons to believe this is a singular, perhaps touristy, experience—the go-to bar at a nerds-only theme park.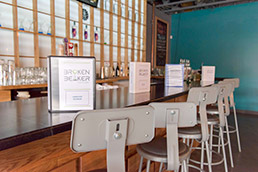 You may have flashbacks to high school science class at Mass Ave's Broken Beaker, which embraces the subject. (IBJ photo/Eric Learned)
Our experience was actually somewhere in the middle. As soon as we entered on a low-key early evening, a friend from New York, commenting on his first whiff, said he detected notes of the NYC subway at 3 a.m.—and he didn't mean that in a bad way. With spirits being concocted and alcohol experiments being conducted in the adjacent lab, one would expect such an olfactory experience.
 Friendly, accommodating service guided us through the limited dining menu, starting with Crostini ($6). Expecting that most of Broken Beaker's efforts would be on the libations rather than kitchen creations, we were pleased to find an appetizing plate of jam-dolloped crostini, half with a wonderfully sweet fig-onion/blue cheese combo and half with a tomato/goat cheese mix, both proving refreshing and surprising. The Pork Quesadilla ($6) offered hearty wedges filled but not overwhelmed with pulled pork, bacon, cheese, and a bit of sour cream and tomato jam.
The Cuban ($9) was good but only if you weren't wanting a real Cuban sandwich. Oh, it had the requisite meats and cheese, but was served on ciabatta. The hit-you-in-the-back-of-the-sinuses mustard nicely balanced the semi-smoky, semi-sweet pulled pork, both combining to dominate the ham.
The Grilled Cheese ($7) combined cheddar, Swiss and gouda—plus garlic aioli—on sourdough, while the Turkey Pesto ($8) added spinach for color, flavor and texture to the pesto, Swiss and sliced gobbler. Both exemplify the importance of parking a dish at the right price point—although you might consider subbing Mac & Cheese or soup for the chips for an extra $2.
Of course, it's all better when accompanied by a freshly concocted Molecule Mule ($8)—muddled lime, ginger beer and vodka, fresh from the lab.•
Please enable JavaScript to view this content.