Movie theater operators are dangling a range of new amenities—from comfy recliners to full food menus and bar service—to lure prospective customers off their couches and into the multiplex.

Kansas City-based AMC Theatres is the latest player to up its game in Indianapolis. It has filed construction plans to expand and improve concessions and replace traditional seating with recliners at its Castleton Square, Traders Point and Washington Square theaters.

Though AMC spokesman Ryan Noonan was unable to provide full details on the theater upgrades, he said each renovation will be a "multimillion-dollar investment."

"It used to be, 'How many people can we get in the theater?' Now, it's the experience," Noonan said.

Knoxville, Tennessee-based Regal Entertainment Group, which runs 12 theaters in Indiana, replaced the seating at Circle Centre mall's nine movie screens in late 2014 with reclined seating.

The chain, which has 572 theaters nationwide, now has 72 locations with recliners and plans to add another 40 this year. A company spokesman was unable to say if any of the Indianapolis-area's five Regal theaters are among the 40.

The big chains are beginning to reap the rewards of the investments. AMC, for instance, on April 29 reported record first-quarter revenue of $766 million, and record first-quarter food and beverage revenue of $244 million.

AMC operates 346 locations (20 in Indiana) and has the second-largest share of the U.S. market, behind Regal, and ahead of Cinemark Theatres of Plano, Texas. All are racing to outdo one another—and give consumers more reasons to venture to the theater instead of watching TV shows or movies on their HD televisions at home.

Perlstein
"It's very obvious that they're making the experience much more enjoyable than they had in the past," said Mark Perlstein, first vice president at CBRE Group Inc.

Full-service bars are among the amenities they're adding to grease the turnstiles. And why not, when it's estimated that 85 cents of each dollar spent on concessions is pure profit.

The La-Z-Boy-type recliners, complete with padded footrests, are another big draw. Though they take more space than traditional chairs, they've translated into higher ticket sales.

Customers also have embraced another cinematic innovation: reserved seating.

Moviegoers now often have the option to buy tickets online to nab a certain seat without the hassle of arriving early in hopes of beating the crowd.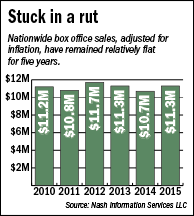 "You have fewer seats in the auditorium, but they're selling out more frequently now," said Patrick Corcoran, spokesman for the Washington, D.C.-based National Association of Theater Owners. "The customer perceives it as a better experience, but also that they need to get in there and buy earlier."

For many, that entails kicking back with an adult beverage.

AMC has grown its MacGuffins lounges rapidly, from about 50 in 2013 to 124 in 2015, with plans for an additional 20 to 25 this year.

AMC said in its last quarterly report that MacGuffins is the company's "fastest-growing idea" within its food-and-beverage offerings, adding that, "Few innovations have won over the adult moviegoer more decisively than our full-service bars."

Locally, MacGuffins lounges are at Castleton and on the south side, on South Meridian Street near Interstate 465.

Regal offers alcohol at even more locations than AMC, 235, and plans to introduce it at 75 more theaters this year. None of its six Indianapolis-area locations currently serves alcohol.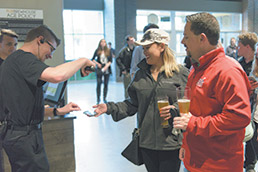 Flix Brewhouse opened in Carmel in April 2015. (IBJ photo/ Eric Learned)
A handful of local independently owned theaters also serve alcohol, including Studio Movie Grill at College Park Plaza near West 86th Street and Michigan Road, and Keystone Art Cinema at The Fashion Mall.

Texas-based Flix Brewhouse has upped the stakes locally by not only serving alcohol but also brewing its own beer. Flix, which opened in Carmel in April 2015, bills itself as the only first-run cinema brewery.

Flix occupies almost 40,000 square feet in space that previously housed a Hobby Lobby store, in the Merchants Square shopping center, and offers eight screens with seating for about 1,000 people.

Its menu includes an array of appetizers, pizzas, salads, burgers and even entrees such as street tacos, fish and chips, and mac and cheese.

First-year results met expectations, company spokesman Greg Johnson said, even though the Carmel location differs from Flix's other two locations—in Round Rock, Texas—an Austin suburb—and in Des Moines, Iowa.

"It's a highly dense, family community, as opposed to an urban market that skews a little younger," Johnson said of Carmel. "It's not better or worse; it's just different."

Flix plans to open an outpost in Albuquerque, New Mexico, later this year and another in Dallas in 2017.

For all the spending on upgrades, though, the films themselves still drive attendance, and this year is shaping up to fall short of 2015.

Late last month, the top executives at AMC and Regal sounded the alarm bells that the second quarter is looking bleak. The slate includes "The Jungle Book" and "Captain America: Civil War," but little else.

Second-quarter releases last year generated $3.1 billion in domestic ticket sales, led by "Jurassic World," "Avengers" and "Furious 7."

Box office sales adjusted for inflation have flattened in recent years, though they grew 5.7 percent last year largely on the strength of the blockbusters, including "Star Wars: The Force Awakens."•