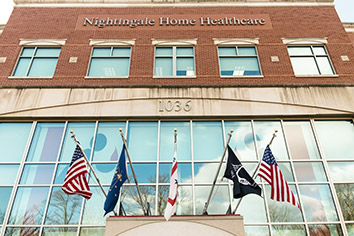 Nurses were forced to travel hundreds of miles a day, with more assignments than they could handle. Patients sometimes received unnecessary care to run up bills. Employees quit in high numbers, resulting in staffing turnover of more than 100 percent in just two years. Managers gave sports tickets and spa gift certificates to doctors in exchange for referrals.
Those are some of the findings in a new investigation into Carmel-based Nightingale Home Healthcare, one of the state's largest home health care providers, which is fighting allegations by the Indiana State Department of Health that it put at least two patients at immediate risk.
The company sought bankruptcy protection in December after the state's determination prompted the federal Medicare program—the source of most of Nightingale's $14.8 million in annual revenue—to terminate its contract with the company.

Nightingale won a temporary injunction in January that has kept payments flowing. But keeping the tap open will hinge on persuading a court that its 900 patients are out of harm's way—a challenge the new investigation might make more difficult.
The findings are laid out in a 19-page report written by a patient care ombudsman who was appointed by U.S. Bankruptcy Court to look into Nightingale's operations. The filing was made public May 12.
The ombudsman, Eric M. Huebscher of New York City, said he reviewed records and interviewed more than 35 current and former employees. He found more than 1,300 complaints from patients and family members since 2011, ranging from nurses and aides who didn't show up to serious accusations involving medical care.

Brar
Nightingale disputes many of his findings. In a response filing, the company called Huebscher's report inaccurate and based on "unsubstantiated hearsay and alleged reports" from former employees.
The company added that Huebscher "has cited no evidence of harmful care … or care not certified or recertified by a physician."
The company has been on the defensive since two investigations by the Health Department concluded the company had problems with staffing, training, following up on lab results, and coordination between field staff and home office. Those problems were serious enough to put patients in "immediate jeopardy," the state said.
The phrase "immediate jeopardy" can be a serious blow to a health provider's reputation. The Centers for Medicare & Medicaid Services interprets it as a "crisis situation in which the health and safety of individuals are at risk," according to a regulation manual.
The state investigations found that, in the fall of 2015, one patient with a urinary tract infection received no visits from Nightingale staff for a month after his usual nurse went on medical leave. He developed sepsis and was taken by ambulance to the hospital. He was discharged nine days later but returned to the hospital within 24 hours and died two weeks later, Medicare officials said.
A second patient was supposed to have his blood drawn for testing, but the agency said Nightingale staff members failed to show up to do so on several occasions. When staff members did show up, they were often unable to successfully draw blood, with one employee saying "she would have to have a refresher course in lab."
The patient ended up hospitalized with a solid swelling of a blood clot in his chest and measurements of blood coagulation at critical levels, Medicare said.
The ombudsman's report uses strong language, painting Nightingale as largely uncooperative during the investigation and unable to produce records on staffing and patient census that were reconcilable with previous months.
Patients' families told the ombudsman that, in certain cases, nurses did not have proper supplies to provide the needed skilled services and were not adequately trained.
Nurses told the ombudsman that, under their assigned schedules, they often had to travel hundreds of miles each day to meet the needs of their patients, "without consideration of whether there was time in the day to travel these distances and provide an appropriate level of care," the report said.
Nightingale responded that the average number of visits by a nurse was 4.07 a day, located in an average of 2.9 postal ZIP codes. The nurse with the highest number of visits a day (9.8) provided those services in five or six contiguous ZIP codes in Indianapolis.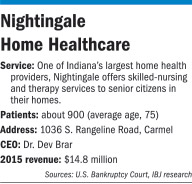 Some nurses told the ombudsman that the company sometimes recorded that patients were seen, "when in fact patients were not seen." Nightingale called that "unsubstantiated hearsay." It added that visit logs were kept in each patient's home that employees were required to sign, and the company randomly conducted follow-up calls to verify that visits were occurring.

Huebscher
The ombudsman reported that Nightingale "engaged in the practice of supplying sporting game tickets and spa gift certificates to those who are ordinarily charged with managing referrals to home health agencies."
Nightingale responded that the spa certificate was solicited by the administrator of an assisted-living center as a door prize for the annual anniversary party. It did not comment about the game tickets, other than to say "the alleged recruiting of patients … is unrelated to the quality of care being provided."
Some nurses and patients told the ombudsman they have seen patients receiving care that was otherwise not needed or ordered by a doctor, such as physical therapy and occupational therapy.
"Nurses described this practice as 'piling on of services,'" he wrote. Again, Nightingale called those reports "unsubstantiated hearsay."
"Unfortunately, the [ombudsman's] report does not address the quality of care currently being provided to patients," Nightingale wrote.
It added: "The report is replete with allegations against [Nightingale] and related parties regarding past practices and matters unrelated to quality of care."
The Health Department said it began the investigation after receiving patient complaints. But Nightingale alleged in a federal lawsuit filed in February that the investigation was part of a campaign of retaliation by state officials after Nightingale's CEO, Dr. Dev Brar, complained about "racially tinged" remarks a Health Department employee left on his voicemail.
Brar, who is Indian, said the state conducted more frequent inspections at his facilities and issued harsher reports after he complained. The comments were recorded inadvertently when a Health Department employee failed to hang up after leaving a message for Brar, the lawsuit alleges. The suit's defendants include the Health Department commissioner and the secretary of the U.S. Department of Health and Human Services.•
Please enable JavaScript to view this content.