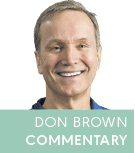 I've been in the software industry longer than I care to remember, and have lived all sorts of ups and downs. When I started Interactive Intelligence more than 20 years ago, Nortel and Lucent were kings, and we were just a little startup based in Indianapolis of all places. With a stellar team of developers from Purdue, Rose-Hulman, IU and other great schools, we quickly created an "all in one" business communications system that could run on a single server—unheard of at the time.
At first, the big guys laughed when we went to trade shows with our dinky booth, but we won over large organizations like Kohl's and American Family Insurance. We caught a huge break in 1999 when we went public at the height of the dot-com boom. Our stock price skyrocketed from $13 to $54. Of course, the boom went bust, and our stock hit a low of $2 in the early 2000s. But we worked our way back up.
With a combination of good fortune and aggressive investment in R&D, we were among the first to recognize and exploit important trends like voice over IP and Internet-based customer service. We watched the fall of the seemingly invincible Nortel and the downward arc of Avaya. In 2008, we conducted a critical experiment—offering software on a subscription basis via a "cloud" service by renting space in third-party data centers around the globe. Once again, the timing was propitious, and our business took off, lifting our stock price to new heights.
However, by 2012, it was clear we were in an unfamiliar position. Now a 2,000-person global company, we were one of the "big guys" at risk of being disrupted by a nimbler newcomer. At a board meeting that year, I outlined an audacious plan—disrupt ourselves. This meant spending tens of millions of dollars to develop an all-new product line built expressly for the cloud in an effort to leapfrog our competitors, both large and small. It also meant suffering through a period of losses, analyst criticism and almost certainly a fall in our stock price.
Fortunately, I have an experienced board with nerves of steel. After the appropriate grilling, board members unanimously agreed to move forward. We were right about the impact. Our stock price retreated from a high of $80 to a low around $21. Analysts and many investors were disappointed to see us turn from increasing profits to a pool of red ink. Criticism mounted, even inside the company. Our decision to transition from mostly selling our software outright to offering cloud services had the pernicious effect of pushing revenue out to future quarters and making our income statement look downright ugly, even if we succeeded.
However, we plowed ahead and released our PureCloud services for collaboration, communications and customer engagement in the second half of 2015. PureCloud quickly won accolades from major industry groups, and we racked up wins at name-brand companies such as Quicken and Google Nest. And thankfully for our investors, our stock price has partially recovered, although it remains well off its high.
So what lessons can be drawn from our experience? I believe, in most situations today, the most dangerous move is to stand pat. The pace of change all around us is breathtaking. Companies like Uber and Tesla are disrupting entire industries that recently seemed safe and secure.
Technologies such as 3D printing, next-generation DNA sequencing, block-chains and "Internet of Things" are crashing like waves on organizations of all types, carrying old assumptions out to sea.
The cloud has transformed not only information technology but whole business models. Embracing change and disrupting yourself isn't easy, and sometimes it's not much fun. But it may be better to try to ride the tsunami than to outrun it.•
Brown is founder, chairman and CEO of Interactive Intelligence, a developer of cloud-based business communications software. Brown previously co-founded two other software companies. One was acquired by IBM, the other by Electronic Data Systems.
Please enable JavaScript to view this content.