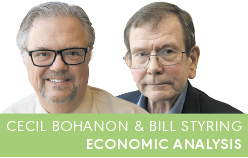 Bohanon just had his first Uber ride.
It was in Chicago with some of his students. The driver was welcoming and had precise directions to the destination. As Bohanon got in the front seat, the young man said, "Hi, I am Dominic and I am an investment banker." He went on to add, "On days when I am not working on deals, I drive for Uber."
Dominic looked like he was from the Indian subcontinent. A cross dangling from the rearview mirror led Bohanon to engage in his favorite guessing game with obvious immigrant cabbies (or now Uber drivers): What's this person's origin? First guess was right: a Pakistani Christian who had migrated to the United States to escape the violence against his people, which Dominic was quick to point out appalled his Muslim neighbors and friends as much as it did him.
What does this vignette have to do with innovation? Everything. Innovation in the workplace. The workplace of the future will not be a specific location. It will not be a 30-year mutual commitment between a firm and worker in which the worker provides specified services in exchange for wages, benefits and a gold watch at the end. The workplace will more and more be wherever people find ways to temporarily interact. For old fogeys like us, this is unfamiliar and scary. For millennials accustomed to using social media and apps to find like-minded people, it will be routinely exciting.
Think of it this way: At the end of every movie, there is an extensive list of credits that note everyone from the star of the movie to the accountants. Add to that other folks who are part of the production but don't rate credits, and even a low-budget film has the economic impact of a larger traditional workplace.
A movie production is an employer. But when the movie is finished and in the theaters, all those who made the film have no solid expectation that they are going to continue to work together.
This is the model for the new workplace: workers cooperating for specific projects for specific times. Of course, one's reputation is essential for the next gig. No union rep is going to guarantee that you will be hired for the next consulting job in the area of your expertise. Challenging and tough? Yes. But think of the possibilities for human creativity!•
Bohanon is a professor of economics at Ball State University. Styring is an economist and independent researcher. Both also blog at INforefront.com. Send comments to ibjedit@ibj.com. 
Please enable JavaScript to view this content.