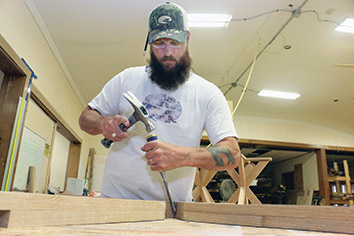 Although it's a Christian-based charity with an age-old mission, furniture maker Purposeful Design is a textbook example of evolution in action.
The not-for-profit started three years ago as a workshop using salvaged shipping pallet wood to build picnic tables and other simple furnishings. But demands from its clients have already morphed it into a high-end maker of handcrafted, custom furniture—all produced by a small cadre of men who were formerly homeless, or substance abusers, or both.
The goal isn't to make the prettiest table (although the guys might be doing that as well), but to provide opportunities, support and a paycheck to men whose backgrounds make it difficult for them to find jobs.
"By far, Purposeful Design and woodworking is the most satisfying job I've ever had in my life, not to mention I'm making the best money I've ever made in my life," said Andrew Gibson, a 35-year-old recovering heroin addict who got clean through Wheeler Mission Ministries before coming to the program. "It's just a blessing from God."
The program is inside a former church at East 16th Street and Gladstone Avenue, east of Sherman Drive, where every day starts with a prayer and lunch hours include Bible studies.
The old sanctuary smells like sawdust and rings with the sound of power tools. In the finishing room, some of Purposeful Design's recently finished pieces await their final coats of varnish before they are shipped to buyers.
The goods include a modern table featuring a center strip of "live edge" walnut that's flanked by two concrete slabs, all held together by hand-cut bowtie splines. In a corner sit several tabletops—part of a batch of about 90 cafeteria tables being crafted for Pendleton Heights High School. A Mexican restaurant opening in Carmel wants 40 to 50 tables, and an Eli Lilly and Co. representative recently stopped by to discuss an order for office furniture.
One can forgive founder David Palmer for frequently using the word "blessed" when describing the growth of Purposeful Design. Its expansion since its 2013 founding does, indeed, seem miraculous. It began after Palmer, who's volunteered for years at downtown's Wheeler Mission Ministries, tried to think of a practical way to help the men there reclaim their lives and rejoin the workforce.
Palmer (who spent 30 years doing marketing research and consulting in the food industry) decided he could start a business making easy-to-assemble products out of reclaimed shipping pallet wood.
Not that he had any carpentry experience. He was (and remains) a novice.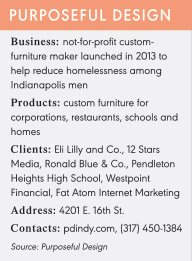 "When we first started out, we thought we'd come up with a few designs and just sell those," he said. "Our initial dream wasn't what we've become."
Indeed not. The pallet concept proved troublesome and was quickly abandoned. Then two companies, including MacBeath Hardwood, which has a location in Edinburgh, donated loads of high-quality Hoosier hardwood. Another donor gave $9,000 worth of woodworking equipment. And the group's current headquarters was provided by Palmer's own congregation, College Park Church.
But the largesse didn't end there. Purposeful Design's advisory board is composed of highly placed local business leaders, many of whom put the word out about the group's mission and products. The company's revenue has grown from about $4,000 a month in 2014 to $20,000 per month in 2015 to (so far) $35,000 per month this year.
Tell the story
Palmer uses the money to pay the men $12 to $20 per hour. He "realizes you can't support a family on minimum wage," said Gibson, whose wife and two children moved to be with him in Indianapolis after several years of separation, caused largely by his drug abuse. Like Gibson, some of the men in the program are learning to be good husbands and fathers again.
"Clients love our quality, but many also love being part of our mission," Palmer said. "An easy way to do that is to have a piece of furniture that we made. They get to tell that story over and over again whenever they use our conference table."
Palmer mentions conference tables because they've become a specialty, with about 20 gracing boardrooms around town. Some customers even display plaques telling the company's story.
Rocky Walls, CEO of the video production company 12 Stars Media, got wind of Purposeful Design when he saw their wares at The Oaks Academy, one of his company's clients.
"The furniture looked cool, and the story of what the folks there are doing to provide opportunity for guys who are learning to build furniture and make a living is just icing on the cake," Walls said.
Today, 12 Stars offices are a showroom of sorts for Purposeful Design products. The digs are fitted with, among other things, a standup community table, conference table, buffet table, and a custom "Lego wall," featuring bins full of Lego pieces and a panel covered with Lego base sheets that lets employees build things vertically.
"It's pretty incredible," Walls said.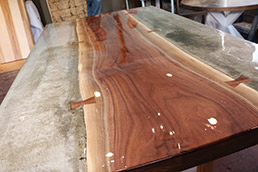 This concrete and walnut table is a made-to-order piece that will cost the buyer about $3,000. (IBJ photo/Lesley Weidenbener)
Palmer describes his brainchild's finances as "straining toward positive cash flow." The plan is to make Purposeful Design self-supporting, able to bring in more employees. Payroll now stands at a modest six.
"Our goal is to hire more men," he said. "So we want to drive sales up."
Though the group offers (out of necessity) lots of training in carpentry, this isn't a classic program where students are trained on a manual skill, then sent out to find a "real" job. Palmer would like his employees to hang around a long time. Purposeful Design needs an experienced team to execute its complex commissions, and its employees need a safe place to recover.
"These men know from experience that it's good to be sheltered until you really get strong," Palmer said. "They know the danger that lurks outside for them."
Dream come true
Not everyone is successful. Recently, the men took to the streets to find a co-worker who stopped showing up for work. Turns out he'd relapsed and is back in jail.
But for others, the program has been life-changing.
Vincent Hicks, who does most of the varnishing and other finish work on the group's projects, came to the organization a year ago after dabbling in both drug abuse and crime.
"Anything out there that you can think of, I probably ran into it," Hicks said.
One of his first assignments was to distress some tabletops. Given his mood at the time, it was like a dream come true.
"They gave me a hammer and some other knickknacks and said, 'Go to town on this,'" he recalled.
These days, he's more of a finesse guy, carefully putting a high shine on high-end furniture.
"I really use a lot of patience and put a lot of effort into doing this," he said.
There could be plenty more to do in the future. Palmer recently hired a couple of marketing reps to push their products around Indiana and in adjoining states. One of the things he's learned from them is that his goods might be too cheap. For instance, the aforementioned wood-and-concrete table cost its purchaser only $3,000, which seems a tad low for an all-custom piece.
"We're learning that, for comparable products, we're coming in lower than the competition," he said.
Purposeful Design might bump those prices north a bit so it can make more money, expand, and hire more men.
"We need to," Palmer said. "We're trying to be a self-sustaining business, so we need to have the right price points."•
Please enable JavaScript to view this content.