Like most entrepreneurs with a game-changing idea, Josh Baker and Craig "Dodge" Lile started with a simple solution to a simple need.

Their favorite bands were skipping Indianapolis while on tour. So Baker and Lile decided to beg them to stop here and play small gigs.

Their first event, staged on Jan. 18, 2008, included eclectic local band Jookabox and Chicago songwriter Cameron McGill at Radio Radio in Fountain Square. To their amazement and relief, a couple of hundred fans paid to get in.

"It was a big success, which was the addicting thing about it," Lile said. "People showed up. People came."

Eight years later, Baker, 40, and Lile, 39, are considered among the most influential movers, shakers and tastemakers in the Indianapolis arts and culture community.


Their first forays into arranging shows led to promotions powerhouse MOKB Presents, which has produced about 1,500 concerts and assorted events in venues ranging from the intimate White Rabbit Cabaret in Fountain Square to the expansive Lawn at White River State Park.

Having established a reputation through MOKB Presents, they were approached by a national network of digital culture and events guides to start an affiliated site in Indianapolis. That became Do317, which currently has 116,000 registered users and a weekly events email with 70,000 subscribers.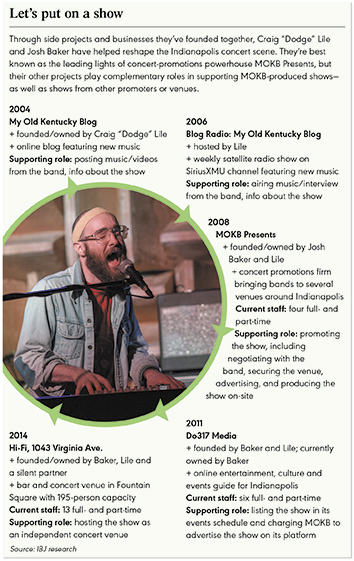 When a street-level space opened up in 2014 in the same building as their offices in Fountain Square, Baker and Lile decided to create their own music venue. The 195-person capacity Hi-Fi at 1043 Virginia Ave. is expected to host close to 400 events this year—most featuring up-and-coming music acts Baker and Lile want to champion.

This all would have been hard to imagine in the mid-2000s when Lile started a music blog and then hosted a satellite radio show to promote new music. Including those first sidelines, Baker and Lile have created a cluster of complementary companies and projects, dedicated to bringing their favorite music to the masses and bolstering the local cultural scene.

"These things developed organically, and now it's like they've created different spokes on the same wheel," said Clay Robinson, co-founder of Sun King Brewing Co., which frequently sponsors MOKB Presents events.

"They're complementary in that they're all helping the music scene to move in the same direction. And it's a vehicle for influencing culture," Robinson said.

Their impact on Indianapolis goes beyond bringing acts like The Lumineers, Alabama Shakes, Sturgill Simpson, Bloc Party, Andrew Bird and Ray Lamontagne to local listeners who once faced a long road trip to hear them. The two also play a significant role in helping the city attract and retain young workforce talent.

"Their impact is huge," said Michael Huber, president of the Indy Chamber, and a musician and avid concertgoer. "They help create communal experiences that bind people to our city."

"It's easy to see a music fan of any age moving to Indianapolis and being able to plug into what's happening in Fountain Square, or just having greater odds of seeing a national touring artist that they like and having these communal experiences," Huber said.

Chain links

That's not what Baker and Lile had planned in 2008.

"Eight years ago, this was not in our heads," Baker said, sinking into a cushy white sofa in the MOKB Presents/Do317 offices in the Murphy Arts Center in Fountain Square. He rebuked Lile's suggestion they had any inkling of where they'd end up.

"We were like, 'Man, wouldn't it be cool if we put on a big show at The Vogue?'" Baker said.

"You're right, you're right. Not eight years ago," Lile said, rocking with laughter.

However, Lile was intent on building a sense of community around music when, in late 2004, he developed the music website MyOldKentuckyBlog.com.

"It just became an outlet to talk about music. I wanted to talk about music, share music, and in turn build a community or be part of a community that was talking about music," he said.

Lile scoped out new bands and sought out their shows. He noted new releases. Soon, labels took notice, and he developed an impressive list of industry contacts.

Baker had bounced around the music industry for more than a decade, holding sales or executive positions at record labels, concert promotions firms and a radio station. From 2001 to 2006, he founded and ran the annual Midwest Music Summit in Indianapolis, which featured more than 300 performers in 20-plus venues, as well as seminars related to the music industry.

In 2005, Baker invited Lile to help promote the Summit. They became fast friends and decided to work together on local shows.

In the meantime, Lile had been invited to host a weekly two-hour show featuring new artists on Sirius satellite radio's Sirius XMU channel. Still running today, the show became a way to evangelize about his favorite new artists and live music, including MOKB Presents events in Indianapolis.

"It's great for us, because it's a national audience," Baker said. "And a lot of artists' agents and their managers listen to that show. So it's a constant reminder to them that, 'Yeah, those guys are doing that over [in Indianapolis].'"

Cross-promotion

In the early 2000s, many up-and-coming bands bypassed Indianapolis on their way to and from hot spots like Chicago, St. Louis, Louisville and Cincinnati. For the most part, local music venues were responsible for bringing acts to Indianapolis, and they tended to focus on what would work best for the venue.

"Prior to Josh and Dodge, there weren't a lot of independent concert promoters in the city," said Matt Schwegman, talent buyer and entertainment manager for The Vogue from 2000 to 2013.

"They were able to start booking shows throughout the city and think outside the box about what artists they wanted to work with," Schwegman said. "I might pass on a band because I'm booking The Vogue, but they could go to a venue where it made more sense.

"Initially, they were the ones who were willing to take a chance on some relatively unknown acts. They at that point were creating their own fan base."

Lile would create buzz for bands through his blog and Sirius show. The size of MOKB Presents' concerts began to grow. Bands MOKB Presents brought to Indianapolis as niche acts would return to bigger crowds. Seeing a burgeoning scene for new music, agents would begin sending other acts to Indianapolis.

Baker and Lile "made the city a much better location for rising music acts, and that is their greatest strength," said Marc Allan, former pop music critic for The Indianapolis Star.

"They see what's coming and what's good before other people do," Allan said. "And they're able to attract those bands to the market."

Looking to expand its entertainment-guide platform to new cities, DoStuff Media in Austin, Texas, approached Lile and Baker about starting an Indianapolis outpost. After initially begging off, they decided in 2011 to take the plunge with Do317 and license the technology from DoStuff.

"It's basically designed to help you answer the question, 'What am I going to do tonight?'" Baker said.

Through a website and mobile app, viewers can search listings for events in Indianapolis or other DoStuff markets. Other players in the media business have tried similar tacks, but DoStuff added the wrinkle of allowing users to essentially curate results by indicating their preference for particular events.

While MOKB Presents events are included in Do317 listings, Baker and Lile have taken pains to separate the concert promotions business from the entertainment platform firm—Do317 Media LLC. The primary source of Do317's revenue is advertising, and MOKB Presents pays for ads under the same terms as any other promoter, they said.

"We've worked hard to keep that neutrality," Baker said.

The Vogue advertised on Do317, Schwegman said. He initially was concerned about the relationship between MOKB Presents and Do317, but "everybody got a fair shake."

"Josh understood that was important to the integrity of the site. He knew people would stop advertising," Schwegman said.

From a staffing standpoint, however, MOKB Presents and Do317 shared many of the same employees.

"We hired them all as utility guys," Baker said. "It was like, 'You don't have a title. You are a utility guy. You will do whatever we need you to do for all of the companies.'"

After dedicating a space in the Murphy Arts Center to small Do317 promotional events, Lile and Baker considered opening their own music venue. When space opened up at street level in 2014, they snapped it up and created Hi-Fi.

Sorting it out

That also was about the time they realized each of their businesses needed a separate staff that was held accountable for executing business goals and took ownership in its success. They disentangled their employees within the last year.

"It's easier for me to help keep track of things and delegate to key people in charge," said Baker, who acts as CEO and COO of MOKB Presents, Do317 and Hi-Fi, and manages nearly two dozen employees among them.

"These are all things that I used to do every day myself, wearing multiple hats. So now it's like trying to get everything out of my head and into somebody else's head. It's just nicer when we have these nice, concise teams that are very passionate about what they do," he said.

Through 2015, MOKB Presents produced all the shows at Hi-Fi. The venue now has its own team for booking concerts and events—although MOKB Presents still uses the venue for some of its shows.

MOKB Presents produced about 350 concerts and events in 2015, selling $990,000 in tickets, Baker said. Revenue for Do317, primarily from advertising, was about $200,000, with the firm projecting $400,000 for 2016.

The businesses are profitable, Baker said. He declined to offer specific figures.

Lile has ceded much of the day-to-day control to Baker as he focuses on his day job with Indianapolis-based digital marketing firm Raidious. He sold his interest in Do317 Media LLC to Baker in September 2015.

But he still is helping craft the long-term vision for MOKB Presents, which will include an emphasis on larger shows and all-ages events.

"Ultimately, maybe we'll open another, larger venue," Lile said. "I think we see that as the next step, maybe opening a 400- or 500-person capacity venue. The city needs a space that large."

"We have flexibility to kind of move and shake," Baker said. "If something works, we continue that. If it doesn't, we stop doing it. We just keep continually evolving."•