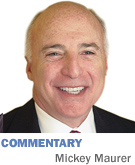 A couple of years ago I wrote a column titled, "Reflections"—the times you think about when it's too late, the thoughts that plague you on the death of friends, the missed non-repeatable opportunities and the revelations that lead you to tweak your life course.
The response outpaced regular business columns by 5 to 1. Perhaps readers are fatigued with my business advice.
One of the responses to that column was provided by Steve Russell, who had recently retired as CEO of Celadon Trucking. He said simply, "brilliantly done, and unforgettable!!" We lost him last month at the age of 76. His words in response to my column should be applied to his life and deeds—brilliantly done, and unforgettable!!
Russell was the youngest graduate of Stuyvesant High School, a college preparatory school in New York City for high-achieving students. Stuyvesant accepts less than 3 percent of its applicants. He earned an undergraduate degree in mathematics from Cornell University and stayed for an MBA in finance and marketing. All three of his children followed him there. He was an ardent supporter of his alma mater with his time and money including a stint on the Johnson Graduate School of Management Advisory Council. He funded a number of scholarships, including the Russell Family First Generation Scholarship, for which he had a special affinity.
Russell began his career in the corporate world at Ford Motor Co. Before long he was named president of Hertz Trucks and then president of Seatrain Lines, a New York Stock Exchange company. He told me that he was in the transportation business and that it was in his DNA. His father drove a taxi. He reiterated his life story more than once. I did not mind. Russell was proud of his accomplishments—his rise from humble circumstances.
When he married Livia Klain and moved in next door to me, he said he felt like he had blown in from New York and picked off the best of what Indianapolis had to offer. Steve and Livia enjoyed almost two decades together, often working side by side on behalf of many charitable endeavors. Russell was a soft touch for community causes. He was active on the boards of Herron High School, Eiteljorg Museum, IUPUI and the Indianapolis Museum of Art, where he was chairman from 2010-2012.
We enjoyed one another's company at neighborhood parties, talking politics, business and life. He was one of the few people my age who still worked for a living. One thing we were assured of: Parties attended by Steve Russell would not be boring. We had a lot of fun together with puzzles and poems. I liked the guy.
We laughed about our appearances in the Indiana Sports Corp. Corporate Challenge races. We both finished near the back of the competition for all runners but won in our age category. He did that in spite of a back ache that inhibited his ability to properly train.
Russell was proud of the work he did at Celadon, and why not. He started that company from scratch, and today it operates a fleet of more than 5,000 tractors and 12,000 trailers and is one of Indiana's largest employers. Its customer base includes Fortune 500 shippers such as Wal-Mart, Procter & Gamble and General Electric. That pride extended to his son, Jon, who followed his father into the family business, where he serves as president of the logistics division.
The arts were his passion. In addition to his work at the Indianapolis Museum of Art and the Eiteljorg, Russell was active at the Phoenix. The new Phoenix, to be completed next year at Illinois Street and the cultural trail, will be dedicated to him.
Once again, I offer the advice set forth in the reflection column. Look up someone you haven't seen in a long time (old romances don't count). Repair a broken or frayed relationship. Seize a non-repeatable opportunity to be with friends or family. Steve Russell would have told you the same.•
__________
Maurer is a shareholder in IBJ Corp., which owns Indianapolis Business Journal.  His column appears every other week. To comment on this column, send e-mail to mmaurer@ibj.com.
Please enable JavaScript to view this content.