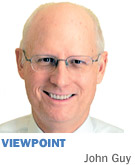 It was 1955, a classroom in Hinsdale Township High School, where the sheriff said: "Never take the law into your own hands."
"In trouble?" he said. "Run for help."
At the time, our greatest fear was attack by atomic bomb. Some parents built bomb shelters.
I was reminded of this two years ago when a Boone County sheriff told my service club: "The question is not whether we experience a school shooting; the only question is when."
He then described a "new" defense. Instead of banning together and blocking doors with desks and cabinets, students were being drilled to run like h—, to get away through any available portal. Although either approach seemed logical, I wondered about the efficacy of any strategy.
Cognitive bias has an outsized effect. It causes humans to take action when no action is indicated. It prompts a healthy person to seek major medical review when a neighbor has a heart attack, and sheriffs to create barely relevant strategies of personal defense.
Societies create false or impossible priorities, such as an unwinnable war on drugs, incarceration of Japanese-Americans or Inuit-Americans during war, and purchase of unimaginable quantities of personal weapons that never will be used. The once-solid and accepted belief—"never take the law into your own hands"—has been replaced by well-funded campaigns to allow weapons in state houses and on college campuses, even in national political conventions.
The message is: Protect yourself; take law enforcement into your personal untrained hands. Although traditional law enforcement personnel generally do not support an armed citizenry, even a sheriff goes over the top now and then, out of fear, as did the law enforcement officer in Pike County, Ohio, who suggested residents should arm themselves, despite conclusive evidence that the shooting of eight persons was not random. It was professional, execution-style, unlikely to be repeated.
Results of cognitive bias are not uniformly effective. News about drug use produced the war on drugs, but news about shootings has done nothing. The reason is both organized resistance and a unique psychology regarding guns. Americans do not want to use guns in violent situations, but Americans want the right to own guns. The right to own a gun controls—not need, or any prediction of practical use.
The sad element is that effective use of guns for self-defense is statistically insignificant, but the desire to own guns, most never used, many not maintained, is overwhelming, so overwhelming that experiences which normally would produce a bias against guns, such as mass shootings and terrible personal incidents, do not change opinion.
Recent personal incidents should affect public opinion. One was in Indianapolis when a mother left her purse on a counter with a gun inside. When the cell phone rang, her toddler reached for the purse, then, somehow, discharged the gun, killing himself.
In early May, in Arlington, Texas, a good Samaritan was killed after he tried to help a wife whose husband was shooting her. The Samaritan went to his car, retrieved his gun, pointed the gun at the aggressor, and then was shot dead by the aggressor.
The questions are: Why did the Samaritan have a gun in his car, and why did he take the law into his own hands when the result was problematic? Why did the mother and the good Samaritan own guns?
We can only guess.•
__________
Guy is author of "Middle Man, A Broker's Tale."
Please enable JavaScript to view this content.