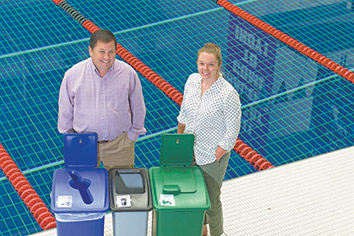 The U.S. Olympic Diving Trials at the Indiana University Natatorium at IUPUI this month figures to be a record-setting event—in waste reduction.
IUPUI and Natatorium officials have embarked on an ambitious initiative to assure that at least 90 percent of the waste generated at the newly renovated building is either recycled or composted. That would qualify it as a zero-waste facility, according to the Zero Waste International Alliance.
The Natatorium would be the first sports venue in Indiana and the only swimming facility in the world designated as such, according to Jessica Davis, director of IUPUI's Office of Sustainability. The trials—held here June 18-26—will also be the first U.S. Olympic event to achieve the feat, she added.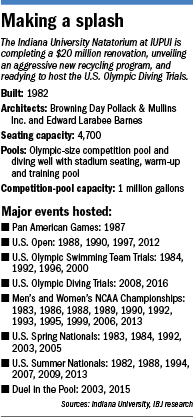 Other venues have tried to decrease waste output—including IU's Memorial Stadium and part of Purdue's Ross-Ade Stadium—but have fallen far short of the 90 percent goal. At the 2012 London Olympics, despite a massive effort only 62 percent of waste was diverted from landfills.
The Natatorium changes were woven into a $20 million renovation, the major portion of which was completed June 1.
Costs of the waste initiative are difficult to calculate because they have been incorporated into the two-year renovation, but Davis is confident the university will save more than it spends on the program in the long run.
Besides the waste-abating efforts, the facility's new LED lights use 43 percent less power than the old ones, and a new water cleansing system for the venue's two pools and diving well will need to be used only quarterly instead of monthly, savings hundreds of thousands of gallons of water a year.
The first thing fans are likely to notice are the 25 waste stations placed around the 4,700-seat venue. Those stations include a 33-gallon blue bin for recyclable items, a 33-gallon green bin for compostable items, and a 23-gallon black bin for trash.
"The trash bin is smaller by design," Davis said from the observation deck overlooking the Natatorium's competition pool. "We're sending a message with everything we do." That included getting rid of stand-alone trash cans.
"Those just beg for people to throw stuff away," she said.
Officials also decided to learn a bit about their clientele.
Last fall, a group of Herron School of Art and Design students were dispatched to the Indianapolis International Airport to observe people's trash-disposal habits.
"They spent hours observing and videotaping people throwing trash away," Davis said. "From that we … realized we have to get to people with our message before they get to the trash cans."
Herron students designed the Natatorium concessions menu to be color-coded to match the waste bins. Blue menu items go in the recycle bins, green in the compost bin, and black in the trash.
"I've never seen a zero-waste menu this creative before," Davis said. "I think it could change the entire food service market, especially for venues that want to go zero waste."
Packaging itself has become more environmentally friendly. Styrofoam is no longer in use at the Natatorium. Condiment packets have been replaced with pump-jug stations. Utensils are made of compostable resin, and snack bags and candy wrappers are made of recyclable paper.
The Indiana Sports Corp., which is organizing the upcoming Olympic trials, enlisted 50 volunteers to canvass the Natatorium during the event to help educate swim fans.

Kolby
"The main challenge to an initiative like this is awareness and education, so we wanted to meet that head-on," said Caleb Kolby, Indiana Sports Corp. events coordinator.
Kolby said "sustainability and hosting green events has become a big topic of conversation" in recent years. 
"Organizations like the NCAA and Olympic Committee have a big interest in this," he said. "We're starting to see more and more sustainability requirements in bids. An initiative like this could definitely help us attract more events to the city."
Rich Lord, business development manager for the Natatorium and the adjacent Carroll Stadium, predicted that the initiative will help attract sponsors.
"We're already hearing from companies—like Citizens Energy Group—that are really interested in this zero-waste initiative," Lord said. "We think it's going to open up a whole lot of doors for this facility." 
He said it's only a matter of time before the initiative spreads to other IUPUI facilities.

Fox
Mike Fox, Lucas Oil Stadium executive director, agreed the recycling movement is sweeping through sports venues.
"There's a real push for venues to be certified green facilities," Fox said. 
The problem is, he added, it can be expensive.
"I'm a big recycling guy, but to do this right, it can take considerable time and money to separate all the trash from the recyclables," Fox said. "That's a real challenge for quick-turnaround events." 
He said reaching the Natatorium's goal of recycling or composting 90 percent of waste "is an incredible challenge."
"I'm not even sure how you would measure it," he said. 
Initially, Natatorium officials—and Sports Corp. volunteers—will inspect waste containers to make sure everything is where it should be. Then the combined loads will be weighed.
"We want this to be verified," Lord said. "We want this achievement to have real numbers behind it."
IUPUI officials are considering seeking zero-waste certification from the U.S. Zero Waste Business Council, which adheres to Zero Waste International Alliance standards.
Natatorium recyclables will end up at Ray's Recycling Material Recovery Facility in Indianapolis, the compostable items go to GreenCycle Indy, and trash goes to Covanta Indianapolis Inc.'s facility.
Davis said the flagging market for recyclables will have little impact on IUPUI's initiative.
"The recycling industry was built to handle fluctuations in the commodity market, so there shouldn't be any impact on our efforts at the Nat," she said.•
Please enable JavaScript to view this content.