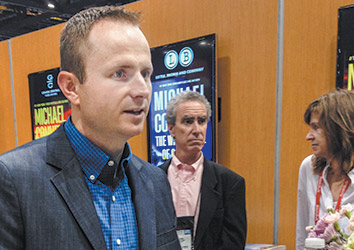 As his publicist hands Michael Koryta yet another copy of his latest thriller to sign, a snaking line of librarians, retailers and other industry professionals waits to meet the New York Times best-selling author.
Nearby, Jamie Lee Curtis signs copies of her latest children's book, Kareem Abdul-Jabbar is interviewed by C-Span2's "Book TV," novelist Terry McMillan greets fans, and dozens of lesser-known authors vie for attention.
The occasion is BookExpo America, the nation's largest industry-only gathering for the book publishing business. Usually held in New York, BEA arrived in Chicago for the first time since 2004 at a challenging, volatile time for the industry—a time when the relationships among publishers, authors and readers is undergoing serious shifting, with no one certain how this particular drama will wind up.
"I'm trying to be out there enough so that it doesn't seem like I'm a total recluse in a cave writing with a quill—but also not so engaged that it becomes distracting," said the Bloomington-based Koryta. "There are writers who can turn on and off the marketing persona and get back to creative mode very easily. I'm not one of those people. The idea of thinking of yourself as a brand has always been strange to me."
Still, the fact that his book covers feature his name in type as large as the title means Koryta is, in fact, a brand. He might not be a household name—and Marcia Clark's BookExpo line might be longer—but with nearly a book a year since publishing his first in 2004 while still an Indiana University student, he has become a significant player in a business where the rules keep changing.
Business at BEA happens in row after row of booths and in meeting rooms where rights are sold to foreign markets, printing deals are cut ("Print in Istanbul" touts one massive booth), publishers fight for attention for their most recent releases, and orders are placed by bookstore owners.
Yes, there are actually still bookstores out there.
Here, trends surface. Big right now, for instance, are adult coloring books, with seemingly everyone trying to get a piece of the low-production-cost market before the fad disappears like teen vampire novels.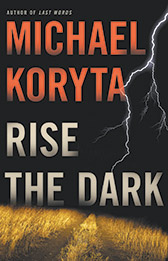 Michael Koryta will help support his new novel, scheduled for release Aug. 16, with a national book tour.
 (Photo courtesy of Little Brown and Co.)
The Chicago relocation of BEA makes it an easy trip for Koryta, who has remained anchored in Bloomington since graduation, working as a newspaper reporter and private investigator before rising to a place where he could make a living entirely through his fiction—crime thrillers and supernatural novels with an emphasis on multifaceted, very human characters.
At BEA, the Sharpie-wielding Hoosier is a hot commodity. Handing out signed copies of his latest, "Rise the Dark" (releasing in August from Little Brown and Co., now part of the Hachette Book Group), he cheerfully finds common ground with a small-town bookseller, sincerely thanks a fan who says Koryta's latest will be the first book she reads once she gets home, and otherwise forges a connection with every book he signs.
Shifting dynamics
Such connections are increasingly important in career building. The publishing landscape has changed dramatically since BEA was last in the Windy City, with the loss of the Borders chain and the diminished power of Barnes & Noble. A once diverse array of major publishers has, after the Penguin and Random House merger in 2013, been reduced to the big five—with the possibility of a mere big three down the line.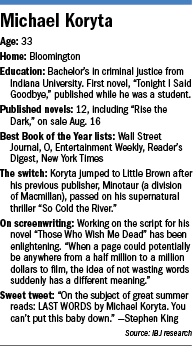 Yes, book publishing racked up $28 billion in 2015 retail sales on 2.7 billion units sold, according to the Association of American Publishers—a slight increase over 2014. And there's been a notable increase in physical book buying among millennials. But e-book sales, once thought to be the savior of traditional publishers, peaked in 2013 and fell 13 percent in 2015.
And then there's Amazon—which, according to industry professionals, is placing smaller orders with publishers, relying on the increased speed in turnaround for additional printings. While this reduces the number of returns—unsold books that are returned to the publisher to eventually be sold at a discount or shredded—it also makes it more difficult for publishers to anticipate potential sales for a particular title.
All those variables mean authors are expected to be much more involved in marketing their books than they used to be.
"We can do a lot—that's why an author comes to a major publisher," noted one publishing sales vice president who asked to remain unnamed. "But we also ask the author to do more—and we sometimes make decisions based on that. 'What's your social footprint like?' 'Are you good on Twitter?' 'How many followers do you have on Facebook?' 'Do you have a website?' We ask a lot of our authors these days, to generate the same amount of dollars."
On a BEA industry panel, Scott Turow, best-selling author of "Presumed Innocent," concurred. Traditional publishers, he said, "deliver less and less of what used to make traditional publishing worthwhile."
Some authors turn to self-publishing, which can work for the most motivated and marketing-savvy, particularly in genre fiction (romance, fantasy, etc.). But for every success in the self-publishing game, scores of DIY authors sell only a handful of books to family and friends.
That's not to say there isn't room in between the big five and self-publishing. Among those lining up for a signed Koryta book is former IU basketball star Kirk Haston, whom Koryta recognizes as the player who hit a buzzer-beating three-pointer against Michigan State.
Haston is at BEA pushing his own book, "Days of Knight," whose publisher, IU Press, has undergone its own set of changes in recent years. Long respected as a leading academic press, it's now pushing harder into the general-interest trade market.
Among its offerings is its first children's book, the Santa-centric "What If There's No Chimney?" It's also attempting to claim a piece of the adult coloring book fad, with the "Color Your Campus" series launching in August, and it plans to expand well beyond Bloomington.
"People think textbooks or scholarly works—and we do publish those," said Mandy Hussey, IU Press trade marketing and publicity manager. "We've had a huge focus on our trade titles—they are the titles making money for us, both nationally and regionally."
Cocktails with Koryta
How do the industry changes affect the top authors?
Some say not at all.
"I don't think any of it has had any impact on me as a writer," said Jonathan Safran Foer, best known for the novel "Extremely Loud and Incredibly Close."
Sebastian Junger, author of "The Perfect Storm" and the upcoming "Tribe," agreed. "It does not have anything to do with what I put on the page. Zero."
Added Koryta: "If you are thinking about the audience and commercial trends and the industry and the business end of it, you're going to end up writing a crappy book."
But while the business side of publishing might not impact what's on the page, it does impact how many of those books get into the hands of readers.
"In terms of building an author," said Koryta's editor, Joshua Kendall, "we have to find every way to maximize his gifts."
In addition to the book signing and visibility in the Hachette booth, Koryta's publisher set up an off-site, private cocktail party to lay the groundwork for a publicity push for "Rise the Dark." But Koryta didn't have much of a chance to lift a drink to his lips. His publicist put together a gathering that included producers from "20/20," "CBS Sunday Morning," NPR's "Morning Edition," "Nightline" and "Good Morning America," as well as a group of booksellers from Barnes & Noble.
While landing an author on TV is difficult (as a 17-year producer of "The View" noted bluntly: "Let me put it to you this way: Honey Boo Boo or [Pulitzer Prize-winning non-fiction writer] David Remnick?"), the goal is increased exposure and these are some of the people who can make that happen.
Koryta handled the group with aplomb, sharing anecdotes about French Lick and the West Baden Springs Hotel (the setting for his supernatural thriller "So Cold the River") and animal rescue (the milieu for his "The Ridge"), and never coming across as a know-it-all or self-promoter, even though that's what he's at BEA to do.
During most of his work life, however, Koryta is at his computer with the Wi-Fi disabled and his phone turned off in order to create "a bubble where technology can't intrude." And while blogging and tweeting don't come naturally to him—he avoids Facebook altogether, sending his posts to a third party to post for him—he embraces the personal interaction of an event such as this, where he gets to talk books with fans and people in the industry.
"I'm much more comfortable," he said, "when I can see their faces."
Working a room without its ever seeming like work is a skill that might not ever be as valuable for an author as constructing a page-turning novel. But in the uncertain world of book publishing, it certainly helps.•
Please enable JavaScript to view this content.