Indianapolis Director of Enterprise Development David Rosenberg is young, but he rarely comes across as naïve.
Rosenberg, 28, revealed a bit of his inexperience during a recent meeting with near-west-side residents, however, as he discussed how a new criminal-justice center could spur redevelopment in their neighborhood. The city's aim, he said, is to drive traffic to the area. Then he added, "Ten years ago, there was nothing on Mass Ave."
In fact, Massachusetts Avenue was well into gentrification 10 years ago, when Rosenberg graduated from Southport High School. He joined Mayor Greg Ballard's cabinet in 2011, his first job out of law school. He worked on special projects, including Ballard's plan to convert the city fleet to non-oil energy sources by 2025. Now, he leads Ballard's effort to build a new jail and criminal courts for Marion County, which could cost as much as $400 million, all with no new revenue.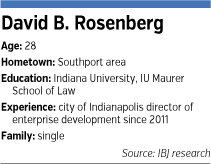 It's a complicated project, requiring approval from Marion County judges and the City-County Council, and it will change the face of downtown. The county will vacate its main jail and the prime real estate under it, and thousands of people who use the courts every day will be diverted west of White River, to the site of the former General Motors stamping plant.
If successful, the justice center deal could open doors for Rosenberg in the private sector and in politics. His predecessor in the Office of Enterprise Development, Michael Huber, is CEO of the Indy Chamber. In the most prominent example of the Mayor's Office as a career launchpad, former Gov. Mitch Daniels was in his 20s when he became a top aide to then-mayor Richard Lugar.
"He wants to make a difference. I don't think he sees himself as a silk-stocking lawyer," said Louis Rosenberg, presiding judge of the Marion Circuit Court. (He is not related to David Rosenberg.)
David Rosenberg, who declined to be interviewed, is not alone on the project. Along with senior staffers Kurt Fullbeck and Adam Collins, he's coordinating work of a cadre of consultants.
"They are part of the process. They're not the decision-makers," Marion Superior Court Judge David Certo, chairman of the judges' executive committee, said of the mayor's team.
Bargaining table
Ballard hopes to have the center built at no additional cost to taxpayers by entering a long-term lease with a developer and using money saved through operational efficiencies to make the payments.
It's the long-term lease and questions about who will negotiate on the city's behalf that worry Sheila Kennedy, a lawyer and professor in the Indiana University School of Public and Environmental Affairs.
"The problem you have whenever you are doing a deal between the city and a private company [is] the private company can afford and does hire very good corporate lawyers," said Kennedy, a critic of public-private partnerships.
"You take a look, for example, at the abysmal deal, if you can call it a deal, with the parking meters," Kennedy said, referencing the 50-year lease of city parking meters that the city signed in 2010, when Huber was director of enterprise development.

Rosenberg
The city received $35 million and a share of revenue, but as Kennedy and other critics often complain, the city must reimburse the operator, ParkIndy LLC, for lost revenue when meters are taken out of service. That means the city could end up paying to make changes to the use of its own streets and curbs.
"They ate the city's lunch," Kennedy said.
The city's list of consultants on the justice center includes three law firms, but Kennedy said she still worries about the experience level of Ballard's staff. She served as corporation counsel under former Mayor Bill Hudnut in 1977, three years after graduating from law school.
"And frankly, I was naïve," Kennedy said.
Huber, 38, said it's wrong to think Rosenberg's will be the only set of eyes on the justice center deal.
"It's not just a kid sitting across the table without experience making all these calls on his own," he said.
The role of enterprise development director is to be a project manager and work across silos of government, Huber said.
"I feel some of the criticism of one's youth is unfair," he said. "How effective is he or she at utilizing the whole team?"
Rosenberg worked as an intern under Huber.
"He was incredibly thorough and had incredible eye for detail," Huber said.
A graduate of Indiana University and the IU Michael S. Maurer School of Law, Rosenberg was already working in the Mayor's Office when he passed the bar in October 2011. Most law graduates take time off to prepare.
"He's articulate as hell. He makes a very good impression," Judge Rosenberg said.
Public eye
Judge Rosenberg, a Democrat, criticizes the Republican mayor's team for treating public input on the justice center as an afterthought.
"I wish they would get a little more comfortable with facilitating the voices of people who aren't insiders," he said.
The mayor's team initially favored putting the justice center on a site owned by the Indianapolis Airport Authority near the Hendricks County line. The airport site prompted an outcry over access to justice, and after weeks of pushback from lawyers and judges, the team began to consider the GM site west of downtown.
At that point, David Rosenberg had the task of selling west-side residents on the idea that hosting the county jail would be good for their neighborhood.
The meeting at the Mary Rigg Neighborhood Center did not go smoothly. Despite the presence of multiple partners from the city's consultant Bose Public Affairs Group, no one served as a moderator. Attendees shouted their questions from the floor.
A few irate residents raised concerns about inmates being released into the neighborhood, which Rosenberg answered by saying the justice center would bring hundreds of millions in infrastructure improvement and economic development.
The mayor's team had planned to issue a request for proposals by April 1, two weeks after the first west-side meeting, but put it off to regroup and try to generate neighborhood support. Rosenberg and others on the team met with individuals and small groups ahead of a second public meeting April 24.
This time moderated by Republican City-County Councilor Jeff Miller, the meeting with Rosenberg and Collins ended with a round of applause.
Rosenberg has been working on the justice center since last August, when, he said via email, Ballard directed him to "dust off the previous 30 years of study to see if there was a way to make this project a reality."
Judges and lawyers have wanted to separate the courts from the City-County Building for decades. Judge Rosenberg said David Rosenberg's youth might be one reason the idea is this close to becoming reality.
"If he weren't 28, he probably would be too cynical to undertake the task."•
 
Please enable JavaScript to view this content.