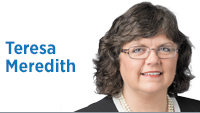 Following extensive scoring delays and the rollout of a new test, ISTEP, Indiana's standardized test to measure student and teacher performance, is on its way out. Now, a 23-member panel, which includes Indiana State Teachers Association Treasurer Callie Marksbary, has the task of studying and recommending alternatives to ISTEP. This is the opportunity to reevaluate how, why and what we test and reflect on the student impact of high-stakes testing and over-testing.
The panel had its first meeting on May 24, chaired by Nicole Fama, principal of an Indianapolis Public Schools innovation network school. There is much work to be done before the panel's Dec. 1 deadline.
A 30,000-foot description of the panel's charge outlined in a letter to panel members from Fama includes:
• The feasibility of using existing tests or components or portions of existing tests other than the ISTEP program tests, as well as new testing approaches;
• Reducing testing time while maintaining assessment integrity;
• Reducing costs associated with the administration of a statewide assessment;
• Test transparency and fairness to schools, teachers, and students;
• The requirements of the Every Student Succeeds Act, including new school accountability metrics based on multiple measurements; and
• How student test performance affects teacher evaluations.
Fama was quoted in a recent Indianapolis Star article saying that "the test is just too long." That statement is an oversimplification of the tasks before the panel and disregards the impacts of testing on teachers and kids.
While all panelists will bring value to this discussion, I urge the panel to consider the expertise of their fellow panel members who are educators. They will bring the most insightful and practical information to the table and ground the discussion in student learning.
The ISTA has gathered input from our members on their experiences with standardized testing and alternatives to ISTEP. Teachers are most concerned about their students and the impact of excessive and, oftentimes, meaningless tests.
Students are stressed. "You know that the testing has gotten out of control when you have seventh grade students crying over practice tests!" said one teacher.
Students are missing quality instruction time. "By the end of just this school year, my sophomores will have taken as many as 44 high-stakes tests," explained a teacher.
While another said, "The time that is taken away from actual instruction has increased ten-fold. We lost 35 school days due to testing this year."
Teachers are looking for real-time results that can influence their instruction to target student needs. "When we can't get the results back until almost the end of the next school year, what is the point?" asked one teacher.
"The purpose of assessments is to inform teaching," said another. "ISTEP doesn't provide meaningful feedback and is of no use in informing future teaching."
Teachers are looking for a test that reflects student growth—not one that compares one student to all students in the state. "ISTEP is not an appropriate assessment for students who are working significantly below grade level," said one teacher. "It does not demonstrate the growth they have made and is discouraging to those students."
One teacher best summarized what this panel's goal should be: "We need assessments that celebrate learning." School is where kids find a supportive learning environment—one in which they can succeed and strive toward goals. Let's consider a test that celebrates growth and informs teaching and learning.•
__________
Meredith is president of the Indiana State Teachers Association and has taught for more than 20 years in Indiana schools. Send comments on this column to ibjedit@ibj.com.

Please enable JavaScript to view this content.